A few months ago, my husband and I were watching one of Tyler Florence's shows and that episode was about apple pie. He was in France where he was being taught how to make Tarte Tatin. That was the first time I had ever heard of Tarte Tatin and it looked SO good. My husband agreed; we both like apple pie so this was close. Even though I had never heard of it before, I saw it everywhere now; in my books, at restaurants, in magazine, everywhere. I took it as a sign that I should try to make some.
One day, I went to several stores in search of a pan I could use to make it in. All I was looking for was a round pan that didn't have a loose bottom but they are very hard to find here apparently. After much searching, I found a pan at Fenwick's. It was a Silverwood pan specifically designed for Tarte Tatin, or so the label said. I brought it home, I gathered all my ingredients and had a go.
Well, it didn't go far. I managed to burn the caramel. It was just too far gone to do anything with it. We put some decent clothes on and went to the French bistro a few blocks away; I was gonna have the damned tarte that day!
I decided to have another go today. I used my brand spanking new Le Creuset Tarte Tatin pan. I followed a different recipe and I was thrilled that I did not burn the caramel because I didn't actually make any. Easy peasy…..until the time came to invert the cooked tarte onto a plate.
The horror! ALL the apples had stuck to the pan! Not burnt stuck, but stuck enough that I had to sort of lift them off. We tried to invert the apples onto the already inverted pastry but it didn't work. It looked awful. It was a real shame because it tasted great! I will not post any pictures of it because I have a reputation to upkeep 😛
I will keep trying because practice makes perfect.
One apple adventure that went well was dinner. I am addicted to cooking magazines just as much as to cookbooks. Most times they just sit there but then there are times like today when you use them and are glad you did.
I was re-reading the April issue of "delicious" a few days ago and I came across this recipe. It looked great and fairly easy to make so I incorporated it in our weekly meal plan. I didn't plan to have so many apples in one day though! In the end, it was just one.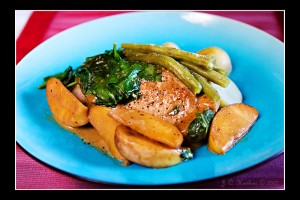 Here is the adapted recipe:
Creamy Cider and Spinach Pork
Serves 2, Ready in 25 minutes
½ tbsp vegetable oil
2 pork loin steaks
1 red-skinned apple, cored and cut into wedges
100 ml dry cider
100 g crème fraiche
110 g baby leaf spinach
Heat the oil in a large, deep frying pan over medium-high heat. Add the 2 pork loin steaks, seasoned with salt and pepper, and brown for 2 minutes on each side. Set aside.
Add the apple and cook for 4 to 5 minutes, stirring, until golden. Set aside.
Add the cider to the pan and boil to reduce by half. Reduce the heat slightly, stir in the crème fraiche and add the apples, pork and any meat juices. Simmer for 5 minutes, turning halfway, until cooked through.
Lift the pork onto plates. Stir the spinach into the sauce to wilt. Season, spoon the sauce over the pork and serve with boiled new potatoes and steamed green beans.
It actually worked very well. Apples and pork are a match made in culinary heaven. My husband, the picky eater, thought it was delicious too. I boiled the new potatoes with two sliced garlic cloves to give them some flavour. We will definitely be having this again!