I thought I wasn't going to be able to blog for a while because my desktop computer had decided to stop working. It turned out that one of the hard drives had died and was locking everything up and it needs to be replaced. Thank goodness I have a wonderfully geeky husband who's on it! At this moment, it lying gutted on the office floor; my computer, not my husband.

I am currently using my laptop, which has seen better days. It has issues with the power lead/socket and it is incredibly slow when trying to process images. I don't have most of my actions on here so I am having to make do.

On Saturday evening, we had our friends Kavey and Pete over for dinner. I had thought of making something low in calories and/or fat but I figured they had never had Cuban so I made a nice Cuban meal. We even decided to pull out our fine china since we don't get a chance to use it often.

I don't normally make such elaborate (for me) Cuban meals, in fact, I hardly cook Cuban meals at all but it was really a joy. I grew up watching the women in my family, and occasionally my dad, cook from scratch every day. I don't remember ever having anything pre-made at home as a child. Then again, I don't remember their cooking ever taking so long! The only times cooking went on for hours were at special occasions like New Year's Eve, which is THE day to have a big party in Cuba. That is when families gather and roast a whole pig, not the small suckling pigs mind you but big ones, 300 pounders. In addition, beans, rice, root vegetables and sometimes a stew are served, but I digress.

I started cooking at about 3pm because I thought I might get it out of the way. However, when they arrived at 7pm, I still wasn't finished!

The first thing I started was dessert that way it had plenty of time to cool. It was rice pudding, which I had made before and was a hit with my husband. It is very creamy and I have never had rice pudding like that in the US or the UK. In all honesty, I doubt you'd be able to get anything like it commercially. Homemade is the way to go! The recipe is from the most famous Cuban cookbook ever. I grew up with this book and everyone in Cuba knows it and the lady who wrote it. The name of the book is "Cocina al Minuto" which translates, roughly, into Minute Cooking. I am not sure why the name because not all the recipes are speedy, far from it. The writer and cook was Nitza Villapol, now deceased. I don't think the book is available in English and I am translating the recipe so bear with me!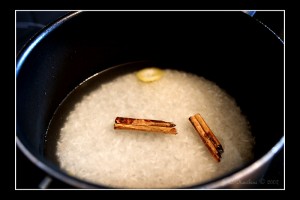 Arroz Con Leche (Cuban Rice Pudding)
½ cup rice
1 ½ cups water
1 piece lemon rind
1 cinnamon stick
1 liter milk
1 cup sugar
¼ tsp salt
Ground cinnamon
Rinse the rice and cook it with the water, lemon and cinnamon stick until soft. Add the milk, salt and sugar. Cook at medium heat until it thickens, approximately one hour. Stir every now and then to stop it sticking to the pot. Pour in a wide and shallow container and sprinkle with the ground cinnamon.
Serves 8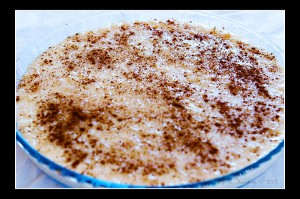 Next up was a very nice pulled beef in tomato sauce dish which is very traditional. The Cuban name for it is "Ropa Vieja" which literally translates into "Old Clothes". The name came about because the meat used to make had already been used to make broth of soup and therefore it was "second hand". It probably also got the name because it is shredded. I bought the meat specifically for this but ended up with some nice beef broth as a byproduct. Because the meat cooks for so long, you do not need to spend a large amount of money on good beef as it won't matter. The recipe calls for brisket but the butcher didn't have any so I got some other sort of braising beef. As a matter of fact, this entire meal for 4 cost us just over £10 or roughly $20. When my husband and I go out to dinner, just the two of us, we spend at least four times that amount for nothing really special!

The finished dish was, as expected, deliciously tender and succulent. It was just like I am used to eating back in Miami and Cuba. Our friends loved it and my husband did too, but he had already had it before. It is one of my favorite Cuban meat dishes and I make it every chance I get! The recipe came from a very good book called "A Taste of Old Cuba" by Maria Josefa Lluria De O'Higgins who grew up in Cuba in the 1920s and 30s and now lives in Miami with her family.


"Ropa Vieja"

For the broth:

2 pounds beef brisket
1 sprig parsley
1 bay leaf
3 large onions, peeled and quartered
1 garlic clove, peeled
1 carrot, peeled and cut into chunks
1 tsp salt
1 tsp peppercorns

For the sauce:

1 large green bell pepper
3 garlic cloves, peeled and minced
1 tsp salt
½ tsp freshly ground pepper
¼ tsp dry leaf oregano
1/3 cup vegetable oil
1 large onion, peeled and chopped
1 bay leaf
1 cup tomato sauce
½ cup reserved beef broth
½ cup dry white wine
1 tbsp white wine vinegar (I used plain vinegar)
1 6oz jar pimientos, drained and sliced (I omitted this)

PREPARE THE BROTH:

Place the meat in a large, heavy pot and cover it with water. Add the parsley, bay leaf, onions, garlic, carrot, salt and peppercorns.

Bring the water to a boil over high heat. Reduce the heat to low and simmer, covered, for 2 hours.

Remove the meat from the pot and set it aside to cool. Reserve ½ cup of broth for the sauce and save the rest for another use.



PREPARE THE SAUCE:

Cut the green pepper in half, remove the seeds and stem, and place it, cut side down, on a greased cookie sheet. Put it under a hot broiler until it blisters. When it is cool enough to handle, remove the skin, cut the pepper into thin strips and set aside.

Mash the garlic, salt, pepper and oregano into a paste. A mortar and pestle works best, but you may mince the garlic finely with a knife or put it through a garlic press and mash the seasonings with a fork. Set aside.

Heat the oil in a large skillet over medium heat. Sauté the chopped onion until it is translucent, about 3 minutes. Reduce the heat to medium-low, stir in the garlic mixture and bay leaf, and cook for 2 minutes. Stir in the tomato sauce, broth, wine and vinegar, and simmer for 5 minutes more.

While the sauce is cooking, shred the meat with your fingers into 3 to 4 inch strands. Stir the meat and the green pepper strips into the sauce, cover and simmer for about 20 minutes, to blend the flavors.

Remove the bay leaf, transfer the ropa vieja to a serving dish.




Serves 8
I needed my pressure cooker to make the rice and the beans so I started with the beans because I could do the first part in the pressure cooker and then thicken in a regular pot, freeing up the pressure cooker for the rice. The first part of the beans can be made in advance so I started them early too.

Black beans are as Cuban as say apple pie is American and bangers and mash are British. Cubans eat some sort of bean nearly every day and not as a soup but mixed in with white rice. Sometimes the rice and the beans are cooked together making "congri" or "moros y cristianos", depending on the color of bean you use. I decided to keep it simple so I cooked the beans on their own. I particularly love beans the day after, just heated up and eaten as a soup. Delicious. My mom makes excellent beans. Black beans are very simple as they don't require any sort of meat to be put in them as red beans do. However, they do require a little something special that other beans don't, which is a pinch of sugar. As a kid, I was skeptical when I saw my mom, and every one else in my family, add some sugar to the black beans. I couldn't understand why anyone would want to make beans sweet! Well, they don't become sweet; they just get a bit of a kick. You can make them without the sugar, I know people that do, however, I encourage you to try it!

"Black Beans Cuban Style"

1 pound dry black beans
1 bay leaf

FOR THE SOFRITO

2/3 cups vegetable or olive oil (I prefer vegetable)
4 cloves garlic, finely chopped
1 green bell pepper, seeded and chopped
3 tsp ground cumin
2 tbsp vinegar
1/8 tsp sugar
Salt and pepper to taste

Put the beans in a pressure cooker and cover with plenty of water (to the max limit mark), add the bay leaf. Lock the lid in place and put the pressure regulator on the vent pipe. Cook over high heat until the regulator starts whistling, indicating high pressure has been achieved. Reduce the heat to medium and cook for about 20 minutes.

After the 20 minutes, remove the pressure cooker from the heat and put it under a cold tap to depressurize. If the beans are not soft, put it back on the heat and cook it for about 5 minutes after it reaches high pressure. If the liquid has reduced too much, add some more now.

To make the sofrito, in a skillet heat the oil over low heat, then add the garlic, onion, and bell pepper and cook, stirring, until the onion is translucent, 8 to 10 minutes. Add the cumin and vinegar and mix well.

Add the sofrito to the beans, then the sugar, salt and pepper, mix well. Simmer, uncovered, until the liquid thickened and reduced. You don't want dry beans though, you want them soupy.

Serves 8


Even more so than with beans, no Cuban meal would ever be complete without rice. Cubans eat rice every day, much like Italians eat pasta every day. I do believe that most Cubans don't know how to eat unless there is rice on their plate. It may be difficult for people who are not used to this to understand it but it makes perfect sense to us. It is not always plain white rice, as I have here; sometimes it's rice colored yellow with saffron and cooked with chicken in it, other times, it's congri, other times it's yellow rice with shrimp, but always rice.

There are many ways to make rice in a Cuban kitchen and nowadays, it is mostly made in rice cookers, especially by Miami Cubans. In Cuba, it is most often made in a pressure cooker or in a pot, the old fashioned way. I chose to make it in the pressure cooker because it is fast and easy. I never saw my mom use garlic in plain white rice but I decided to use it just to follow the recipe and see the results. I didn't taste the garlic much but the rice was definitely good. The recipe came from the "A Taste of Old Cuba" book I mentioned earlier.


"Fluffy White Rice in the Pressure Cooker"

1 garlic clove, peeled
3 tbsp vegetable oil
2 cups long grain rice
2 cups water
2 tsp salt

Press the garlic with the side of a knife to crush it slightly.

Heat 2 tablespoons of the oil in a pressure cooker over medium heat. Sauté the garlic until brown but not burned, and discard it. Add the rice and stir it lightly. Add the water and salt.

Lock the lid into place and put the pressure regulator on the vent pipe. Heat the cooker over high heat until the regulator starts to whistle and dance, indicating that high pressure has been reached. Reduce the heat to medium, maintaining high pressure, and cook for 5 minutes.

Remove the cooker from the heat and cool under cold running water. When no more traces of steam escape from the vent pipe, open the pressure cooker. Pour the remaining 1 tablespoon of oil, fluffing the rice lightly with a fork so that every grain is loose.

Serves 6

As side dishes, I served sliced avocado with a bit of salt and deep fried ripe plantains. Ripe plantains, which can only be eaten cooked, are my single most favorite Cuban food, hands down. I love it and I would happily eat it every day. If that wasn't enough, it is extremely easy to make; however, it may be difficult to find in places that lack a Caribbean or African community. To make them, peel 2 ripe plantains, the riper the better, and slice them into diagonal slices about ½ inch thick and deep fry in hot oil until golden.

The whole meal was a success and everything turned out great. It was my first dinner party and I was a bit nervous but everything just fell into place and we had a great time. I didn't have a great time washing up though!

Kavey and Pete brought some weird candies and sweets from an oriental store somewhere and Kavey had fun photographing them all and making us eat the subject! When we had had enough of that, we moved on to playing on the Wii. I had a great time and I hope to entertain more often in the future!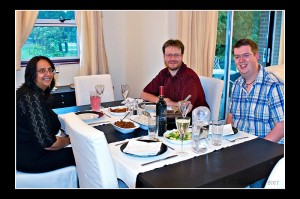 From left to right, Kavey, Pete and Matt (my husband)

And for yesterday…..

I am enamored with all things French and it has been a dream of mine for a long time to visit Provance during August so that I see, and photograph, the seemingly endless lavender fields. There is no doubt in my mind they are a sight to behold and I still have hope I will see it some day.

So, when I saw a recipe for lavender and honey cupcakes, I just couldn't pass it up! Never mind that I had no idea whatsoever what lavender tasted like! It just sounded pretty and I had to give it a shot. I had difficult time finding dried lavender here in London but I found some last Thursday at the Covent Garden Night Market. I bought a bunch for a few pounds and brought them home. The lavender smelled divine and had my kitchen nice and fragrant. I had been busy first with the friend's dinner, then with going to visit family on Sunday so I only got around to making them yesterday.

I had to bake the cupcakes twice because they burned the first time. It wasn't entirely my fault but at the same time, it was. The recipe called for the cupcakes to bake for 20 minutes at 400°F/200°C and I should have known better but I went ahead and used that temperature anyway. The second time, I use the appropriate temperature, which is 350°F/180°C for 18-20 minutes and they cake out just fine.

The other mistake I made the first time was that because I didn't have self rising flour, I used all purpose flour and added leavening but I added too much baking soda and the cupcakes domed too much. I fixed that too the second time.

I have to say, once I actually tried the cupcakes, I wasn't keen on the lavender flavor or taste. The cupcakes themselves however were delicious! I suppose the icing is fine of you like that sort of taste. Here is the recipe with the correct temperature.

"Lavender and Honey Cupcakes"

FOR THE CUPCAKES

1 cup (2 sticks/8 ounces) unsalted butter, softened
1 cup superfine sugar
2 cups self rising flour
4 eggs
1 tsp vanilla extract

FOR THE ICING

1 cup cream cheese, softened
1 ½ cups confectioner's sugar, sifted
1/3 cup honey
Blue food coloring
2 tbsp dried lavender flowers

Preheat the oven to 350°F/180°C. Place 18 baking cups in muffin pans. Combine all the cupcake ingredients in a medium bowl and beat with an electric mixer until smooth and pale, about 2 to 3 minutes. Divide the batter evenly between the baking cups. Bake for 18-20 minutes or until a toothpick inserted in the center of a cupcake comes out clean. Remove from the oven and cool for 5 minutes. Then remove the cupcakes and cool on a rack.

For the frosting, beat the cream cheese and confectioner's sugar in a medium bowl with an electric mixer, until light and creamy. Beat in the honey and a few drops of food coloring. Stir in half the lavender flowers.

Spread the frosting onto the cupcakes and sprinkle with the reserved lavender flowers.


I think if I have chopped the lavender flowers or put them in the food processor for a few seconds, they would have been more appealing texture-wise.