If you haven't figured it out by now, I am a big fan of French cuisine. There are some things I won't touch with a bargepole, foie gras or any other organ meat, but then there are things I really like. One of those is Steak au Poivre.
I didn't really have much food/restaurant variety in my life until I went to the Navy and moved to Bethesda, Maryland. There, little by little, I expanded my culinary horizons and no longer lived on Cuban food. One of the great restaurants in Bethesda is called Mon Ami Gabi. It is part of a small chain but very good, in my very humble opinion. The restaurant was recommended to me by a co-worker and while I had had French food before at Les Halles in Miami, Mon Ami Gabi nearly single handedly started my love affair with French food.
Their Crème Brûlée was, to this date, the best I've ever had. I kept going back and the driving force behind that was the amazing Steak au Poivre. I had never had anything like it before but I was hooked from the first bite. They also taught me to love medium rare and give up my heretic well-done ways. Up to that point, I had lived a nearly sheltered life and all of a sudden I was enlightened.
From then on, I ate snails, and liked it; and I swore to have Bouillabaisse someday. I haven't had it yet because I want my first time to be magical, I want it to authentic and I want to remember for ever. I am waiting until the day I travel to Marseille so I can have a bowl, or three, sitting at a nice outdoor restaurant overlooking the sea. Romanticized idea? Perhaps, but it is MY idea and that's how I like it!
Anyhow, for the first time ever, I decided to give the Steak au Poivre a try at home. It seemed simple enough, as good French cookery usually is. I wasn't sure what to expect because the recipe did call for a lot of pepper but, hey, what can you expect from a recipe for PEPPER steak?
I have to say that it doesn't taste like Mon Ami Gabi's but it was good. The one at Mon Ami Gabi, from what I remember, was normal grilled steak with a peppercorn sauce. This one was rolled in crushed peppercorns and fried in butter. Anything fried in butter is bound to be good! I omitted the Cognac because I didn't have any and I was not about to buy some just to use a splash! I served it with garlic mashed potatoes. It was definitely fiery and definitely peppery but very good too. Different isn't necessarily bad!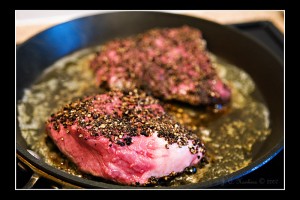 Steak au Poivre
Serves 4
4 200g (7oz) fillet steaks
2 tbsp oil
6 tbsp black peppercorns, crushed
40g (1 ½ oz) butter
3 tbsp Cognac
60ml ( ¼ cup) white wine
125ml ( ½ cup) double (thick/heavy) cream
Rub the steaks on both sides with the oil and press the crushed peppercorns into the meat. Melt the butter in a large frying pan and cook the steaks for 2-4 minutes (or to taste) on each side, depending on how you like your steak.
Add the Cognac and flambé by lighting the pan with your gas flame or a match (stand well back when you do this and keep a pan lid handy for emergencies). Put the steaks on a hot plate. Add the wine to the pan and boil, stirring, for 1 minute to deglaze the pan. Add the cream and stir for 1-2 minutes. Season and pour over the steaks.
If you don't like black pepper, stay away from this one!!!