Back in 2004, I bought the Food and Wine 2004 annual. As expected, many of the recipes looked yummy but one in particular caught my eye, "Garlic Risotto with Calamari and Parmesan Crisps". For one reason or another, I never got around to making it until today. For the last year and a half, that reason has been my husband!
I love seafood, shellfish, etc and it never occurred to me that I might marry a man who did not share my love for it. Well, as unlucky as I am, I did marry such a man. He eats fish but not much else. He can just about tolerate shrimp but no talk of lobster, much less squid! It's a shame really because they are all delicious.
I was looking at that cookbook yesterday and I decided I had waited long enough and I was going to make that recipe! At first, I tried to bribe my husband by offering to make him roast lamb, which I don't like and thus he never gets to eat. He was wondering what I'd have to eat and when I said "something else", he said it would be too much work for me if I cooked two different things. Shoot….on to plan B. Plan B was to reveal I was not offering to cook lamb out of the goodness of my heart but that I had an ulterior motive. He laughed and said he'd think about it. When he got home, he decided he'd have the risotto but instead of the squid, he'd have baked halibut. Easy peasy.
Woke up bright and early this morning, at 8:30 am, to the sound of constant hammering on the walls coming from the apartment below us, which is being remodeled. Don't people know it is not nice to be making so much noise so early on a weekend morning? Not to mention it's against the law here! Anyhow, after breakfast, we headed out to buy the stuff. As usual, we went out for a few things and came back with more than we thought we would. We (well, I) even bought a miniature shopping cart that is supposed to be a vegetable basket. It was just too darn cute and I could not leave it behind!
After being out nearly all day, avoiding the hammering, drilling, and intense desire to kick the builder where it hurts, we came home and I got to cooking. I don't know why I ever thought I'd be able to make risotto AND a whole other meal for Matt. I must have been out of my mind. Risotto is a lot of work! However, the results were good. We thought we'd make the risotto for 4 people as per the recipe because the portions are usually small. That was a mistake. This risotto is so rich and so heavy that the portion sizes they allocate are plenty! All that cream really hits your stomach like a ton of bricks! The squid was good and Matt's fish was very nice too. He liked the Parmesan crisps but I wasn't too keen on them. To each their own! Two heads of garlic may seem like a lot but remember that when garlic is cooked, it is not nearly as potent as when raw. While we could definitely taste the garlic, we have no garlic breath, if you know what I mean. This recipe is a slight variation of the one on the book. The one on the book calls for daikons and grapeseed oil, neither of which I had. I don't think they are essential to be honest!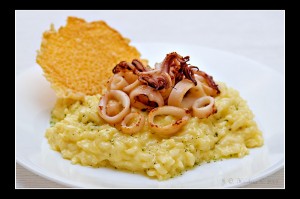 Garlic Risotto with Calamari and Parmesan Crisps
2 heads of garlic, cloves peeled
1/2 cup extra-virgin olive oil
1 1/2 cups heavy cream
Kosher salt and freshly ground white pepper
1/4 cup vegetable or olive oil
1 tablespoon fresh lime juice
1 tablespoon finely chopped flat-leaf parsley
3/4 cup freshly grated Parmesan cheese (2 1/2 ounces)
1 1/2 cups arborio rice (10 ounces)
1 pound cleaned baby calamari, bodies cut lengthwise into 1/4-inch strips
Bring a medium saucepan of water to a boil. Add all but 1 small garlic clove to the water and blanch for 1 minute; drain. In a small saucepan, simmer the blanched garlic cloves in the olive oil over moderately low heat until the oil is fragrant, 10 minutes. Drain, reserving the garlic cloves and oil separately.
Return the garlic to the saucepan. Add the cream and simmer over moderately low heat for 10 minutes. Transfer the garlic and cream to a blender and let cool slightly, then puree until smooth. With the machine on, pour in all but 2 tablespoons of the garlic oil and blend until slightly thickened and frothy. Season the garlic cream with salt and white pepper. Transfer the garlic cream to a bowl; rinse out the blender.
Add the small uncooked garlic clove to the blender along with the grapeseed oil, lime juice and parsley and blend until smooth. Transfer the parsley vinaigrette to a small bowl and season with salt and white pepper.
Heat a large nonstick skillet over moderate heat. Add 3 tablespoons of the Parmesan to the skillet in a 4-inch round and cook until golden and bubbling, 3 to 4 minutes. Using a thin spatula, transfer the Parmesan crisp to a wire rack to cool. Wipe out the skillet and repeat with the remaining Parmesan to make 3 more crisps.
Bring a large saucepan of salted water to a boil. Add the rice and cook for 9 minutes, stirring occasionally. Drain well and return the barely cooked rice to the saucepan. Add 1/2 cup of the garlic cream and cook over moderate heat, stirring constantly, until absorbed. Add the remaining garlic cream, 1/2 cup at a time, cooking and stirring until the rice is al dente and a creamy sauce has formed, about 10 minutes total. If the rice seems very thick, stir in up to 1/2 cup of very hot water. Season the risotto with salt and white pepper and keep warm.
In a large, heavy skillet, heat the reserved 2 tablespoons of the garlic oil until nearly smoking. Add the calamari and cook over high heat until tender and browned in spots, about 2 minutes; season with salt and pepper. Mound the risotto in the center of 4 plates and top with the squid. Drizzle the parsley vinaigrette over the risotto, garnish with the Parmesan crisp and serve.
MAKE AHEAD The garlic cream can be refrigerated overnight; rewarm before proceeding with the recipe. The Parmesan crisps can be kept in an airtight container overnight; recrisp before serving.
You can make the Parmesan crisps while the garlic cooks in the oil or in the cream, this way you don't waste time. The first crisp I made went straight to the trash. The heat was too high and it burnt. The subsequent ones were a success. When you are peeling them off the skillet, it looks like you are just going to compress them but if you are careful with the spatula, they do come off nicely. It is a bit of work and it does take time so it's definitely not an every day dish. It was not as good as I expected it to be but I suspect that was more to do with the fact I have been drooling over this recipe for so long that the anticipation was better than the food itself.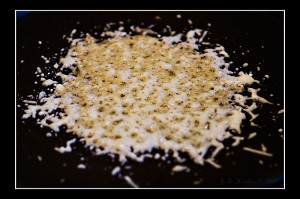 The fish was easy to make. Preheat the oven to 200°C / 400°F. Melt a bit of butter in the microwave and brush the sides of the steak with it. Generously sprinkle with freshly cracked pepper and salt. Bake for for 10 minutes. Serve.