Sometimes you don't have the time or desire to make a drawn out, elaborate meal but you do want to eat something filling. Today was one of those days for us. We had to be somewhere at 7pm so around 6:15pm we started making some sandwiches.
These weren't just any sandwich though, they were deep fried! Yup, you heard it. Deep fried. Good ol' Monte Cristo sandwiches. If you have never heard of them or tried them, I urge you to do so quickly! They are one of the best sandwiches I have ever had. The combination of the powder sugar on the crunchy, greasy bread is just amazing. They are very heavy though and if you would normally eat one sandwich (two slices of bread) that wasn't fried, you'd only need half of a fried one. If you are serving this with fries, it will EASILY feed 4 people. I only ate half of one and Matt didn't finish his so that should give you an idea!
Not only are Monte Cristos delicious, they are also very easy and quick to make. There really isn't a recipe per se apart from the batter but here it is anyway.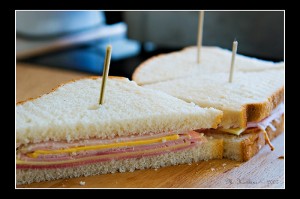 Monte Cristo Sandwiches
1 egg
2/3 cups flour (plain/all purpose)
2/3 cups water
4 slices of bread
4 slices turkey breast
4 slices ham
2 slices American cheese
2 slices Gouda cheese
oil for frying
strawberry or raspberry jam for dipping (optional)
Heat enough oil in a saucepan for deep frying. If you have a deep fryer, turn the temperature dial to 180°C / 350°F.
Mix the egg, flour and water in a bowl until no longer lumpy. Transfer to a shallow bowl.
Assemble the sandwich as normal, dividing the meat and cheese between the two and cut in half. Insert a toothpick in each half to hold in place then dunk in the batter and soak all sides. When the oil is hot enough, deep fry, turning occassionally, until golden.
Sprinkle with powder sugar and serve immediately.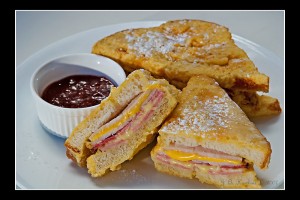 Make sure the oil is really hot or the bread will absorb a lot of of oil and you will end up with soggy bread and you will not be able to eat the sandwich!
This is definitely NOT a diet friendly sandwich but it is SO good! It sure beats a plain ham and cheese sandwich!