We have a great tapas restaurant just a couple blocks away. Their "Fabada Asturiana" is to die for, and the paella isn't too shabby. We go there quite often even though it's a bit expensive. One Saturday, a couple of months ago, I decided I was going to try to make Paella. I have a great book about them called, incidentally, "Paella" and we had been looking through it. Despite our different taste in food, my husband and I settled on a mixed paella, which had chorizo, chicken, pork and seafood. We'd do what we always do at the restaurant: he eats the chicken and picks out the squid; I eat the squid and the shrimp. It's a good compromise.
So, we set out to buy the ingredients. The grocery store didn't have all the ingredients needed so we headed to the fishmonger a few minutes away. On our way there, as we were turning right on an intersection that has come to be known as "The Jinxed One", some idiot that ran the red light hit us. It hit on my side and the car spun nearly 180°. I won't bore you with the details but, needless to say, we didn't make it to the fishmonger.
Two months later, I decided it was time to finish what I started. We already had everything but the fish. My husband was home from work today so we took that opportunity to get the missing ingredients and have ourselves some paella.
The ingredient list seems daunting and quite honestly, it is one of the most complicated recipes I've ever made. I didn't put the garlic mix in at the time I was supposed to but it still turned out great. Instead of the whole chicken, I used diced boneless and skinless chicken breast. For the fish, I used swordfish. I was going to use halibut but it was more expensive. I had never cooked swordfish before and I was surprised by the firmness of its flesh; it was almost like cutting into beef. We don't like mussels so I used clams instead. Making paella is not a walk in the park but decidedly worth it. My husband liked it; not only did he have seconds, he had thirds.
As for me, I thought it was beautifully done. The rice was perfect, the meat was tender and the squid was very nice, it wasn't at all rubbery. I very much enjoyed it.
The recipe is quite long so I have made it into a PDF which you can see here.
Even though this paella is the most popular in the US and probably the UK, it is not a traditional paella in paella country, Valencia. As a matter of fact, it's close to heresy! They do not mix meat with seafood. They say that by doing so, you can't really savor each ingredient as it ought to be. I have to agree; the paella was great but I couldn't really taste any one flavour.
But wait….there's more!
On one of the forums I frequent, there has been a thread going on about the reason premium ice cream like Ben and Jerry's and Haagen Dasz is so expensive. Some people mentioned that making your own ice cream was the way to go to so took the bait and decided to have a go at it yesterday. The fruit of choice was blackberries.
I'll start by saying this….WEAR AN APRON!!!! My goodness the juices get EVERYWHERE! The floor, the counter, my face. I made the ice cream the old fashioned way and I certainly appreciate the benefits of an ice cream machine! I hope to get one once back in the US so I can make all sorts of wacky combinations 😀
Here is the recipe, which is very simple:
Blackberry Ice Cream
5 cups of blackberries, hulled plus extra to decorate
6 tbsp superfine sugar
1 ¼ cups whipping cream
Crisp dessert cookies, to serve.
Put the blackberries into a pan, add 2 tablespoons of water and the sugar. Cover and simmer for 5 minutes, until soft.
Tip the fruit into a strainer placed over a bowl and press it through the mesh, using a wooden spoon. Let cool, then chill.
Whip the cream until it's just thick but still soft enough to fall from a spoon, then mix it with the chilled fruit puree. Pour the mixture into a freezer proof container and freeze for 2 hours, or until it's part frozen.
Mash the mixture with a fork or process in a food processor to break up the ice crystals. Return to the freezer for 4 hours more, mashing or processing in the mixture again after 2 hours.
Scoop the ice cream into serving dishes and decorate with extra blackberries. Serve with crisp dessert cookies.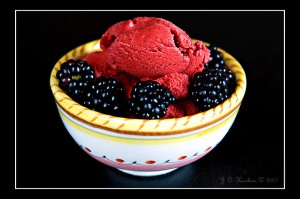 I didn't bother hulling the blackberries, mostly because I didn't see that part. I have a tendency to not fully and carefully read recipes. The only thing I'd do different next time is add more sugar. It wasn't quite sweet enough. That said, it was deliciously fruity and rich. It wasn't extremely creamy as it wasn't custard based but it was definitely creamy. I loved it and will be making it again.