When my friend Kavey was over for dinner a couple of weekends ago, she brought me palm sugar from Oriental City because she thought it was cool since I had a foodie blog. I had never heard of palm sugar before (and I don't think she had either) but I was presented with the task of finding something to do with it. A couple of days later, I bought a box of recipe cards that turned out to have a recipe that called for palm sugar. As a matter of fact, it was one of the main ingredients in the recipe.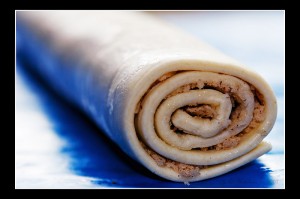 For those who don't know, palm sugar comes from, you guessed it, palm trees; palmyra and date palm trees to be exact. It is very popular in Asian cooking and comes in variety of of forms, from solid blocks to a gooey mess in a can and everything in between. It can also be light or dark.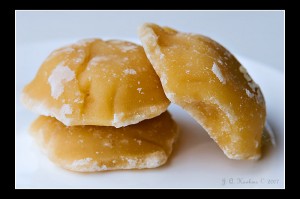 The recipe was for palm sugar, lime and star anise puff pastry spirals. As usual, I tinkered with it a bit and eliminated the lime part because my husband is not a fan of "citrusy" things and I can do without it. I really didn't know what to expect but I have to say the results were VERY tasty. I made 12 spirals and we inhaled them. I think I may just have to make more! Here is my version of the recipe.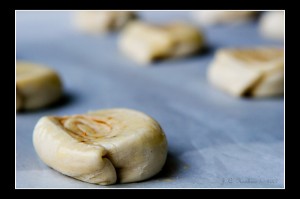 Palm Sugar and Star Anise Spirals
2 star anise
60 g (2 1/4 oz) palm sugar, finely grated or soft brown sugar
2 sheet ready-rolled frozen puff pastry, thawed
40g (1 1/2 oz) butter, melted
Preheat the oven to 200°C / 400°F / Gas 6. Put the star anise on a cookie sheet and dry-roast in the oven for 3 minutes. Cool then grind using a mortar and pestle to form a fine powder.
Mix the palm sugar and ground star anise in a small bowl. Lay the two sheets of puff pasty on a work surface and brush each one with some of the melted butter. Scatter the palm sugar mixture over the two sheets. Take one pastry sheet and roll it up firmly to form a long log. Repeat with the other sheet.
Cut each log into 12 even slices, then put on a lined cookie sheet, spacing them a little. Flatten each pastry slightly with the palm of your hand, then brush the tops with the remaining butter. Refrigerate for 30 minutes, then bake for 20 minutes, or until puffed and golden brown.
Makes 24 spirals
For dinner, the TV trend continued. On Saturday, we were watching Saturday Kitchen with James Martin and he made a very delicious looking pan fried chicken with Vichy carrots. It looked very good and I happened to have the series' accompanying cookbook AND carrots growing in my garden so I decided to give it a go.
The recipe called for chicken breasts but I used chicken legs (drumstick and thigh together) because I am trying to use the stuff we have in the freezer before the move. Everything was delicious; it was all we expected and then some. The only complaint was that there wasn't enough! The legs just don't have as much meat as the breasts and the carrots, the last of the crop, weren't as plentiful as we would have liked. The carrots were amazing and not just because there were from our garden, which of course helps. This dish is DEFINITELY going into our "will make and eat again" list.
Vichy-Glazed Carrots with Pan-Fried Chicken Breasts
50 ml (2 fl oz) olive oil
50 g (2 0z) butter
4 chicken breasts, skin on salt and pepper
500 ml (17 1/2 fl oz) mineral water
25 g (1 oz) sugar 1 tsp salt
500 g (1lb 2oz) chantannay carrots or baby carrots, washed
25 g (1 oz) flat leaf parsley, chopped
25 g (1 oz) chervil, chopped
Method:
– Preheat the oven to 190°C / 375°F / Gas Mark 5.
– Heat a frying pan and add the oil.
– Season the chicken with salt and pepper and place in the pan, skin side down.
– Fry for 5 minutes until golden-brown, then turn over and place in the oven.
– Roast for 8 to 10 minutes until tender, then remove and rest for 5 minutes.
– In the mean time, put the water, sugar, salt and butter in a saucepan, then add the carrots, bring to the boil, turn down to a simmer, cover the pan and cook for 5 minutes.
– Remove the lid and allow the liquid to reduce to a syrup on a high heat, then add the chopped herbs and serve with the chicken.
This recipe is a slight variation of the one in the book, which had an error.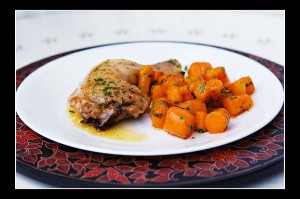 PS. My husband has just informed me that he does like citrusy things, it just depends on what it is. Obviously, I don't know him all that well!