There isn't one weekend when we don't go shopping. We always get something, even if we had no intention of doing so. Today was one of those days. I had to go to Lakeland (one of my favourite stores) to return something and I ended up buying a few things. Lakeland is right across from out usual shopping place so we popped in for a pudding basin I had wanted to get. Well, I did get the pudding basin but somehow I ended up with yet another piece of Le Creuset cookware to add to my collection.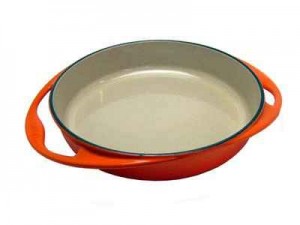 Le Creuset says it is a Tarte Tatin pan but it has so much more potential! Surprisingly enough, it was my husband who spotted, pointed it out to me and asked if I wanted to get it. He didn't realize it was a Tarte Tatin pan until we read the label; it looks just like a regular pan. I am not one to turn down such an offer from my husband AND it was on sale so of course I said yes; Besides, I have a special place in my heart, if not so much storage space in my kitchen, for Le Creuset. I now have this pan, a round casserole, a rectangular grill and 2 small stoneware rectangular baking dishes. They are all "Volcanic". I hope to add many more pieces to the collection 😀 My other set of pans is from the Calphalon Commercial Hard-Anodized line.
It was very hot today, especially in my kitchen which gets the afternoon sun. I had to psych myself up to make dinner. Psyching myself up wasn't enough, I had to bring the big fan from the bedroom and turn on to full blast. This made cooking bearable. I had planned on having roasted potatoes as the side dish but I refused to turn the oven on so I made steamed carrots and french beans instead. The carrots were from my own garden and the french beans were handpicked by us a few days ago at the local Pick Your Own, Parkside Farm.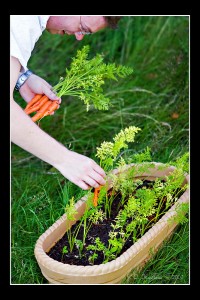 The main dish was a recipe from one of the Food and Wine books. I made some small changes, as I usually do. At the last stage of cooking, I added a bit of honey just to sweeten it up a bit. This is, of course, a matter of personal taste. I didn't have Kosher salt but I did have rock salt. I believe the grains of rock salt are bigger than those of Kosher salt. So, I took some rock salt and grinded it a bit in a mortar.
Pork with Sweet Riesling Sauce and Toasted Almonds
Total: 25 minutes
Serves: 4
2 tbsp slivered almonds (I omitted this)
1 ¼ lbs pork tenderloin, cut into 1 inch thick medallions
Kosher salt and freshly ground pepper
2 tbsp all purpose flour
3 ½ tbsp unsalted butter
1 tbsp olive oil
1 medium onion, very thinly sliced
1 tsp minced garlic
½ cup late harvest Riesling
½ cup chicken stock or broth
1/3 cup golden raisins
3 tbsp white balsamic vinegar
1 ½ tsp chopped thyme
1. In a small skillet, toast the slivered almonds over moderately high heat, tossing occasionally, until they are golden, about 2 minutes; let cool.
2. Season the pork medallions with salt and pepper, then coat in the flour. In a large skillet, melt 2 tablespoons of the butter in the olive oil. Add the medallions and cook over moderately high heat until browned on both sides and just cooked through, about 4 minutes. Transfer to a plate
3. Add the onion to the skillet and cook over moderate heat until softened and just beginning to brown, about 4 minutes. Add the garlic and cook until fragrant, about 1 minute. Add the Riesling, stock, raisins, vinegar and thyme and bring to a boil. Cook over high heat, scraping up any browned bits from the bottom of the pan, until the liquid has reduced slightly, about 2 minutes.
4. Return the meat to the skillet and simmer until heated through, about 1 minute. Transfer to a platter. Add the remaining 1 ½ tablespoons of butter to the sauce and cook over moderate heat, swirling, just until melted. Pour the sauce over the pork, garnish with the almonds and serve.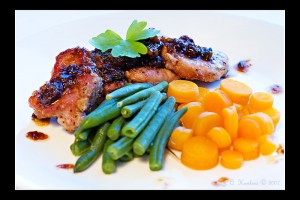 For some reason, I can never get the onions to cook without browning. I know the secret; I know you are supposed to start with a cold pan and oil but I just can't get it right. In this particular recipe, I think it's very difficult to get the onions to cook without browning because you are already starting with a hot pan. In all honesty, this doesn't really matter much. The onions will just caramelize. Now, with the garlic you have to be careful because it will burn and become bitter.
Another issue I have with recipes that include sauces is that they always seem to reduce more than they are supposed to. I think this may have something to do with the fact that I always halve the recipes because I cook for two people. This isn't much of an issue either but if you are halving the recipes and want it to be saucy, watch the time and watch the pan, don't let the liquids boil away. Another alternative is to make the sauce as if you were making the full recipe and then just discard whatever you don't eat. Cooking is not an exact science and you should experiment and try to add your own twists, this makes the whole experience so much more satisfying.
I always taste the sauces before I pour them over the meat just to see if I like them or not. There is nothing worse than finding out you hate the sauce when it is already all over the meat and you have chuck everything. When I tried this sauce, I was a bit skeptical but when ahead and put over the pork anyway. The combination of the pork and the sweet sauce was great. I very much enjoyed this dish and highly recommend it.