There is nothing like some chicken soup to lift your spirits a bit; OK, maybe a pair of Manolo Blahniks work better but at a much higher price! It is no wonder that chicken soup is what we automatically think of when we find out someone is sick and that it is what we associate with the recovery process. It may not do anything for the illness but it sure helps the soul. This is the reason I think the phrase "Chicken Soup for the Soul" is right on the money!
Sometime late last year, I was craving Campbell's Chicken Noodle Soup. Not the condensed stuff, the Chunky Noodle Soup. I looked everywhere here in the UK and I could not find it. I tried a couple other brands and there were disgusting. For a while, I made do with the Knorr soup packets but that just wasn't cutting it. I looked through my cookbooks and online for a good chicken soup recipe but I couldn't find anything that sounded tasty. Most of them asked for home-made stock and I just didn't know how to make it. Then I came across a recipe on the Betty Crocker book that was fully from scratch. I decided to give it a whirl. It was great. I have since made the soup a few times adding some twists here and there.
I usually start the soup with raw chicken and go from there. I do this not because I am some from-scratch fanatic but because it is so easy and the results so delicious. However, I had most of a roasted chicken left from Saturday's sandwich and I was not about to let it go to waste. To those people who have never made soup and stock from scratch, this may seem like a difficult and unnecessary thing to do; I know because I was one of those people. I assure you, there is NOTHING difficult about it. Yes, it does take time but it is not YOUR time. You don't have to stay in the kitchen and constantly watch it. You can get it going and get on with your day. You can even make the stock in advance and then finish it before eating. It is that simple, and if you are anything like me, after having from-scratch chicken soup, you will never want to have it any other way.
Here I will give you the recipe for the soup made with leftover chicken but it is not much different if you make it with raw chicken. The only difference is that instead of picking the meat out of the bones before making the stock, you make the stock with the meat on the bone and then pick it out. You'd also increase the stock's cooking length from 1.5 hours to 2 hours.
How much meat you have in the soup depends entire on how much there was left on the carcass to begin with. We had plenty left.
Chicken Noodle Soup
Leftover roasted chicken
½ onion, chopped
5 garlic cloves, minced
2 bay leaves
1 ½ tsp salt
½ tsp pepper
6 cups of water
2 carrots, chopped
2 celery sticks, chopped
1 ½ cups dry noodles
1. Pick as much meat as you can off the chicken carcass and dice, set aside. Break the chicken carcass into pieces and put in a stockpot along with the skin. Add the onion, garlic, bay leaves, salt, pepper and water. Bring to a boil over high heat. Lower the temperature to medium low and simmer, covered, for 1 hour and 30 minutes.
2. Discard the carcass and bay leaves. Strain the stock to get rid of any bits. At this point, if you find the flavour of the stock to be too strong, you can add about 1 cup of hot water but this is entirely optional. Correct the seasoning if necessary. If you are making the stock in advance, you can stop here.
3. Bring the stock to a boil and add the carrots, celery, noodles and diced chicken. Cook for about 8 minutes until the noodles are tender. Garnish with parsley before serving.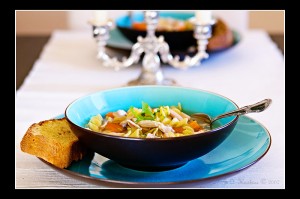 Honestly, does that sound difficult??? No, it doesn't. For the noodles, I use fusilli but you can use virtually any short pasta. OK, so I lied. This isn't a fully from scratch soup….not unless you make your own pasta anyway! I certainly don't…….yet.
You have to have bread to go with the soup, of course. I could have been really pedantic and made from-scratch white bread but I just couldn't be bothered. Instead, I made Parmesan and Sundried Tomato bread from a package mix I had in the cupboard. It went like this: pour package in a bowl, add the amount of warm water as per the package instructions, form into a ball, let rest for 5 minutes, knead for 2 minutes, let rise for 30 minutes, and bake for 30 minutes. Easy peasy.
I was looking at the Donna Hay magazine last night and I came across a recipe for Butterscotch Walnut Tarts. They looked so yummy and scrumptious. They also sounded very easy to make and I had all the ingredients necessary at home. I have a big sweet tooth so I just couldn't resist making them today. I'm glad I did because they were incredible. So rich and so absolutely delicious and most definitely NOT light! I think Donna Hay is my new best friend!
Here is the recipe:
Butterscotch Walnut Tarts
1 store-bought shortcrust pastry sheet, thawed
30 g (1 oz) unsalted butter
1 cup walnuts
¼ cup (2 fl oz) honey
½ cup (2 fl oz) thick (heavy, double) cream
Thick (heavy, double) cream, extra to serve
1. Preheat the oven to 180°C (355°F). Use an 11cm (4 ¼ inch) cookie cutter to cut 4 rounds from the pastry sheet. Press into 4 x ½ cup capacity lightly greased muffin tins. Bake for 8-10 minutes or until golden. Set aside.
2. Heat a non-stick frying pan over medium heat. Add the butter, walnuts, honey and cream and stir until the butter is dissolved. Increase the heat to high and simmer for 1-2 minutes or until caramelized. Spoon the warm butterscotch walnuts into the tart shells and top with cream to serve. Serves 4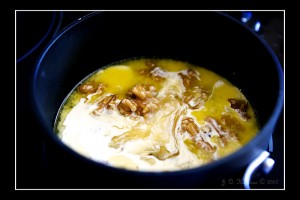 I whipped the serving cream and added some icing (powdered) sugar before putting a dollop on each tart. They are small but very, very rich. My husband loved them and was asking me if I still had walnuts left…..I think he wants me to make more!