I'd like to start out by thanking the people who have taken the time to leave comments on my blog. I love comments and get all giddy when when I get new ones. Let's be honest, none of us blog thinking "you know what, I'd be perfectly happy if no one ever read any of this". No, we all want our blogs to be read, specially us foodies! So, these comments make me happy because they are a sign that someone other than my husband (my proof reader) is actually reading my blog! Thanks a million and keep them coming!
Growing up, I never understood why adults liked squash (the winter variety). They tried to make me eat some a few times but I outright refused. It didn't taste like much, or rather, it didn't taste like anything I'd want to eat. It was just odd.
Fast forward about 20 years (to last year) and one day, out of the blue, we picked up a butternut squash and decided to try it. Well, we loved it and we have been eating it ever since. So, when I came across a recipe for pumpkin and amaretto gelato and showed it to my husband, we were intrigued.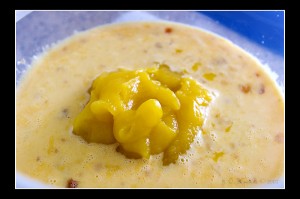 The recipe called for pumpkin or butternut squash but I used an acorn squash that had been hanging around my vegetable basket for a couple months. We couldn't find any amaretto cookies either so I used some regular cookie curls from M&S.
I really didn't know what to expect but I want into the kitchen, and the tasting, with an open mind. This was only the second time I made ice cream and the first time it was custard based. It was a lot of work, especially because I don't have an ice cream machine so I have to do everything by hand. It was worth it though, the gelato is very good. Don't be fooled by the unusual ingredients, it does work! After all, isn't pumpkin pie good???
This recipe is a slight variation of the one found in Ices Italia by Linda Tubby
Acorn Squash and Cookies Gelato
Serves 6 to 8
550 g / 1 lb 4 oz acorn squash (peeled and seeded weight)
85 g / 3 1/2 oz caster (superfine) sugar
3 egg yolks
250 ml / 9 fl oz full cream (whole) milk
150 ml / 5 fl oz whipping cream
75 g / 3 oz hard cookies, finely crumbled
Cut the squash into chunks and steam for about 25 minutes until soft. Transfer to a blender and process until a puree forms. Tip it into a sieve (strainer) set over a bowl and push it through in a circular motion with the back of a ladle. Set aside until required.
Whisk the sugar and egg yolks together in a heatproof bowl until pale in color. Put the milk and cream in a saucepan and bring to the boil. As soon as bubbles appear around the edge of the pan, pour into the egg mixture and mix well.
Wash out the pan and pour the mixture back in. Cook over a medium heat, stirring constantly for 8 to 10 minutes. When some of the foam disappears from the surface, place a sugar thermometer in the pan and continue to stir until the temperature reads 75°C / 167°F. Do not let the mixture get any hotter or the custard will curdle. Remove from the heat and pour into a bowl. Mix in the cookies and leave to cool.
Mix in the squash puree and chill in the refrigerator for 30 minutes.
Churn using an ice cream maker following the manufacturer's instructions until frozen, or still freeze. Transfer to a freezerproof container, cover and freeze for 4 hours before serving.
If it is frozen for longer and becomes too hard, remove the lid and transfer to the refrigerator to soften about 45 minutes before serving.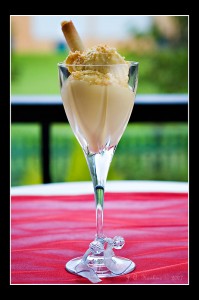 If you don't have an ice cream maker, follow this still freezing method:
Pour the prepared and chilled gelato mixture into a freezerproof, rigid container, ideally one with a clearance of about 3 cm (1 1/4 inches) between the liquid and the top of the container so when you mix it, the mixture won't fly out.
Put the container, uncovered, in the coldest part of the freezer directly in contact with the open bars if possible. Freeze the gelato for 2 hours. Then, using a fork, dig out the frozen edges and corners into the slushy center and whisk the mixture with electric beaters or a hand whisk until it is broken up and slushy. Repeat the freezing and whisking process again then refreeze until evenly firm but not frozen solid (1 to 2 hours). Next, transfer to a food processor and process for 1 to 2 minutes until smooth. Return the mixture to the container and follow the recipe's final freezing time instructions.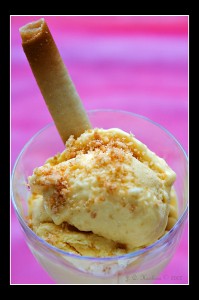 I don't have a food processor so the final stage was a bit of a pain for me. I used my immersion blender, which is worth next to nothing in this situation. Obviously, an ice cream maker would make this much easier but it is by no means essential. Where there's a will there's a way!
Who knew acorn squash ice cream could actually be good??? I dare you to try it!