I've had the idea of a picnic stuck in my head for months. The British weather is so unpredictable though that you can't really make plans. It always so happened that when the weather was good, we'd realize we could be having a picnic but didn't have supplies, specially a picnic blanket. I know any blanket will do but we just didn't have any. I bought one a couple of weeks ago so we'd be good and ready. The weather's been great lately so we decided if today was a good day, we'd have a picnic. It's a great day.
I was reading another food blog a couple days ago and I came across a stuffed baguette sandwich so today I though I'd try to make something like it. It is loosely based on a Waldorf salad and it turned out to be great picnic food. Along with the sandwich, I brought sliced strawberries that I put vanilla sugar in along with a couple splashes of Chambord and let it "stew" in its own juices in the fridge for a bit. Delicious.
Thanks to my husband who stood with me in the kitchen and took notes while I made the "recipe" up as I went along, I am able to give you measurements. In actuality, I eyeballed the ingredients and measured them up afterwards so that I could post it here. I measured the dry ingredients in weight mostly because the scale was right in front of me and it's much easier. I really think weighing ingredients as opposed to using cups for solids is much better and much more accurate. I have also rounded the metric measurements. This is not an exact science, unlike baking, so by all means substitute things or try your own mix.
Fruity Chicken Salad Stuffed Sandwich
Serves 2 hungry people or 4 as part of a bigger picnic meal.
1 oz (30g) walnuts, chopped
½ Little Gem lettuce, sliced
½ apple (I used Gala), diced
2 oz (60g) white (green) seedless grapes, halved
5 1/5 oz (160g) cooked chicken breast, diced
1 tbsp raisins
Low fat mayo
Low fat yoghurt
Honey
Ground nutmeg
Sat and pepper
1 medium sized round loaf of bread
In a medium sized bowl, combine the first 6 ingredients and mix well. Add enough mayo and yoghurt to bring together (I used about 2tbsp of mayo and about the same of yoghurt). Add a squeeze of honey for a bit of sweetness. Season with a pinch of ground nutmeg and salt and pepper to taste.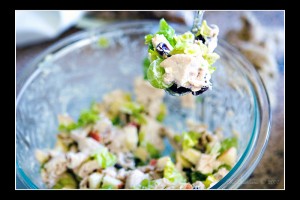 (Photo courtesy of my husband)
Take the bread and cut the top off. Scoop the inside to make it hollow. Don't take too much; you still want it to be a sandwich and not just salad with bread crust. Scoop the mixture into the hollowed out bread pressing it down as you go for a compact filling. You may have filling left over. I did. If you do, just eat it with the bit of bread you scooped out 😀
Put the top of the bread back on, wrap with shrink wrap and put in the fridge to settle for at least 30 minutes before cutting.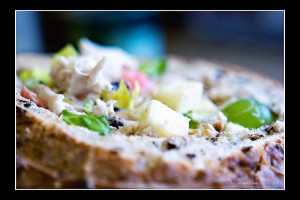 (Photo courtesy of my husband)
While I prepared the sandwich this way, I think you'd be better off cutting the bread down the middle into two half circles and scooping out the inside and proceeding as explained above. This will probably make the eating of the sandwich easier as you won't have a top trying to slide off. This was actually my husband's suggestion.
We had ourselves a nice little picnic and then lounged for a while. The breeze was perfect, the temperature was great and it was very relaxing. We should definitely do this more often.