Sometimes I plan out the week's meals in advance and do all the shopping for it. Tonight was Quiche Lorraine and I had everything I needed. Or so I thought.


For simplicity's sake, I had bought pre-made pastry (the horror!!!) so that it would just be a case of rolling it out, lining the pan and baking. At about 5:10pm, I decided to start dinner. I thought it'd better check if the pastry, which was ready rolled, was enough to cover the tart pan. Alas, it wasn't. Shoot. At that time, it was either walk to the supermarket (I don't have a UK drivers license) or make my own pastry. Making the pastry seemed like the better idea even though it would push dinner back a bit.


I carefully gathered, weighed and mixed the ingredients as directed. Getting the dough to come together into a ball was a mission. It was very crumbly and kept falling apart. Since I had followed all the instructions carefully, I thought it'd be OK once it settled in the fridge.


After 30 minutes had passed, I took out and started to roll it. Again, it was too crumbly and kept falling apart. I put a bit more water in it and managed to get it to come together. Just in case, I balled it up, wrapped in shrink wrap and put it in the fridge again. In the mean time, I went with my husband to the supermarket (he drove) to get a couple things and some emergency dough.


Once back home, I tried rolling the dough again but it just wasn't playing ball so I had to use the other dough I had just bought. This one worked. I rolled it out and put it in the pan, which turned out to be too shallow so I re-rolled the dough and covered a new pan which was about 2cm smaller than what the recipe called for. I figured I'd just put less filling in and be done.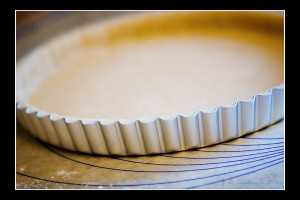 The pastry was blind baked and for some reason it shrunk too much. This made it very shallow. I was too busy taking pictures while pouring the cream in and I didn't realize I had overfilled it. Duh!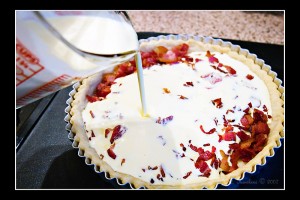 I put the whole thing in the oven and came to the computer and started talking to my husband about how complicated this turned out to be. He said something along the lines of "Ah well, I'm sure it will taste good". Then it hit me…."Damn it. It will not taste good!" and ran to the kitchen. In my state of disappointment and carelessness, I had forgotten to put salt, pepper and nutmeg in the cream. I quickly took the pan out of the oven and sprinkled it with the seasonings and put it back in, hoping for the best.
It was 9pm and we still hadn't had dinner. The oven timer went off and at this point I didn't really care how it was going to turn out, I just wanted to know and be done. Burger King is always our alternative and I was pretty close to sending my husband there!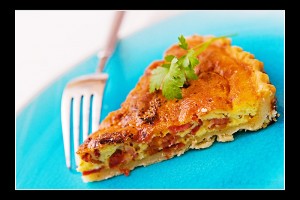 Well, it wasn't the disaster I thought it would be but it wasn't anything special either. My husband thought it was good. Go figure. I only had a small piece. After all that battling with the darn thing, I wasn't even hungry anymore.
There is some left over, if tomorrow is a good day we are going to have a picnic and maybe eat the rest cold
Lessons learned:
1. Make sure you have enough of the ingredients you need before hand!
2. The actual cooking is more important than taking pictures….pay attention to what you are doing!!!
3. Men will eat anything.
4. While typing up the recipe, I realized I was supposed to reduce the oven heat before putting the filled pastry in the oven again. Read the recipe carefully!
Things don't usually go this bad!
Quiche Lorraine
Pastry (about 450g / 1lb is enough)
25g (1oz) butter
300g (10 ½ oz) streaky bacon (normal bacon for Americans), diced
250ml (1 cup) double cream (heavy cream)
3 eggs
Grated nutmeg
Salt and pepper
Preheat the oven to 200°C (400°F/Gas 6). Line a 25 cm (10 inch) fluted loose-base tart tin with the pastry. Line the pastry shell with a crumpled piece of greaseproof (waxed) paper and baking beads (or dried beans or rice) Blind bake the pastry for 10 minutes, remove the beads and paper and bake for another 3-5 minutes, or until the pastry is just cooked but still very pale. Reduce the oven to 180°C (350°F / Gas 4).
Melt the butter in a small frying pan and cook the bacon until golden. Drain on paper towels.
Mix together the cream and eggs and season with salt, pepper and nutmeg. Scatter the bacon into the pastry shell, then pour in the egg mixture. Bake for 30 minutes, or until the filling is set. Leave the quiche in the tin for 5 minutes before serving.
Yesterday I mentioned a cake. Well, I finished today and it was a success. It was a three layer drunken sponge cake with two layers of guava jelly filling and Cuban meringue frosting. It was very good and very moist. Yummy in my tummy.