Here is a dish I would have never ordered at a restaurant or even tried to make, out of my own free will. However, it just so happened that we have a freezer full of food and we are moving to the US in just under a month and need to consume that food. I don't particularly like sausages, especially British ones but they had to be eaten. Besides, I do have to make things my husband really likes every now and then! He LOVES sausages. I also had all the ingredients here so I decided to suck it up and make it!
There is a discussion going on on a forum I frequent about how Brits cannot fathom the idea of eating anything without some sort of sauce or liquid accompaniments. I am appalled by this practice because I do not think everything needs to be swimming in gravy, custard, cream, what have you. Ironically, gravy was had with the Toad in the Hole. It wasn't just for the sake of it though, Toad in the Hole is meant to be had with gravy and I have no problems with putting sauces on things are meant to be eaten with sauces. However, I refuse to drown all my dessert, no matter what they are, in cream and all my meals in gravy! I guess it's a British vs American issue.
I love tidbits of food history and I didn't know, not being British, the history of Toad in the Hole. I was pleasantly surprised to see that one of the cookbooks my husband bought me has some history on it, along with history on pretty much every recipe in it. THAT is my kind of cookbook!
Toad in the Hole was originally meant to be made with pieces of meat rather than the sausages that are used today. They could be made with fresh meat but were most often made with leftovers which gave the dish a bad rep as one of the poorest English dishes, right up there with shepherd's pie. It doesn't really say how they went from meat to sausage but I suspect it had something to do with the wealthier class wanting to enjoy the dish without the stigma attached to the leftover meat. I am not quite sure why it's called Toad in the Hole but I believe it is because the sausages, the toad, lay at the bottom of the pan where the Yorkshire Pudding has risen forming a crater, the hole.
Toad in the Hole is made up of sausages and Yorkshire Pudding batter, which has its little bit of history too. Before I came to the UK, I honest to goodness thought that Yorkshire Pudding was a dessert and I was grossed out by the idea of putting meat drippings in a dessert. As it turned out, much to my delight, it was not a dessert but a very tasty baked batter. It goes great with any kind of roast, as most Brits will attest, and it is easy to make. I will do a proper Yorkshire Pudding at another time
Toad in the Hole
Serves 4

Yorkshire Pudding batter
30 g (1 oz) lard or pork fat (butter will work just fine)
500 g (1 lb) pork sausages
Make the batter in the usual way. Separate the pork sausages and cook them for 5 minutes quickly in the lard or pork fat in a frying pan. Strain off the fat into a large roasting pan, pour in a thin layer of batter and bake in the oven for 5 minutes at gas mark 7 / 220°C / 425°F so that it sets. Place the sausages on top and pour over the rest of the batter. Bake for a further 30 to 35 minutes until the batter has puffed up and browned. Serve straight away.
250 g (8 oz) flour
pinch of salt
3 eggs
up to 600 ml (1 pint) milk, or half milk/half water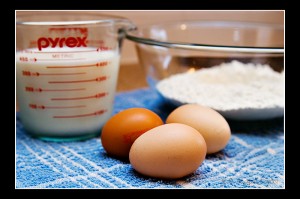 Mix the flour and salt in a large bowl. Make a well in the center and break the eggs into it. Add a little milk. Beginning at the center, stir the ingredients into a batter, gradually pouring in the remainder of the milk, or milk and water, until the batter is of a creamy but pouring consistency (the quantity will depend on the size of the eggs)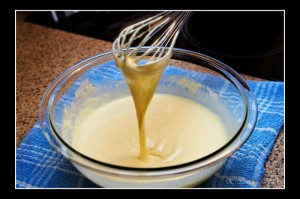 Photo courtesy of my husband

As I said before, this is a dish that does benefit from gravy. I was lucky that I had homemade beef stock from Saturday and I used that for the gravy. It is not necessary to use homemade but make sure you do use a good quality stock as the flavor of the gravy will depend on it.
Gravy
'Makes about 300 ml (10 fl oz)
1 tbsp butter
2 tsp plain (all purpose) flour
1 tsp tomato puree
300 ml (10.5 fl oz) beef, lamb, chicken or vegetable stock
salt and pepper
In a saucepan, melt the butter over low heat. Add the flour and cook for a few minutes, stirring occasionally. Add the tomato puree and the stock. Increase the heat and bring to a simmer. Season with salt and pepper if needed. Cook the gravy for a few minutes until it thickens. Strain before serving if needed.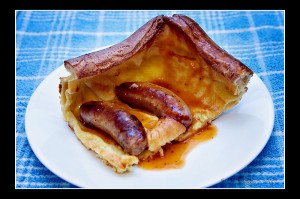 It was very filling and the sausages weren't overpowering, even though I could definitely taste them. It was my first time making Yorkshire Pudding and the batter rose beautifully. I told my husband that Toad in the Hole would be great with Italian sausages, which I do like, but he didn't agree! Go figure!