Last Saturday afternoon, I dragged my husband to the local PYO farm in search for strawberries. I wanted to make something called "Strawberry Mirror Cake" that the Daring Bakers made last month. We got there only to find out that they had no strawberries that afternoon or any other afternoon, only mornings. Bummer. We were already there so by golly we were going to pick something! I couldn't very well make a sweet corn cake (although on second thought…) so we picked raspberries instead.
I had been procrastinating because that is just my nature but I decided to do it today. I was carefully reading the recipe and realized I'd need cheesecloth. I didn't have any of course so I just scratched that idea and decided on something else to use the raspberries for.
It was still a cake but no mirror. I looked through some of my books for ideas and went on to create a recipe from a bunch of other ones. If nothing else, it would keep me entertained on this rainy day.
I made a cake with whipped heavy cream and raspberry filling with whipped heavy cream topping. The cake layers were very moist butter cake brushed with Chambord syrup. The combination sounds great, doesn't it? Well, it was, if you like whipped heavy cream. I find it too rich (heresy!) and wish I had used whipping cream instead. However, it is by no means bad; as my husband would tell you (he's currently having seconds). It is a light and rich cake all in one, if that makes any sense.
The best thing about this cake is that you don't have to make it look pretty; you don't even have to cover the sides with the cream if you do a nice job with the filling. I have seen a similar cake with the sides unfrosted and it looks very impressive. It is meant to look pretty when cut and that's where you should take your time, if you so choose to (I didn't). It is also easy to make and can be ready in a couple hours. It's a perfect finale for a nice family weekend dinner. Here is my recipe:
Gâteau Framboise Royale
-for the cake
1 ¾ cup cake flour
¾ cup milk
1 ½ (6 oz) sticks butter, softened
1 tbsp baking powder
¾ tsp salt
½ tsp baking soda
4 large eggs
1 ½ cups sugar
1 tbsp vanilla extract
Grease and flour two 9 inch round cake pans. Preheat the oven to 350°F.
In a large bowl, mix all the ingredients. With a mixer at low speed, beat ingredients until well blended, scrapping the sides of the bowl often. Increase the speed to high; beat for 3 minutes, occasionally scrapping the bowl.
Pour the batter into the pans, spreading evenly. Bake for 35 minutes or until a toothpick inserted in the center comes out clean. Cool cakes in the pans on a wire rack for 10 minutes. Invert onto wire racks and cool completely. When cool, level the top of one cake and slice each cake in half to form 4 layers. Discard or save unlevelled cake top layer for later use. Only 3 layers are needed for this cake.
-for the filling
Chambord flavoured syrup (see recipe below)
4 cups of raspberries, fresh
5 tbsp sugar
1 ¾ cup heavy (double) or whipping cream
1 tbsp Chambord
Syrup:
½ cup sugar
¼ cup water
3 tbsp Chambord
Mix the raspberries with 2 tablespoons of the sugar. Whip the remaining sugar, the cream, and the Chambord into stiff peaks.
To make the syrup, place the water and the sugar on a heavy pan over low heat. Stir constantly until all the sugar is dissolved and the liquid is clear. Bring the liquid to a rolling boil and immediately take off the heat and add the Chambord. Cool off completely before using.
Place one of the cake layers on a plate and brush with some of the syrup. Carefully spoon half of the raspberries evenly over that layer to about ½ inch from the edge. Spoon over one third of the whipped cream and spread evenly over the fruit.
Place a second layer of cake over the fruit and brush with syrup. Spoon the rest of the raspberries over the top and spread out in the same way. Follow with another third of the cream and evenly spread.
Brush one side of the remaining cake layer with the syrup and place syrup side down on the fruit and cream layer. Press down lightly.
Spread the rest of the cream evenly over the top of the cake and the sides, if you have enough. Garnish with more fresh raspberries and dust with powder sugar.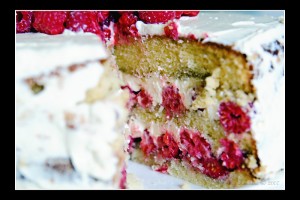 I used raspberries because that is what I had but this is a cake that can be made with pretty much any berry. Experiment and enjoy!