I am very excited about this entry because it is my very first participation in a food blog event. This month's "Waiter, there is something in my……" is hosted by Cook Sister! and the theme is meatless barbecue. As you can see, I'm very late in entering as today is the deadline. Better late than never though 😀
I was originally going to follow a recipe from one of my cookbooks but at the last minute, as it often happens, I decided to do my own thing while taking inspiration from the recipe. I was going to use canned pineapple but then changed my mind because I could not be bothered to climb onto my step stool and rummage through the top shelf of the cabinets looking for it. Instead, I used fresh banana and fresh strawberries.

I didn't really know what to expect but I'm happy to say we inhaled the kebabs and then got a spare banana to eat the rest of the syrup with. I hope next time I make this I can use a real barbecue!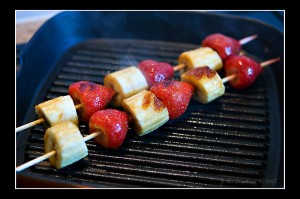 Boozy Strawberry and Banana Kebabs with Honey-Cinnamon Syrup
12 strawberries, hulled
2 bananas
2 tbsp honey
20 g (3/4 0z) unsalted butter, melted
1/2 tsp ground cinnamon
1 tbsp dark rum
1 tbsp soft brown sugar
Soak 4 wooden skewers in cold water for about 15 minutes to prevent them from burning during cooking. Cut the bananas into 12 chunks and thread onto the skewers, alternating with the strawberries. You should have 3 strawberries and 3 banana chunks per skewer.
To make the syrup, combine the rest of the ingredients in a measuring jug. Mix well and pour over the kebabs. Brush to coat. Cover and let stand at room temperature for about one hour.
Heat a griddle pan, barbecue, or broiler. Cook the for about 5 minutes, rotating at least once and brushing with the syrup. Serve drizzled with the remaining syrup and ice cream (optional).
Serves 2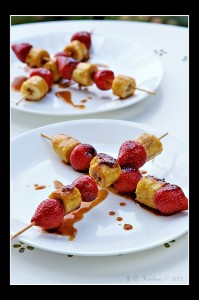 This is perfect for a lazy weekend's mid afternoon munchies!