There is a French bistro chain in the UK called Cafe Rouge and there is a branch very close to us. We have been frequenting it fairly often since we moved to this flat but we have recently discovered their awesome fougasse. I was never a big fan of onions but their fougasse changed my mind. It is a delicious bread covered in caramelized onions, garlic and Gruyere cheese. The first time I had it I only did so because my husband ordered it and insisted I tried it. I didn't want to because of the onions but I took one bite and said "I have to learn to make this!" and my husband agreed. It was delicious and like nothing I had ever had.
Fougasse is a rustic French bread from Provence and is reputed to be the French equivalent of Italy's foccacia.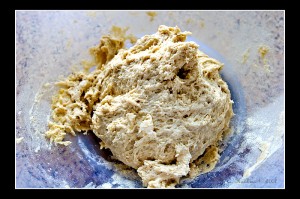 We went to the local PYO yesterday and could not resist picking some yellow and red onions. In my mind, I knew what the red onions would be used for. It was the first time I picked onions and I couldn't believe how juicy they were. The juice temporarily stained my fingers purple while I was cutting them.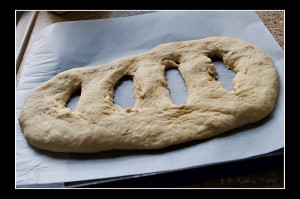 I couldn't find a recipe for the exact same bread but I did find several for plain fougasse, so after doing some more research, this is the recipe I came up with.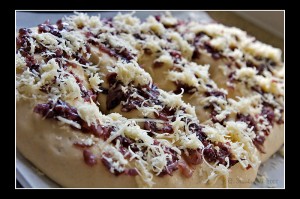 Fougasse with Caramelized Onions and Gruyere
210 ml / 7 1/2 fl oz water
15 ml / 1 tbsp vegetable oil
350 g / 12 oz white bread flour
1 tsp salt
1 tsp granulated sugar
1 tsp fast acting dried yeast
50 g / 2 oz butter
2 red onions, thinly sliced
1 garlic clove
30 g / 1 oz Gruyere, grated
1. Pour the water and oil into a large bowl, cover with the flour. Add the salt, sugar and the yeast. Mix until a ball starts to form.
2. Pour the dough out onto a lightly floured surface and knead until no longer sticky. Place the dough in a greased bowl, turning once so both sides are coated and let rise in a warm place for about 45 minutes or until doubled in size.
3. Punch the dough down a bit and turn onto a lightly floured surface. Flatten and roll it into an oblong, about 30cm / 12 inches long. With a knife, make four parallel cuts diagonally through the dough, leaving the edges intact. Transfer to a lined baking sheet, stretching the dough a bit so it resembles a ladder.
4. Cover with two squares of paper towels and let it rise in a warm place for about 30 minutes.
5. In the mean time, in a frying pan, melt the butter over low heat. Add the onions and garlic and cook, stirring frequently, until soft and brown.
6. Preheat the oven to 220°C / 425°F. Spread the caramelized onion mixture over the risen bread and sprinkle with the cheese. Bake for 15 to 20 minutes, or until the bread is golden. It is best eaten warm.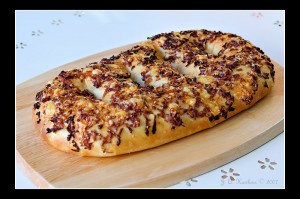 As with most doughs, having a mixer greatly helps. When I started baking bread, I didn't have anything so I mixed everything by hand. I have since acquired a cheap hand mixer that has two dough spirals and even just that makes things 110% easier. I still have to knead the dough a little bit but there is no getting my hands sticky while trying to mix the ingredients initially. I look forward to getting a Kitchen Aid and letting it knead for me, although I do enjoy kneading.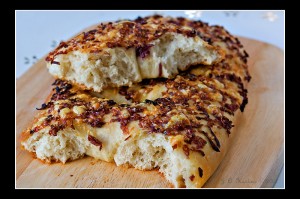 The results were good but nothing like Cafe Rouge's. However, it was clear to me what needed to be changed or improved. The first thing that struck me was that the onions burnt a bit in the oven. I think this was because I cut them too small. At Cafe Rouge, they quarter the onions instead of slicing them thinly so next time, I will do so too. This will not only help give more onion flavor but also stop them from burning in the oven. Another reason I think contributed to the overcooking of the onions was the oven might have been too hot. Next time, I will decrease the oven temperature.
We also think there should be more cheese next time.
Other than that, the bread was good and we ate most of it before dinner, which was pushed back because we were so full.
For dinner, I made a recipe from Nigella Lawson's Nigella Bites. This is what I meant to cook yesterday but had some problems with the beans and then the chorizo. All problems solved today, I went ahead as planned.
It is a very simple and quick recipe for chicken. The bean and chorizo part is not unlike the fabada asturiana we often get at the local tapas place. The chicken was incredibly juice and tender and the beans soaked up the flavor of the chorizo very nicely. All in all, it was success. The following is a bit of an adaptation of the original recipe.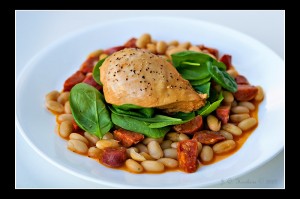 Chicken with Chorizo and Cannellini
700 ml chicken stock
2 chicken breasts, boneless, skinless
two handfuls of baby spinach
3 tbsp olive oil
200g chorizo, sliced then chopped
2 41o g can cannellini beans, drained
salt and pepper
In a saucepan, bring the stock to a gentle boil, lower in the chicken breasts and cook, gently, for about 15 minutes or until all traces of pink have disappeared. Pierce with the point of a knife to check.
Meanwhile, heat the oil in a frying pan, add the chorizo and the drained beans. Stir and warm everything through, moistening with 3 or 4 tablespoons of the chicken stock, or more if you want it soupier. Season to taste.
Tip the beans and chorizo into two shallow dishes. Arrange one handful of spinach on each plate and the place the chicken on top. Sprinkle with salt and pepper.
Serves 2
It was very tasty and definitely filling. Nigella's gone and done it again!