Armed with new equipment, and an emptied-out oven (courtesy of my mom), I got down to business. My kid sister, who will be 8 early next month, had never actually seen anyone make pie crust in real life. As she said "I've seen it on TV but I have never seen with my two eyes, right in front of me" I was a bit bothered by the audience, my mom was watching too, but I figured this was as close to them making it as it was gonna be so I just did my thing. My sister was full of questions, like "You're gonna use all that butter?!?!" and comments like "that looks like fun!" as I worked the butter into the flour with my hands. Of course, my sister wants to me to teach her now; she asked if she could make dough when she gets home from school tomorrow. I'm not so sure about that!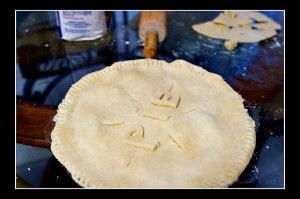 The last time I tried to make pie dough was for a Tarte Tatin and I failed miserably. The dough was too crumbly and I just couldn't work it. This time though, it was a breeze. It was very easy to work with from start to finish. It crisped up beautifully and tasted great. As a matter of fact, it is one of the best pie crusts I have ever tried. I wish I could take credit for it but I can't, the crust recipe came from a book called The Taste of Home Baking Book and it was submitted by a lady named Theresa Brazil, I just made some changes to the way the dough is handled and added a chilling step.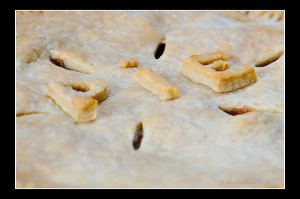 The pie was great all around and I'm glad because I was sort of trying to show off. Nothing worse than failing when you are being a show off!
While looking for the apples at the supermarket, the only thing I could find that was green and not Granny Smith, were some apples by the name of Ginger Gold. I had never heard of them before but they are supposed to be like Golden Delicious, which was actually what I was looking for, so I got them. They taste good when eaten raw and even better in the pie.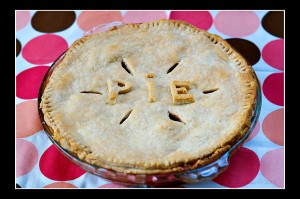 Ginger Gold Apple Pie
For the crust:
2 1/2 (11 oz, 312 g) cups all purpose (plain) flour
1 tsp salt
1 cup (2 sticks, 1/2 lbs, 227 g) cold unsalted butter
6 to 8 tbsp (15ml each) cold water
For the filling:
7 Ginger Gold (or similar) apples, peeled and thinly sliced
1/2 cup (3.5 oz, 100 g) granulated sugar
1 tsp ground cinnamon
small pinch of salt
small pinch of ground black pepper
juice of half a small lime
1. For the crust, combine the flour and the salt in a large mixing bowl; cut in the butter until mixture resembles coarse crumbs. Gradually add the water, tossing with a fork until the mixture forms a ball. Cover the dough in plastic wrap and chill in the refrigerator for at least one hour.
2. In the mean time, combine the filling ingredients, except for the lime, in a bowl. Toss to cover, sprinkle the lime juice on top and toss again. Let the mixture sit for about 30 minutes.
3. Preheat the oven to 425°F / 220°C. Divide the dough in half, making one half slightly larger than the other. On lightly floured surface, roll of the bigger half and line a 9 or 9.5 inch pie plate with it. Trim the edges. Add the filling to the lined pie plate. Roll out the remaining dough and place over the filling. Trim the edges to match the bottom crust. With a fork, press down on the edges to secure them together. With a sharp knife, make 6 small cuts on the top crust for ventilation.
4. Bake for 15 minutes, then reduce the oven temperature to 375°F / 190°C and bake for 50 to 60 minutes or until the crust is golden. The total baking time is 65 to 75 minutes.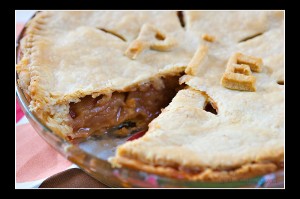 For the sake of photography, I HAD to eat a slice just out of the oven, with some cold vanilla ice cream. The sacrifices I have to make for the sake of this blog!!! 😉 Of course, I was too busy eating with my eyes and that picture did not make the cut!