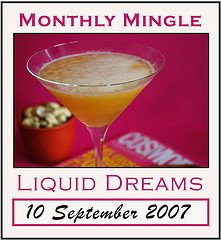 These food blog events are addictive! I suppose it is good because they sort of challenge you to do things you wouldn't normally do and helps you push your boundaries and comfort zone. Other events, like this one, just help you drink alcohol! I could have kept it virgin of course, but what's the fun in that?!?!?!?
I wanted to do something that was mainstream but give it my own little twist, which is not easy when there are so many variations of of every cocktail, aperitif, long drink, etc out there. I went on a whim and decided to make something I call a Cuban Sunrise, which as you can gather, is my twist on the very popular Tequila Sunrise. I didn't really know what to expect but it turned out OK, so I'm sitting here, blogging, while sipping on my new creation. Thank goodness it IS after noon! 😉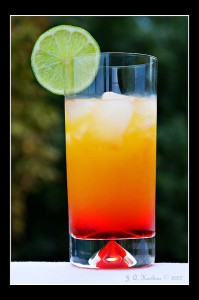 Cuban Sunrise
100 ml mango juice
50 ml rum
15 ml Grenadine
Mix the mango juice and rum and pour into a highball glass half-filled with ice. Carefully pour in the Grenadine and let it sink to the bottom. When ready to drink, stir.
Makes 1 drink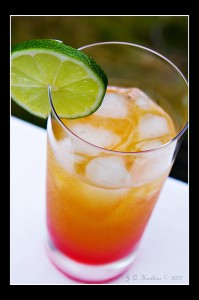 This has got to be one of the easiest "recipes" I've ever made! What makes it Cuban is obviously the use of rum instead of the traditional tequila. The mango is also much more Cuban than pineapple or even orange juice, at least in my very humble opinion. I also happen to like mango juice much better so it worked out great.
If you like fruity drinks, this is the one for you!