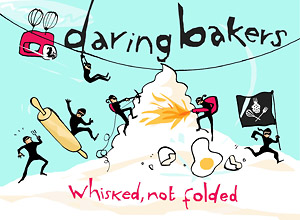 I am officially a Daring Baker! My initiation could not have coincided with a tastier recipe. Marce from Pip in the City hosted this month's challenge and she chose Cinnamon and/or Sticky Buns. I couldn't wait to try them so I made them at the beginning of the month. Another reason for that was that I wanted to make them before I moved.
I decided to make the entire batch just cinnamon buns with fondant glaze. The dough was very easy to work with and the only problem I really had was entirely my fault. When I first rolled up the dough to form the buns, I didn't roll it tight enough and I had a hard time cutting the buns and they were coming undone. I had to unroll and reroll every single bun but that worked and my buns turned out great.
I did find the glaze recipe made way too much and I used less than half the glaze. Other than that, it was a great recipe.
We loved the buns and I will definitely be making them again but maybe I'll try half cinnamon and half sticky next time! For the recipe, see the link to Marce's above.