I don't get the chance to make soup often so I was very excited when I read about the Super Soup Challenge hosted by Tami from Running With Tweezers. I searched for a recipe I liked but nothing really stuck, specially because the challenge is to make your favorite soup. A few days ago, while reading the last issue of delicious, I came across the winning recipe. I love pea and ham soup so I loved the idea of a White Bean Soup with Pancetta.
Of course I procrastinated, after all, I have a reputation to keep up but better late than never. I made this for dinner today and it was delicious. Because it is not a very chunky soup, I thought it would go great with some focaccia, but not the one from the magazine. The focaccia is a little bit time consuming but worth it!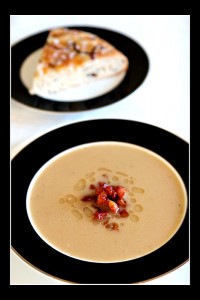 White Bean Soup with Pancetta
20g unsalted butter
2 tbsp olive oil
2 onions, chopped
1 garlic clove, crushed
2 bay leaves
1 tsp salt
1 L chicken stock, hot
2 400g cans haricot beans, drained and rinsed
120g cubed pancetta
Melt the butter with the olive oil in a large pan, over medium heat. Add the onions, garlic, bay leaves, and salt and cook, stirring, for 5 minutes, until the onions are just soft.
Add the stock and beans and bring to the boil. Reduce the heat slightly and simmer for 10 minutes.
Meanwhile, heat a frying pan over high heat. Add the pancetta and cook until golden. Drain on paper towels.
Take the soup pot off the heat. Remove the bay leaves and discard. Allow to cool slightly. Whizz using a hand-held blender or food processor until smooth. Season.
Divide the soup between four bowls, drizzle with some of the pancetta fat. Divide the pancetta equally between the bowls. Grind over a little black pepper. Serve.
Serves 4
210ml / 7 1/2 fl oz water
15ml / 1 tbsp olive oil
350g / 120z unbleached white bread flour
1/2 tsp salt
1 tsp granulated sugar
1 tsp easy-blend dried yeast (fast acting)
1 tbsp chopped fresh sage
1 tbsp chopped red onion
for the topping
30ml / 2 tbsp olive oil
1/2 red onion, thinly sliced
1 tsp coarse sea salt
ground black pepper
In a large bowl, combine the water, olive oil, flour, salt, sugar and yeast. Mix until a ball starts to form. Pour onto a lightly floured surface and knead until smooth and no longer sticky. Place in a greased bowl, turning once to coat both sides of the dough, and let rise in a warm place for 1 hour.
Lightly oil an 11 inch shallow round cake pan. Remove the dough from the bowl and onto a lightly floured surface. Punch the dough down and flatten it slightly. Sprinkle over the chopped sage and onion and knead lightly to incorporate.
Shape the dough into a ball, flatten it, then roll into a round of about 11 inches. Place in the greased pan. Cover with clear film and leave to rise in a warm place for 2o minutes.
Meanwhile, preheat the oven to 200°C/400°F/Gas 6. Uncover the risen focaccia, and, using your fingertips, poke the dough to make deep dimples over the surface. Cover and leave to rise for a further 10-15 minutes.
Drizzle over the olive oil and sprinkle with the onion, sea salt and black pepper. Bake for 20 to 25 minutes, or until golden. Turn out onto a wire rack to cool slightly. Serve warm.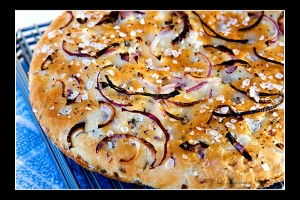 If it's cold or you just don't have a warm enough place for your dough to rise, you can use your oven. Just heat the oven up to about 80°C/176°F and let the dough rise in there. I have done it this way ever since I learned about it on YouTube and it works wonders!