I got into cake decorating a couple of months ago and bought tons of cake decorating books. Those by Peggy Proschen are particularly beautiful. They don't just have cakes but cookies too. I decided to make cookies from her recipe a couple of weeks ago and decorate them. I didn't use all the dough so I froze the rest. The decorating didn't go very well but the cookies were tasty. I made the rest today.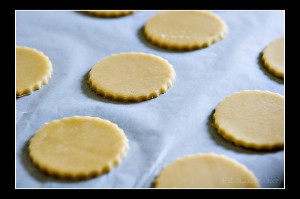 I had never actually made rolled cookies before and I had a bit of trouble getting started, mostly because I was intimidated by the dough but things worked themselves out. This time I just rolled the cookies in vanilla sugar as soon as I pulled them out of the oven instead of going through all the trouble of decorating them. Here's an adaptation of Peggy Porschen's recipe:
Sugar Cookies
Makes about 25 medium sized cookies
200 g unsalted butter, softened
200 g caster (superfine) sugar
1 egg, lightly beaten
400 g plain (all purpose) flour, plus more for dusting
Optional flavors:
for vanilla cookies, add seeds from 1 vanilla pod
for lemon cookies, add finely grated zest 1 lemon
for orange cookies, add finely grated zest of 1 orange
for chocolate cookies, replace 50 g of the plain flour with 50 g of cocoa powder
Cream the butter with the sugar and chosen flavor if any until well mixed and just creamy in texture. Do not overwork, or the cookies will spread during baking.
Beat in the egg until well combined. Add the flour and mix on until a dough forms. Gather into a ball, wrap in cling film and chill for at least 1 hour.
Place the dough on a floured surface and knead briefly. Roll out to an even thickness, about 5 mm (1/4 inch).
Use cookie cutters to cut out shapes and, using a palette knife (spatula), lay on a baking tray / cookie sheet lined with greaseproof (waxed) paper. Chill again for about 30 minutes. Preheat the oven to 180°C / 350°F / Gas Mark 4.
Bake for 8 to 12 minutes, depending on size, until golden-brown at the edges. Let cool on a wire rack.
This job is obviously made much easier by using a stand or even an electric mixer but I don't have one and I did just fine. If you are making different shape cookies, bake each shape separately to prevent overcooking of some while others are undercooked.
For dinner, we had a very nice potato galette from one of my newest cookbooks, Dinner With Friends from the Kitchen Classics series. It took a long time to make but it was really good. We love potatoes in my house and we are gluttons so I made the full recipe, which is supposed to feed 4 to 6 people, and we ate it all…..along with our steak! There is no question why we are in shape…..round!
Provencale Potato Galette
1 tbps olive oil
200 g (7 oz) bacon, finely chopped
3 shallots, thinly sliced
1/2 tsp dried thyme
500 g (1 lb 2 oz) all purpose potatoes, thinly sliced
30 g (1 oz) butter
Preheat the oven to 180°C / 350°F / Gas Mark 4. Heat the oil in a frying pan and fry the bacon over medium heat until it starts to brown. Add the onion and thyme and cook for 3 to 4 minutes, or until softened. Transfer to a large bowl, add the potatoes, season and toss well.
Transfer the mixture to an 18 cm (7 inch) round cake pan and press down well. Dot with butter. Put a piece of doubled up greaseproof (waxed) paper over the top and place a weight, such as a ramekin or smaller cake pan, over the paper. Bake for 40 minutes. Remove the weight and paper and cook for another 20 to 25 minutes, or until the potato is tender and lightly golden. Leave to stand for 10 minutes. Run a knife around the edge of the tin and turn out the galette.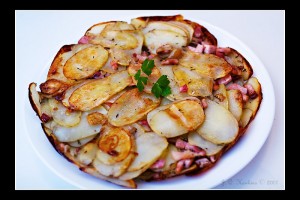 This is my adaptation of the recipe on the book. I didn't have a 7 inch cake pan so I used a 8 inch one. The galette wasn't as tall as it should have been but it didn't affect the taste. Because I used a bigger pan, I baked it for a little less time.