….the mouse will play!
When I found out my husband was not going to be around for dinner tonight, I immediately started planning in my head what treat I was gonna make for myself. After all, it is not often that I get the chance to cook something without having to take anyone else's taste into account. Of course, this meant shellfish. I really couldn't pick one thing to make so I decided on Surf and Turf. I knew the turf bit would be a ribeye steak but I thought I'd wait till I was at the fishmongers to decided on the surf, just so I could see what they had.
They have giant tiger prawns, the same kind I had been drooling over the last time I went to that fishmonger. I brought two home, and at £13.78 for the both of them, I really couldn't afford more! These suckers were the biggest prawns I have EVER seen. I kid you not, they were nearly the size of small lobsters. Next stop was the butcher for a nice, juicy steak.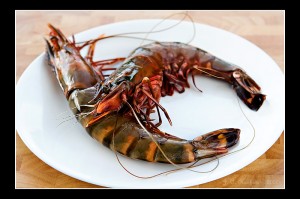 I just made it up as I went and it turned out delicious. Just because it's just me for dinner does not mean I have to eat bad! Granted, I can't afford meals like this often!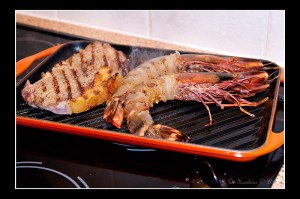 June's Surf and Turf for One
for the tiger prawns:
2 giant tiger prawns, raw and whole
2 garlic cloves
large pinch of ground ginger
large pinch of flaked peppers (dried)
large pinch of salt
1/8 tsp pepper
2 tbsp olive oil
for the steak:
1 medium sized ribeye steak
salt and pepper
olive oil
Carefully remove the shell form the body of the prawns, leaving the head and tail shell intact.
In a mortar and pestle, crush the garlic, ground ginger, and pepper flakes. Add the salt and pepper. Gradually add the olive oil and crush a bit more. Rub this mixture on the prawns. Place in a dish, cover with cling film and refrigerate for about 1.5 hours. Remove from the fridge about 30 minutes before grilling.
Remove the steak from the fridge about 30 minutes before grilling. Sprinkle with salt and pepper to taste and lightly brush with olive oil.
Remove any big garlic bits from the prawns. Place the steak and prawns on a hot grill, turning once. The steak can be done to your liking. The prawns take about 5 minutes and are done when completely pink.
Sprinkle steak with chopped fresh parsley and chives.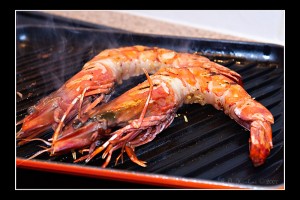 Of course, you can't just have that by itself, you need a starch or veg of some sort. I went for mashed potatoes after a failed attempt at french fries. Just in case you need a recipe for mash, here it is:
June's Mashed Potatoes for One
10oz small potatoes (about 10 baby new)
2 garlic cloves
salt
a knob of butter
whipping cream (or milk)
Wash the potatoes and cut them in quarters. In a medium saucepan, bring enough water to cover the potatoes to the boil with the sliced garlic cloves. Add the potatoes and the salt and cook until tender.
Drain the potatoes and put them back on the burner for about a minute, shaking frequently, to eliminate the excess moisture. Take off the heat and mash. Add the butter and stir to melt and combine. Add enough whipping cream or milk to make it creamy but not watery. Serve.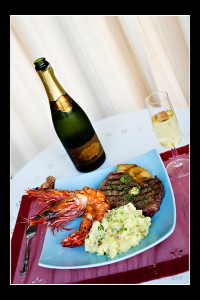 So, a scrumptious feast that is extremely easy to make. Eat with a glass of bubbly and have yourself a nice little treat, and if you are really in the mood, you can follow it your favorite dessert. It does not get better than this!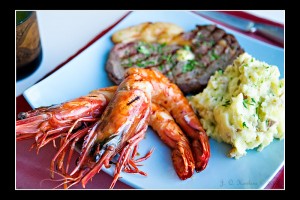 As The Domestic Goddess (Nigella) once said, ".…you don't have to belong to the drearily narcissistic learn-to-love-yourself school of thought to grasp that it might be a good thing to consider yourself worth cooking for. And the sort of food you cook for yourself will be different from the food you might lay on for tablefuls of people: it will be better."
And this is just to show you that even when cooking for one, I just can't help being messy!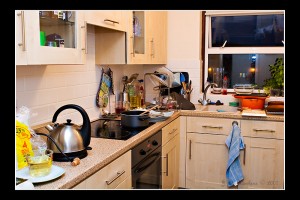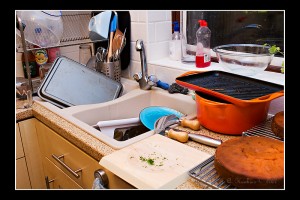 PS. These prawns are quite huge and so are their organs. If you are squeamish, then I recommend you have the fishmonger cut the heads off and devein them. If you are doing it yourself, do so just before eating. After taking the head off and cleaning the remains, run a sharp knife down the back of the prawn and take the vein out.