I was on my way home, well my mother's home, from the mall where I raided the bargain shelves at Borders and I couldn't face the thought of having to eat rice, beans and thin steaks again so I called my mom and told her I'd be cooking. She hates cooking so I hadn't finished the sentence when she said "sure", however I'm sure she was thinking "hell yes!" and doing the happy dance. It wasn't just the thought of having to eat rice and beans again that made me decide to cook, it was my husband too. I haven't eaten much veg since I've been here so he's been telling me I really should eat some. Yesterday I finally said I'd eat some, however, the veg being made in a healthy way was not part of the discussion!
I gave her a rotisserie oven for Christmas a few years ago (I was under the impression she liked to cook) so I thought I'd use it to roast a couple of chickens. I came home with said chickens only to find out that A) the rotisserie was not big enough for two birds and B) it had been collecting dust for ages and parts were missing. According to my grandmother, she's used it twice in almost 2 years and we don't know if she used it before that.
Fine, no rotisserie, there's still an oven. Well, yes there is BUT there is no roasting pan! I lie, there is one that looks like it's just about as old as she is and seen better days. The idea of roasting the chickens right on the pan made me cringe, I don't like the birds to sit in their own juice, so, I improvised. I used one of the tiers of a cooling rack I had bought, I put the rack in the pan and then the chickens on the rack. I wasn't sure it would work but it was the best I could do. It was fine though, no disasters.
One good thing did come out of the meal (besides the food itself). I made my mom like carrots. Time and time again she told she did not like carrots, she had tried them but did not like them. I told her a few days ago "If I make carrots, not only will you eat them but you will actually like them". She looked at me with the corner of her eye and walked away. Today, she had what she thought would be a token gesture and said "WOW, these carrots are actually good! They are so nice and sweet!" I just smiled and nodded. Victory is mine!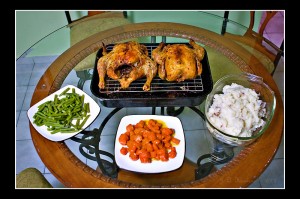 Roast Chicken
2 4-5 lbs whole chickens
1 head of garlic, peeled and finely chopped
Olive oil (NOT extra virgin)
salt
With paper towels, pat dry the chickens inside and out. Sprinkle them with salt to taste, inside and out.
Mix the garlic with enough olive oil to form a watery paste. Rub the paste all over the outside of the chickens and under the skin of the breast. Rub some paste on the inside as well. Set the oven to 450°F / 230°C Let the chickens rest at room temperature for about half an hour.
Put the chickens on a roasting rack in a roasting pan in the oven and cook for 20 minutes. Reduce the temperature to 350°F / 175°C and cook for approximately 2 hours. The chickens are done when the internal temperature reaches 170°F / 76°C. The juices should run clear.
Remove the chickens from the oven and let them rest for about 10-15 min before carving.
Serves 8
The side dishes were all things I had blogged about before except for the green beans (I think) which were just steamed for about 10 minutes on the stove.
For the Vichy Carrots look here. The mashed potatoes was this same recipe without the garlic and using large red potatoes.

Luckily, everyone liked the food! However, the million dollar question was "What, no rice???"