ROFL OK, I know that was incredibly dorky but I just could not resist! I hope someone gets it!
Since I got the Kitchenaid on Sunday, I have been finding excuses to use it. I have already made sponge cake batter and buttercream with the whisk and paddle respectively so I still had the dough hook to try! I looked through The Bread Baker's Apprentice but all the breads took too much time and I was looking for a quick one I could knead, proof and shape that night and then leave in the fridge overnight for the second proofing. I decided the best place to look for something like that would be in a cookbook with everyday recipes, like The Taste of Home Baking Book.
I came across the challah recipe and I immediately knew I wanted to make it (it was previously bookmarked). I had all the ingredients at hand so I got down to business. I have to say that I am in love with the Kitchenaid because as much as I like to knead dough, nothing beats not feeling like your arms are gonna fall off. Besides, you still have to knead it a bit to shape it so I get my fix there.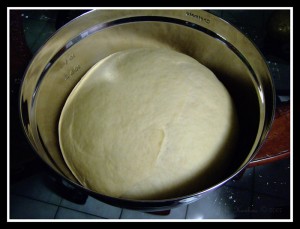 The bread was a hit with my family and I have to say I loved it too. I liked how easy it was to make and because I proofed it overnight, all I had to do in the morning was bake it. Nothing beats the taste of just out of the oven bread in morning, nothing. I have said that before but there it is just in case you missed it. My mom said the amazing smell of bread baking woke her up. That too was surprisingly satisfying to hear.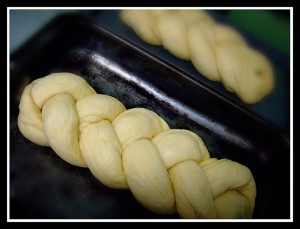 Challah
2 packages (1/4 ounce each) active dry yeast
1 cup warm water (110°F – 115°F)
1/2 cup vegetable oil
1/3 cup sugar
1 tbsp salt
4 eggs
6 to 6 1/2 cups all purpose flour
topping:
1 egg
1 tsp cold water
1 tsp sesame or poppy seeds, optional
1. In a large mixing bowl, dissolve yeast in warm water. Add the oil, sugar, salt, eggs and 4 cups of flour; beat until smooth. Stir in enough remaining flour to form a firm dough.
2. Turn onto a floured surface; knead until smooth and elastic, about 6-8 minutes. Place in greased bowl, turning once to grease the top. Cover and let rise in a warm place until doubled in size, about 1 hour.
3. Punch down the dough. Turn onto a lightly floured surface, divide in half. Divide each portion into thirds. Shape each piece into a 15 inch rope. Place three ropes onto a greased baking sheet and braid; pinch ends to seal and tuck under. Repeat with the remaining dough. Cover and let it rise overnight in the refrigerator.
4. Beat the egg and cold water for the topping; brush over the braids. Sprinkle with the sesame or poppy seeds in desired. Bake at 350°F for 30-35 minutes or until golden brown. Remove from pans and cool on a wire rack.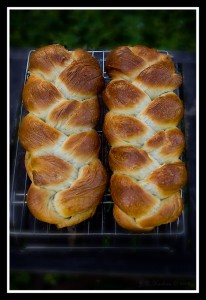 This recipe is a slight variation of the one found on the book. The recipe assumes you are kneading but it is easily adjustable for a mixer. I used the paddle attachment for the first part of the mixing process and then moved on to the dough spiral once I added the remaining flour. If you don't want to do the second raising overnight, you can raise the braids in a warm place for one hour and then bake. As I have said before, the oven set to about 170°F is a perfect place for your dough to rise. If you are rising in the oven, use a metal bowl just in case, however, Cling Film will not melt at that temperature so feel free to cover the bowl with it. I did.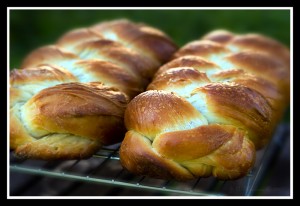 I can't finish this post without adding a video of my baby in action! It is my blog and I do whatever I want!
I'm in love.