I just finished my very first cake decorating course and I was waiting to post all the cakes together. I have to say it was fun, if frustrating at times. I still have a long way to go (look at my roses!) but it was definitely a good start. I conquered my fear of buttercream which was the main reason I decided to take the course. My fingers are sore from piping those roses (and the hundred other that didn't work) but I am definitely considering starting Course 2 tomorrow!
Here are the cakes:
1. The Rainbow Cake. This one was a hand breaker with all those stars but I am happy with how it turned out.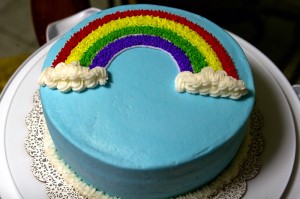 2. The Clown Cake. I did the two sitting clowns during class but then when I got home I decided it would be cool to add a 3rd clown. Well, it looked better in my head!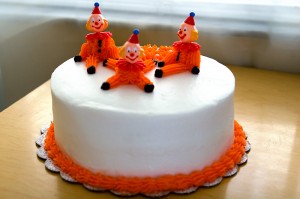 3. The Rose Cake. This was the final cake for the class. When I signed up, I thought we'd be practicing the roses all through the 4 sessions because it is one of the most difficult things to make. In reality, we were taught bits of the roses every week and then the finished one yesterday. Roses were the main reason I took the class and I am a bit disappointed more time wasn't spent on it. I am not happy with the way these came out but I just couldn't pipe any more, my fingers were about to fall off. I will be practicing though!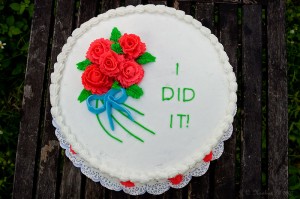 On a different note, I just wanted to show you my very small container garden! About a month ago, a bit after I moved here, I sowed some tomatoes which grew incredibly fast. Today, I finally got around to repotting them because I just couldn't leave 10 plants in a single round pot. The tomato variety is Gardener's Delight and they give small but incredibly sweet fruits. I hope to be eating tomatoes in a couple of months.
While at Home Depot getting the pots and compost, I decided to pick up some strawberry plants to put into the pot the tomatoes were occupying. They only had one variety, Ozark Beauty, and I don't know anything about them so we'll see how they turn out.
And just because my hands were already dirty, I sowed some Dark Opal Basil in a plastic pot I found in the backyard.
I am currently living with my mom but I do enjoy vegetable gardening and I have nothing else to do so why not! Besides, home-grown tastes so much better!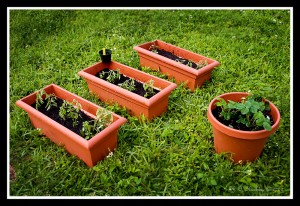 Little pot is basil, the three rectangular pots are tomatoes and the round pot strawberries.