Merry Christmas everybody!
We are not doing much today. As a matter of fact, we have spent the entire day sitting on the couch in front of the TV. We have watched everything from the Rachel Ray True Hollywood Story, to a show about aliens from World of the Worlds on the History Channel, to several episodes of Kimora Life In The Fab Lane. Maybe a little sad but hey, I wasn't feeling very well.
That is not to say we didn't have a proper Christmas meal! It was just didn't happen today. Cubans celebrate Christmas Eve and that is when we usually have our big meal and celebrations. We got invited to my mom's for dinner which consisted of the traditional fare; Roast pork, rice, beans, yucca with sofrito and cabbage and tomato salad. It was all really good.
I didn't wanna show up empty handed so I decided to make an Angel Food Cake with some whites I had in the freezer. I once made one from a box and my mom thought was great but I hated it. Since then, I have been trying to prove to her that homemade was better but my previous attempt failed so I had to eat the cake at home….the sacrifice!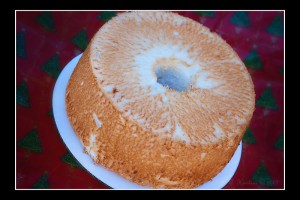 I love, love, love Angel Food Cake and Matt doesn't really like it much so every time I make one, I pretty much eat it all. That is not really bad considering how low in calories (and thus Weight Watchers points) it is. Since it's virtually all egg whites it is one of the healthiest cakes out there and it is also very simple to make. What more could you ask for??? However, if you don't have a stand mixer or a handheld electric mixer at the very least, whipping 12 egg whites to stiff peaks can be pretty painful!
I have tried other recipes but always come back to this one. It is the one that has worked the best for me and it came from a Weight Watchers book and I have only mildly altered it.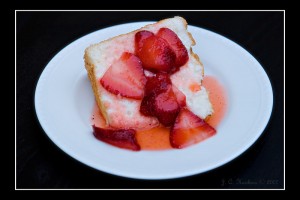 Angel Food Cake
1 1/2 cups sugar
1 cup + 2 tbsp sifted cake flour
1/4 tsp salt
12 egg whites at room temperature
1 1/4 tsp cream of tartar
1 tbsp vanilla extract
1. Preheat the oven to 375°F; arrange an oven rack in the lower third of the oven. Sift 3/4 cup of the sugar, the cake flour and salt onto a sheet of waxed paper.
2. In a large bowl, with an electric mixer on low speed, beat the egg whites until small bubbles appear and the surface is frothy, 1-2 minutes. Sprinkle with the cream of tartar; with the mixer on medium speed, add the remaining 3/4 cup of sugar in a slow, steady stream, beating until all the sugar is incorporated. With a rubber spatula, scrape the sides and bottom of the bowl. Add the vanilla; beat until the egg whites are stiff but not dry.
3. Sift one third of the flour mixture over the egg whites; with a rubber spatula, quickly fold into the egg whites, being careful to scrape the sides and bottom of the bowl. Repeat with the remaining flour mixture, making sure all the flour is blended into the egg whites. Scrape the batter into a 9 or 10 inch tube pan; with the spatula, smooth the surface. Bake in the lower third of the oven until a toothpick inserted in the center of the cake comes out clean, 25-30 minutes. Immediately invert the pan onto its legs and cool completely. If your pan does not have legs, invert onto the neck of a wine bottle. Once fully cooled, run a knife around the edges of the pan to loosen up. Invert onto a serving platter.
Serves 12
Per serving: 175 calories, 0 grams total fat, 0 grams saturated fat
If you really don't like the eggy taste, just let the cake sit for a few hours before eating. The longer the cake sits, the less eggy taste it will have. The beauty of Angel Food Cake is that it can be served with virtually anything. My preference is macerated strawberries and blackberries, which I sometimes add Chambord to. You can have it with curds, you can ice it, frost it, whatever. However, the cake is equally great all by itself and that is how I have it more often than not, I just cut chunks off and eat them with my hands.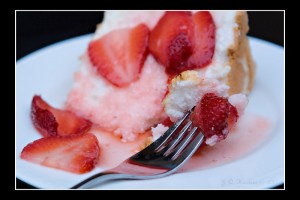 Just one last thing before I finish, in case you don't know, DO NOT bake your Angel Food Cake in a non stick tube pan, it will not rise. The cake needs to cling onto the pan and sort of climb up. I have tried using non stick and trust me, it does not work!
Merry Christmas!