People say that bacon makes everything better and I have to sort of agree. Maybe not EVERYTHING but certainly most things. Nigella agrees with me, thankfully. In her book Nigella Express she has a recipe for Chicken Schnitzel with Bacon and White Wine and in her description of the recipe she says "A chicken schnitzel or escalope, plain grilled, is certainly fast fare, but it wouldn't make you skip to the dinner table. Bacon comes to the rescue here; nothing fancy, just sweet, salty ribbons from Oscar Meyer which I always keep in the fridge for such an eventuality." I don't always keep bacon in the fridge…..OK, who am I kidding?….I do most of the time. So, when I saw this recipe I couldn't pass it up. It is very quick and, with bacon involved, promised to be tasty. It didn't disappoint.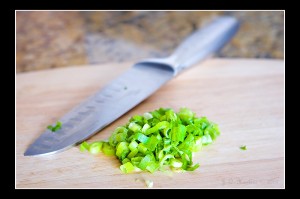 Chicken Schnitzel with Bacon and White Wine
1 teaspoon garlic oil (I didn't have any so I used olive oil..NOT EXTRA VIRGIN!)
4 rashers streaky bacon (normal bacon for Americans)
4 chicken escalopes, 125g each
100 ml white wine
1. Put the oil in a frying pan and add the bacon.
2. Fry till the bacon is crisp and the pan is full of bacony juices. Remove the bacon to a piece of foil, wrap it and set it aside for a moment.
3. Fry the chicken about 2 minutes a side, until there is no pinkness when you cut into a piece. Make sure the pan's hot so that the escalopes catch a little, turning beautifully bronze.
4. Remove the chicken to a serving plate and quickly crumble the bacon you've set aside into the pan, then pour in the wine, letting everything bubble up, and, finally, pour over the chicken pieces.
Serves 4

I did not have chicken escalopes, which are nothing more than thinly cut chicken breast. Instead, I took two chicken breast halves, placed them between two lengths of cling wrap and pounded them with a small, heavy saucepan until fairly thin. They still required a bit more than 2 minutes per side though.
The bacon was a tragedy. I managed to burn it so my husband had to quickly microwave some so we could crumble it. I think the burning wasn't so much my fault as it was the fact that I has using a brand spanking new cast iron skillet (just got it today) and there probably is a bit of a learning curve.
Another new gadget I put to use was a splash guard. I used to get all burned by the flying fat and hot water and while I knew these things existed, I never bothered to buy one. A few days ago we were watching an episode of Good Eats and Alton was using one and highly recommended it. My gadget addicted husband quickly pointed one out to me the next time we were in a store. We got a set of two and they were pretty cheap. These things work like a charm. Just put them on top of the skillet or frying pan and kiss burned hand and arms away. Thank you Alton Brown. Come think of it, I have been saying that a lot lately. MUST STOP WATCHING GOOD EATS…….
To go with the chicken, I made a risotto from the same book. It turned out to be the most difficult part of dinner not only because it had more ingredients and takes longer to make but because of all the stirring. However, it was fairly simple. Juggling the stirring the risotto and making the chicken was like a circus act though. I bet it would have been entertaining to watch!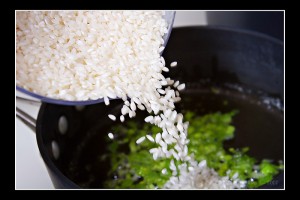 Cheddar Cheese Risotto
1 tablespoon (15 ml) butter
1 tablespoon (15ml) oil
2 baby leeks or spring onions, finely sliced
300 g risotto rise
125 ml white wine
1/2 teaspoon Dijon mustard
1 litre hot vegetable stock
125 g Cheddar, chopped
2 tablespoons (30 ml) chopped fresh chives
1. Melt the butter and oil in a medium sized pan and cook the sliced baby leeks until they have softened.
2. Add the risotto rise and keep stirring for a minute or so, then turn up the heat and add the wine and mustard, stirring until the wine is absorbed.
3. Start ladling in the hot stock, letting each ladleful become absorbed as you stir, before adding the next one.
4. Stir and ladle until the rice is al dente, about 18 minutes, then add the cheese, stirring it into the rice until it melts.
5. Take the pan strain off the heat, still stirring as you do so, and spoon the risotto into warmed dishes, sprinkling with some of the chopped chives.
Serves 2 as a main course; 4 as a starter
I didn't have enough vegetable stock (broth actually) so I made up the difference with some chicken broth. To keep the stock hot as I cooked the rice, I put it in a saucepan over medium heat and then low heat.
Everything worked together really well, even after the small bacon disaster. I guess I will just have to keep using that cast iron skillet until I get the hang of it!