Yesterday, while looking through the boxes of books trying to find a recipe for the Cottage Pie I'm serving my dad for lunch tomorrow, I found Nigella's Nigella Express. I was excited because the couple of recipes I've made from that book have been very quick, as the name implies, and very tasty.
We were out all day today running errands so it was refreshing to start dinner only about 15 minutes before we actually wanted to eat. It was also a blessing that it only took 15 minutes because since we had dinner, I have been preparing the darned Cottage Pie, but that's another post.
The recipe is really simple and really tasty, surprisingly so and the ingredient list is very short (unlike the cottage pie!)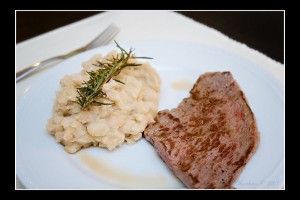 Flash Fried Steak with White Bean mash
60 ml olive oil, plus 2 teaspoons
most of 1 clove of garlic, crushed (I used a full clove for half the recipe)
1 sprig fresh rosemary, optional
grated zest and juice of 1 lemon
3 410g cans white beans (I used cannellini)
4 thin cut sirloin or entrecote steaks, about 150g each
salt and pepper to taste
1. First, get on with the beans: put the 60 ml of olive oil in a saucepan, and mix in the garlic. Add the whole rosemary sprig, if using, and the lemon zest and warm through. Remove the rosemary, but do not throw away.
2. Drain the beans and rinse under a tap to get rid of the gloop and then add to the pan and warm through, stirring and squishing with a wide, flat spoon so that the beans go into a nobbly mush. Season to taste; some beans come saltier than others.
3. Meanwhile, heat a teaspoon of oil in a large frying pan and cook the steaks on high for a minute and a half a side. Remove to warmed plates, sprinkling some salt, to taste, over them as you do so.
4. Squeeze the lemon juice into the hot pan and let it bubble up with the meaty oil, then pour over the steaks. Serve immediately with the bean mash adorned with the reserved rosemary sprig.
Serves 4
So easy! I am not sure what she wants us to do with the remaining teaspoon of olive oil but I am assuming you put in the pan with the lemon juice. I forgot to use it so I guess it doesn't really matter. I have the UK version of the book (the original) so I have given the measurements in metric. Most liquid measuring cups are labeled in milliliters as well so that shouldn't be a problem. As for the weight, well, invest in a digital scale 😀