I know I said you'd never see chocolate on my blog but I wasn't foreseeing my desire to treat my husband. He loves chocolate and he never gets to eat anything chocolaty that is homemade. I feel a bit sorry for him, the same way I feel sorry for myself for not being able to cook shellfish as often as I'd like (he doesn't like it). I guess it's just a matter of compromise.
I had been wanting to make this recipe ever since I first saw it. It sounded like something a chocolate lover would definitely like. I have been feeling very tired lately and hadn't had the energy to make it. I was feeling better today and I felt I owed my him one for Christmas so I decided to go ahead and make it. You see, our Christmas presents to each other were very unbalanced which is not the norm for us. I got a Kitchenaid 12 cup food processor with the wide mouth. I had been lusting after it for a while and he finally told me to go ahead and order it. I had it before Christmas but that was OK.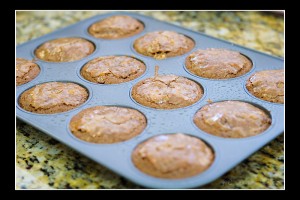 On the other hand, I gave him a simple remote control car. It was what he asked for but at the time, I didn't know he would ask me not to get him anything else. I felt a bit bad because of the huge price difference between the two items but left it at that. I guess I was feeling a bit guilty so I thought maybe some brownies would smooth things over.
This recipe came from a beautiful book called Sticky, Chewy, Messy, Gooey. These brownies are truly sticky, chewy, messy and gooey. According to the author, she bakes them in cupcake pans to avoid having to cut them into neat little squares.
Heart of Darkness Brownies
1 1/2 cups (3 sticks) unsalted butter
6 ounces unsweetened chocolate (I didn't have any so I used bittersweet)
2 1/4 cups granulated sugar
1 cup firmly packed light brown sugar
6 large eggs, lightly beaten
1 tbsp pure vanilla extract
1 1/2 cups all purpose flour
1/2 tsp salt
1 cup very coarsely chopped raw almonds or pecans, toasted (I used walnuts and didn't toast)
1 cup semisweet chocolate chips
5 full size (2.07 oz each) Snickers candy bars, cut into small chunks
3 cups mini marshmallows
For the caramel drizzle:
6 oz (about 25) unwrapped caramel candies
2 tbsp heavy cream
1 tsp pure vanilla extract
pinch of salt
Position a rack in the center of the oven and preheat to 350°F. Spray two standard 12-cup muffin tins with nonstick cooking spray.
Melt the butter and unsweetened chocolate together in a small saucepan over medium-low heat and stir until smooth. Pour the chocolate mixture into a bowl and stir in the sugars, eggs, and vanilla. Sift the flour and salt into the chocolate mixture and stir until just combined. Stir in the cooled chopped nuts, chocolate chips and chunks of candy bar.
Fill each cupcake cup halfway with the batter. Bake until the surface of the brownies has a glossy, crackled surface, about 20 minutes. Remove the brownies from the oven and top each one with 1/4 cup of the mini marshmallows. Return the brownies to the oven and cook just until the marshmallows start to melt and puff up a bit, but not browned too much, about 2 minutes. Transfer to a wire rack to cool just enough to handle, then remove from the cupcake cups, running a knife around the edge of each brownie to loosen it from the cup. Let cool completely on the wire rack.

While the brownies are cooling, make the caramel drizzle. Combine the caramels, cream, vanilla and salt in a microwave safe bowl. Microwave, uncovered, on high for 1 minute. Remove from the microwave and stir until smooth. If the caramels are not completely melted, continue heating in 30 second increments, stirring until smooth.
Drizzle the brownies with melted caramel and let cool completely for the caramel to harden. Do not chill. Serve immediately, or store up to 3 days in a covered container.
Makes 24 brownies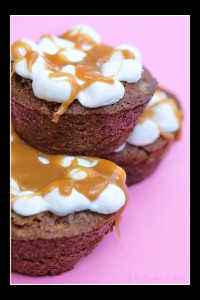 I know she says to cool the brownies in the pan until just cool enough to handle but that didn't work for me. When I tried to remove the brownies from the pan, they fell apart and them more so when I put them on the wire rack. After ruining 2 brownies, I just let them cool completely in the pan and then carefully removed them onto a piece of parchment paper. Also, the caramel will not harden completely, it will remain slightly gooey.
The expert says they are delicious. As a matter of fact, when I asked him if they were good, he replied "Hell yeah!" OK, so maybe they weren't so much a guilt-trip offering as a thank you for the great present. That sounds better. He loved them….my work here is done.