As I let on yesterday, today was the day I served my dad and his family the Cottage Pie. When I set out to find a recipe that was English, cottage pie was what immediately came to mind. I went though the boxes and found a book I knew would have such a recipe by a chef I knew would yield tasty results. Who else if not Gary Rhodes and his New British Classics? Indeed, not one else. I was very surprised at the lack of cottage pie recipes, or shepherd's pie for that matter, in all of the British cookbooks I own.
Trusting Gary, I went ahead and bought the ingredients. I sort of read the recipe so I knew I could prepare the pie last night, put it in the fridge, and then just pop it in the oven today to warm up and serve. Easy peasy I thought. Well, I have a nasty habit of not FULLY reading recipes and I didn't realize what I was in for. Sure, I could prepare it last night but I didn't realize it would take hours of prep and cooking!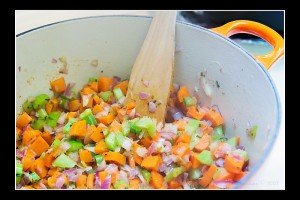 The meat and veg part of the pie needed about 2 hours in total from browning the meat and softening the veg to the slow cooking of all of the mixed. To make matters worse, I had a potato disaster. I bought russets for the mash and cut them really small. Once the potatoes were soft, they had reduced to about half the original weight and the water had thickened quite a bit. Potato soup anyone? At that point, I was at the end of my rope so my husband took over and boiled the rest of the potatoes in the bag so we'd have enough. This was about midnight and I had been cooking since about 8:30 pm or so. The meat had to cool before we could put the potatoes on top and then the whole thing had to cool before we could cover it up and put it in the oven.
It was a lot of trouble but the end result was, as expected, superb. Everyone loved it and had seconds. It was really great. I never made a Gary Rhodes recipe I didn't like and while they are pretty complicated most of the time (Gary Rhodes Keeping it Simple recipes aside), they sure are good! I don't want to toot my own horn but this was the best cottage pie I have ever had. Of course, all the cottage pies I've had before came in a microwavable tray 😉
For those of you who don't know what cottage pie is, think shepherd's pie with beef instead of lamb. As a matter of fact, the recipe is called Shepherd's Pie or Cottage Pie, you decide which meat to use. I don't like lamb so cottage pie is perfect for me.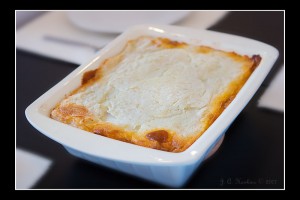 Cottage Pie
Serves 4-6
675 g (1 1/2 lbs) minced (ground) beef
25 g (1 oz) beef drippings or 2 tablespoons cooking oil
butter
3 onions, finely chopped
3 carrots, cut into 1 cm (1/2 inch) dice
4 celery sticks, cut into 1 cm (1/2 inch) dice
1/2 teaspoon ground cinnamon
1/2 teaspoon chopped fresh thyme
1/2 teaspoon chopped fresh rosemary
1 dessertspoon tomato puree
1 dessertspoon tomato ketchup
2 -3 glasses of red wine
25 g (1 oz) plain (all purpose) flour
200 ml (7 fl oz) veal or beef jus or chicken stock (I used beef broth)
salt and pepper
2 teaspoons Worcestershire sauce
900 g (2 lbs) mashed potatoes, made with very little butter and cream or milk
Season the mince beef with salt and pepper. This should now be fried in the drippings or oil in a very hot pan to seal the meat and colour it, rather than stew and boil. For the best results (and it's probably quicker), fry in batches. As soon as one lot is fried and coloured, pour off from the pan and drain in a colander.
In a separate saucepan, melt a knob of butter. Add the vegetables and season with salt, pepper and cinnamon. Then add the chopped herbs.
Allow to cook for 5 – 6 minutes until beginning to soften. Add the fried beef and cook on a medium heat for a few minutes. Add the tomato puree, ketchup and Worcestershire sauce, and stir into the mix. Now it's time to add the red wine. For a really rich finish, it is best to use all three glasses, but adding only half a glass at a time, reducing by three quarters and repeating the same process until all has been added. This method prevents the sauteed flavour of the beef becoming boiled away in too much wine. Sprinkle the flour into the pan and cook for 2 -3 minutes.
Pour in the jus or stock and bring to a soft simmer. This will now take, for a good rich cottage pie, 1 – 1 1/2 hours to cook. During the cooking time, the sauce may become too thick; if so, add a little water to loosen it. However, it is important to remember that mashed potatoes will be spread on top so don't let the sauce become too thin.
During the last 30 minutes of cooking time, the mashed potato can be made.
Once the cottage pie's mince is ready, spoon into a suitable ovenproof serving dish. The mashed potatoes can now be spooned or piped on top, brushed with a little butter and finished in a very hot oven or under the grill (broiler) to become golden. Another method is to allow the mince to become cold in the dish before covering with the potato. This can now be refrigerated until needed and then re-heated in a hot oven (200°C / 400°F / Gas Mark 6) for 35 – 40 minutes.
Another popular finish is a sprinkling of grated cheese, melted and glazed on top.

The dessertspoon measurement was new for me so I literally took a dessertspoon and used that to measure. This isn't baking so measurements do not have to be exact. In the book, Gary has a recipe for ketchup as well as stock and mashed potatoes, which he uses in this recipe. There was no way I was going to make all that too so I used good ole Heinz ketchup and Swanson's Beef Broth. I was doing one and a half the recipe and adjusted all the ingredients as such, except the cinnamon which I used twice the called for amount. I thought it was going to be a disaster but it worked great.
The pie truly was delicious and got compliments from everybody and they weren't just being polite, they meant it! I served the pie with peas and they complimented each other very well.
I figured after such a heavy lunch, people wouldn't want a heavy dessert. OK, that's my excuse but the real reason I chose ice cream as the dessert is because I got an ice cream machine on Friday. Yup, another cool appliance and I can tell you already, after just one use, I can see myself falling in love with it. I had been wanting one for ages and I had a 20% off coupon from Bed Bath and Beyond so I seized the moment.
There was a debate on what the first flavor should be. We came up with all sorts of flavors, even imitations of flavors we already like, like Chunky Monkey but without the chocolate chunks. Before you yell "the horror!", remember I don't like chocolate. Come think of it, that fact probably sounds much more horrific to you chocolate lovers. When all was said and done, we settled on vanilla. No, we are not "vanilla" and we certainly do not support the vanilla as an analogy for boring thing. We love vanilla and we love expensive vanilla and it really makes all the difference.
I have only one ice cream book and I bought it in London. It is a book called Ices Italia by Linda Tubby. As a matter of fact, it is not an ice cream book at all, it is a gelati and other frozen Italian concoctions. In case you didn't know, there IS a difference between gelato and ice cream. The recipe I made is called Gelato Di Crema and it is supposed to be made with no flavorings because it is supposed to taste of cream. However, I did use vanilla and made it vanilla gelato instead.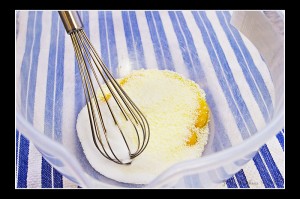 This too was great and and everyone loved it. I had mine plain and everyone else had theirs with chocolate syrup. I cannot wait to start churning up other lovely ice creams and gelati!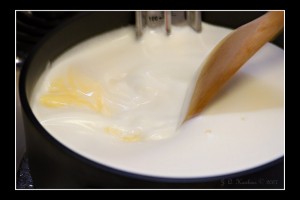 Gelato di Vaniglia (Vanilla Gelato)
Serves 8
Basic mix makes about 1.2 L / 2 pints / 5 cups before churning
300 ml / 10 fl oz / 1 1/4 cups double (heavy) cream
700 ml / 24 fl oz / 3 cups full cream (whole) milk
8 large egg yolks (or 9 if you are in the US)
200 g / 7 oz / 1 cup caster (superfine) sugar
3 tbsp skimmed milk powder
3 tbsp good quality vanilla extract
Put the cream and milk in a saucepan and gently heat until bubbles start to appear around the side of the pan.
Meanwhile, whisk the egg yolks, sugar and skimmed milk powder together in a heatproof bowl until pale in colour. Pour in the hot milk mixture and stir well.
Wash out the saucepan and pour the mixture back in. Cook over a medium heat with a head diffuser mat under the pan, stirring constantly with a wooden spoon, for 8 – 10 minutes until it reaches 75°C / 167°F on a thermometer. Do not boil or let the mixture get any hotter otherwise it will curdle. The custard will thicken a little as it cools. Stir in the vanilla extract. Transfer the mixture to a wide bowl and leave to cool. Chill in the refrigerator overnight to let the flavor mature.
Churn using an ice cream machine following the manufacturer's instructions until frozen (you may need to churn in two batches). Transfer to a freezer proof container, cover and freeze for 2 1/2 hours before serving. If it is frozen for longer and becomes too hard, remove the lid and transfer to the refrigerator to soften about 45 minutes before serving.
This is the the recipe verbatim, I have made some changes to it. One of them was the addition of the vanilla and the other was the chilling time. The original recipe calls for a 30 minute chill, however, it is best to let the mixture chill over night to let the flavor mature. This is what premium ice cream manufactures do. It does enhance the flavor (I tried the mixture before and after). I have Alton Brown to thank for this little bit of knowledge.
American eggs, surprisingly, are smaller than UK eggs. One UK large egg weighs 63 to 73 grams and one large US egg weighs about 57 grams. I used one more yolk than what the recipe called for but looking back, I should have used at least 2 more yolks than called for. Live and learn.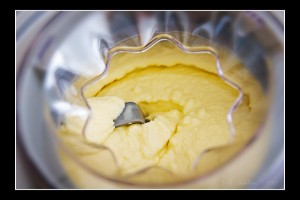 As for the thermometer, it truly is a necessity as things like custards are very delicate and boiled custard is disgusting. Candy thermometers are cheap these days and easy to come by. I use it not just for candy (heck, I don't think I've ever actually made candy!) but for lots of other stuff. I don't know how I got on before I had one.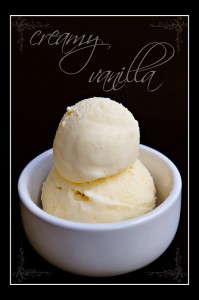 After all was said and done, the meal was a pretty successful one. I will admit that if I had realized how much time was involved in the cottage pie I would have probably not made it but I'm glad I did. As for the gelato, well, let it be the first of many!