For a while now, I have been casually stumbling upon recipes, articles, whatnots about apple pie with a cheddar cheese crust. I was intrigued but quickly forgot. Every time. A few day ago, while going over my stash of old cooking magazines, I came across an issue of Cooking Light from 2002 that had a recipe for apple pie with cheddar cheese crust. I decided right then and there I was going to try this thing and see what all the fuzz was about. I doggie eared the page and put the magazine on the stack of "must make recipe from" magazines and went on browsing through the other ones.
I bought some apples yesterday for pie and then I realized I had some cheddar at home from the day I made the cheddar risotto. Perfect, I thought. I woke up this morning determined to make the pie. However, I thought I'd get started on this month's Daring Bakers challenge first. That was a bit of a disaster so I went ahead and made the pie as a sort of consolation prize.
My first thought was….hhmm…..that's very little butter in the crust…..then I realized it was Cooking Light magazine. After mixing the dough, I have to admit I was a bit concerned because it was so dry and crumbly. I was a bit worried I wasn't going to be able to roll it out but in the end, it worked out.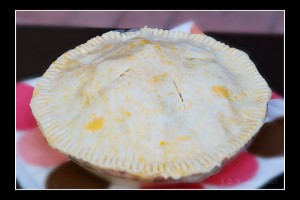 I had heard about rolling pastry, specially short pastry, between two sheets of plastic wrap but I had never actually done it. This recipe called for doing just that because you probably wouldn't be able to roll the dough any other way. Well, I loved it. It was just so easy to roll and better yet, it was so easy to transfer the dough to the plate and then to the top of the pie. I think I will be rolling like this from now on. Now I just need to get a wider roll of plastic wrap.
Cheddar Crusted Apple Pie
Crust:
2 1/4 cups all purpose flour, divided
3/4 cup (3 oz) extra sharp cheddar cheese, shredded
1/2 cup ice water
1/2 teaspoon salt
1/4 cup (half a stick / 2 oz) cut into small pieces
Filling
10 cups very thinly sliced peeled Granny Smith apple (about 2 3/4 pounds)
2 tablespoons fresh lemon juice
1/3 cup packed brown sugar
1/4 cup granulated sugar
1/4 teaspoon ground cinnamon
1/4 teaspoon ground nutmeg
1/4 teaspoon ground ginger
dash of salt
cooking spray
1 large egg white, lightly beaten
Preheat oven to 400°.
To prepare crust, lightly spoon flour into dry measuring cups; level with a knife. Combine 1 tablespoon flour and cheese in a small bowl; toss well. Place mixture in freezer for 10 minutes.
Combine 1/4 cup flour and 1/2 cup ice water in a small bowl, stirring with a whisk until well blended to form a slurry. Combine 1 3/4 cups flour and 1/2 teaspoon salt in a large bowl; cut in butter with a pastry blender or 2 knives until mixture resembles coarse meal. Stir in cheese mixture. Add slurry; toss with a fork. Sprinkle surface with up to 1 tablespoon ice water, tossing with a fork until moist and crumbly (do not form a ball). Mixture will seem slightly dry.
Divide dough in half. Gently press each half into a 4-inch circle on 2 sheets of overlapping heavy-duty plastic wrap; cover with 2 additional sheets of overlapping plastic wrap. Roll each dough half, still covered, into a 12-inch circle. Chill 30 minutes or until plastic wrap can be easily removed.
To prepare filling, combine apple and lemon juice in a large bowl. Combine 3 tablespoons flour, brown sugar, and next 5 ingredients (brown sugar through dash of salt) in a small bowl. Sprinkle brown sugar mixture over apples; toss well to coat.
To assemble pie, remove top sheets of plastic wrap from 1 dough circle; fit dough, plastic wrap side up, into a 10-inch deep-dish pie plate coated with cooking spray, letting dough extend over edge of plate. Remove remaining plastic wrap. Spoon filling into crust. Brush edges of crust lightly with water. Remove top sheets of plastic wrap from remaining dough circle; place, plastic wrap side up, on apple mixture. Remove remaining plastic wrap. Press edges of dough together; fold edges under, and flute. Cut 3 (1-inch) slits in top of pastry using a sharp knife.
Combine egg white and 1 tablespoon water; brush over top and edges of pie. Place pie on a baking sheet; bake at 400° for 45 minutes or until golden. Cool on a wire rack.
Serves 10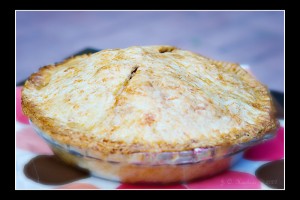 I did not use extra sharp cheddar because I already had sharp and I didn't want to buy more. For the filling, I used a combination of Granny Smith and Golden Delicious apples. I used a smaller pie plate, 9 inches I believe, because I didn't have a 10 inch one. I did pile up the apples which made for a slightly higher pie than a 10 inch pan would have probably made.
It is no secret that I have a thing for apples in their cooked state, specially if they are accompanied by some sort of crust, preferably flaky. I have never met an apple pie I did not like and this one was not an exception. It was good, however, it wasn't the best I've ever had. It tasted good and the cheese complimented the apples. The main flaw with it, not being flaky enough aside, was that the filling was very watery. I think it needed more thickening but the problem could have been that I used that combination of apples. Maybe it was the fact that I cut it while it was still fairly warm. Who knows.
So, I'm glad I made it and I'm glad I tried, however, I don't think I will be making it again for one simple reason….it is "light" and thus the flavor is compromised a bit. Besides, if you are going to have dessert like this, and lets face it, it's still not diet friendly, you might as well go all out and have a good, full fat pie that really hits the spot. I would choose this pie over this cheddar one any day. However, it may just be I haven't found the right recipe for it, after all, so many New Englanders can't be wrong!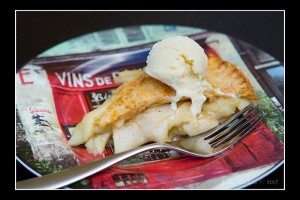 I'd like to thank my dad for the beautiful plates. They really pleased the francophile in me.