After taking my husband to work this morning, I pulled out a Ziplock bag containing stewing steak chunks from the freezer. I didn't know for sure what I was gonna make for dinner but I knew it would be a stew of some sort. I then surveyed the contents of my fridge's vegetable drawers and found celery which needed to be thrown away, OK carrots and OK parsnips, both of which needed to be used or trashed ASAP. I knew I had potatoes and shallots in the pantry. Great, perfectly good components for a stew!
I trawled through one of my cookbooks looking for a stew recipe to sort of go by but didn't find much that used those ingredients. .So I sort of winged it, only taking a recipe's timing into consideration since it was a somewhat similar list of ingredients. I had time to cook and I like my stews to be slow cooked so come 4ish PM, I got to chopping.
Right before the second hour, I left the stew on the heat and drove all of 3 minutes to pick my husband up from work and came straight back, to a home smelling of delicious stew. Nothing quite like that!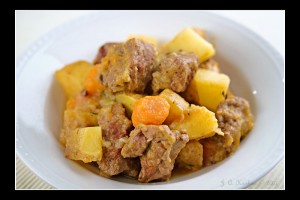 Beef Stew
1 lbs stewing beef cut into large chunks (I used top round)
1 tablespoon vegetable oil
3 medium carrots, peeled and thickly sliced
1 large parsnip
4 shallots, peeled and quartered
600 ml water
2 large potatoes, cut into large chunks
1 large sprig of fresh thyme
salt and pepper to taste
Heat the oil in a medium dutch oven or flameproof casserole and brown the meat on all sides. Remove the meat to a plate
Add the carrots, parsnip and onion to the pan and cook until the onions are browned. Return the meat to the pan and add the water. Season with salt and pepper. Bring to the boil, reduce the heat to low, cover and simmer for 1 hour.
Add the potatoes to the pan with the thyme and a pinch of salt. Cover and cook for a further 1 hour or until the potatoes are tender. Fish out the thyme before serving.
Serves 2
It takes a bit of time but it is mostly inactive time so it isn't a taxing dish. Cooking it for 2 hours will render the carrots, parsnip and shallots into a chunky mush, which is great for thickening, and nice, tender but not mushy potatoes. It may not look like what you get a restaurant but it sure tasted good and we will definitely be having it again…….just like this.