I have been wanting to make white chocolate macadamia nut cookies forever but had never gotten around to it. I have a few recipes for them marked on my many cookbooks so I set out to find them. That would be no easy task because all the books are still in boxes. I was looking for a specific book but I came across the Joy of Cooking and decided to have a look in there to see if it had any. Alas, it did. I didn't wanna look through any more boxes so I settled for that one.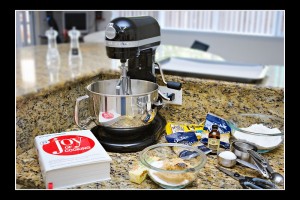 Making the cookies was very easy, thanks to my lovely Kitchenaid. I remember when I had to cream butter and sugar by hand before I even had a hand mixer and that wasn't fun! The recipe was for giant cookies but also gave instructions for smaller ones. I used a different size entirely because I wanted to use one of my new toys, a No.40 (1 1/2 tablespoons) cookie/ice cream scoop. I baked those for 15 minutes but they could have done with a bit less I think.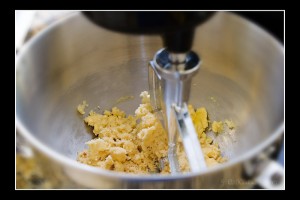 The cookies were awesome straight out of the oven (then again, almost everything is!) but have now become crispy. Maybe it was because I cooked them a couple of minutes too long or maybe because they were meant to be crispy. They are still great though and if you like crispy cookies these are the ones for you. I prefer chewy cookies and so will be microwaving these before eating them!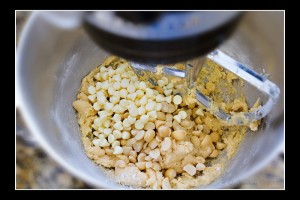 White Chocolate Macadamia Nut Monsters
14 five-inch cookies or 24 two and a half inch cookies
For regular sized cookies, drop by heaping measuring teaspoonfuls 1 1/2 inches apart and bake for 13 to 15 minutes.
Preheat the oven t 350°F. Grease or line 2 cookie sheets.
Whisk together:
2 1/2 cups all purpose flour
1 teaspoon baking soda
1/4 teaspoon salt
Beat in a large bowl until light and fluffy:
1 cup (2 sticks, 1/2 pound) unsalted butter, softened
1 1/3 cups sugar
2/3 cups packed dark brown sugar (I didn't have dark so I used light)
Beat in one at a time:
2 large eggs
1 teaspoon vanilla
Stir in the dry ingredients. Stir in:
1 cup coarsely chopped macadamia nuts (about 4 ounces)
1 cup coarsely chopped white chocolate (about 4 ounces)
Using a 1/3 cup measure, drop the dough about 3 inches apart onto the cookie sheets. Bake, 1 sheet at a time, until golden brown, 18 to 20 minutes. Let stand briefly. Then remove to a rack to cool.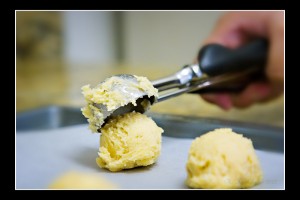 photo courtesy of my husband
I only made half the recipe and using my 1 1/2 tablespoons scoops, I got about 18 cookies. So, if you make the full recipe and use the teaspoon measurement alternative the recipe recommends, you'll probably have a lot more than 24 cookies!
To measure the flour, the Joy of Cooking recommends you shake the bag first to incorporate some air into it, then spoon the flour into the measuring cup lightly without pressing down, until it overflows. Then, level it off with the straight side of a knife (I used my bench scrapper). This is how I measured for this recipe. Whenever you are making something from an unfamiliar book, you should always find out how it recommends you measure the flour because not every cookbook author measures it the same way. Some do it by scooping the flour from the bag with the measuring cup then leveling, others spoon it in but then press it down, etc. All the different ways of measure will give you different amounts of flour, which is why I so love it when they give weight measurements. The wrong amount of flour can ruin your recipe so be careful.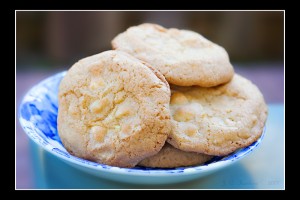 I think I am now on a quest to find a good, chewy white chocolate macadamia nut cookie recipe. I can't wait till Alton Brown's I'm Just Here For More Food: Food x Mixing + Heat = Baking gets here!