One problem, or perhaps blessing (you decide), with living close to your family is that sometimes, they just invite themselves over for dinner. Perhaps it's just a Cuban thing but today at around 3:30PM I was informed they'd be coming over around 7 or 8pm so I should make enough dinner for them (4-5 people without counting the two of us). Huh??? Crap. This would be the first time, ever, that my family would be having dinner at my house and even though I wanted to make something simple and fairly quick to make, I wanted it to be tasty and different from what they normally eat.
I finally settled on a soup recipe that looked good and it was easy to make. The fact that it was a one pot meal was great as well. I also needed place mats and a light for the dining room (did I mention we just moved it and had our stuff delivered only yesterday????). So, ingredient list in hand, I went shopping for what would become "Pasta and Peas in Broth" I came home a couple hours later, at around 6 and got to it. I was expecting them at 8pm so there was really no rush.
The recipe was very easy and straightforward. The most difficult part was the chopping of the ingredients and finding the prosciutto. I didn't find any pancetta so I used the bacon instead. The soup tasted much better than I was expecting it and it was quite chunky with very little liquid. The low liquid thing may have been a result of my upscaling the recipe. Either way, we all liked it and my family really liked it, my mom even wanted the recipe. To go with the soup, I bought and baked some frozen garlic bread. Mission accomplished.
Pasta and Peas in Broth
Serves 4-6
25g/1 oz/2 tbsp butter
50g/2 oz pancetta or rindless smoked streaky (fatty) bacon, roughly chopped
1 small onion, finely chopped
1 celery stick, finely chopped
400g/14 0z/3 1/2 cups frozen peas
5ml/1 tsp tomato puree (paste)
5 – 10 ml/1-2 tsp finely chopped fresh parsley
1 L/1 3/4 pints/ 4 cups chicken stock
300g/11 oz dried pasta (like bowtie)
about 50g/2 oz prosciutto, cut into cubes or thin slices
salt and pepper to taste
grated Parmesan cheese to serve
1. Melt the butter in a large pan and add the pancetta or bacon, with the chopped onion and chopped celery. Cook together over a low heat, stirring constantly, for 5 minutes.
2. Add the frozen peas to the pan and cook, stirring, for 3 to 4 minutes. Stir in the tomato puree and finely chopped parsley, then add the chicken stock, with salt and pepper to taste. Bring to the boil. Cover, lower the heat and simmer for about 10 minutes.
3. Taste the soup for seasoning. Drop the paste into the pan, then stir and bring to the boil. Simmer until the paste is just tender, then stir in the prosciutto. Serve hot with grated Parmesan cheese handed around separately.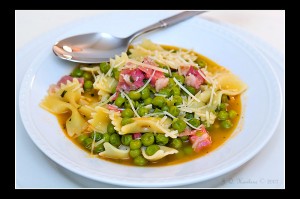 This recipe is adapted from one found in a book called "One Pot, Slow Pot and Clay Pot Cooking"
To finish, I whipped up a mango mousse that I served over store-bought dessert shells. That was a hit too.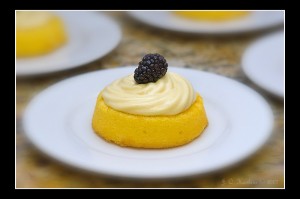 Mango Mousse
1 cup water
1 envelope (1/4 oz) unflavored gelatin
1 cup mango marmalade (from the Hispanic section of the supermarket)
1/3 cup sugar 1 cup whipping cream, whipped to stiff peaks 8 dessert shells
blackberries for garnishing
Pour the water in a large microwave safe bowl. Sprinkle the gelatin over the water and let it stand for 10 minutes until it softens. Place it in the microwave and heat for about 1 minute or until the gelatin has dissolved. If you don't have a microwave, warm and dissolve the gelatin in the water over simmering water.
Mix the sugar and mango marmalade into the water mixture and mix well. Place in the refrigerator, stirring often, until it starts to set. Fold the mixture into the whipped cream and place back in the fridge for about half an hour.
Place the dessert shells on a large baking sheet lined with parchment paper. Spoon the mousse over the dessert shells. Place them in the fridge until serving time. Just before serving, place a blackberry on top of each shell.
This is quite a sweet mousse so you may want to decrease the sugar amount. It's easy and delicious. What more could you ask for???