Yesterday while at BJs, I bought a book I had been meaning to buy ever since I heard of it a couple of months ago. The book has very few pictures and I wouldn't normally buy a book like that except that this one came very well recommended and it has even won a James Beard Foundation Cookbook of The Year award. I won't milk it anymore; Ladies and gentlemen, the book is……drum roll……"The King Arthur Flour Baker's Companion: The All Purpose Baking Cookbook" It's a long name for a thick book packed with what look to be excellent recipes. As a matter of fact, I have not finished looking through the book and I already felt compelled to make one of the recipes.
When I came across a recipe for yeast-raised glazed doughnuts, I knew I had to make them ASAP. I wasted no time and around 7pm last night, I started working on it. I decided to take the books recommendation and start them the day before so all I had to do today was roll, cut, fry and eat. Boy, I'm glad I did! There is nothing quite like the amazing taste of just-out-of-the-oil doughnuts that have been just glazed or just rolled in sugar. My husband was helping me with the glazing and rolling and I can't tell you how many we ate before they even made it to the cooling rack! It was some good bonding time with excellent team work.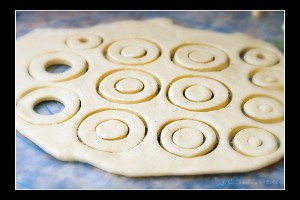 The recipe was all for glazed doughnuts but my husband thought it would be yummy to roll them in sugar as they came out of the oven. We tried it on one and decided they were great so we did half and half. They were really, really good. I took some to my mom's house and they agreed!
Yeast-Raised Glazed Doughnuts
16 round doughnuts plus doughnut holes
The dough needs a number of hours to grow to its full potential, so be sure to plan ahead. You can complete this recipe through the first rise the day before, refrigerate the dough overnight, then roll, cut, and cook them the next morning for a very special treat.
1/2 teaspoon salt
1/4 teaspoon nutmeg
1/4 cup (1 3/4 oz) sugar
2 1/4 teaspoons instant yeast (I found this to be one 1/4 oz envelope)
3 cups (12 3/4 oz) unbleached all purpose flour
1 large egg
1 cup (8 oz) milk
2 tablespoons (1 oz) butter, melted
1/2 teaspoon vanilla extract
6 cups (2 lbs) vegetable oil or shortening (2 1/2 lbs), for frying
Glaze
1/4 cup (2 oz) milk
2 cups (8 oz) confectioner's sugar
1/4 teaspoon vanilla extract
Whisk together the dry ingredients. In a separate bowl, combine the egg, milk, butter and vanilla and stir into the flour mixture, mixing until well combined. Let the dough rest for 5 minutes, then knead for 6 to 8 minutes by hand or mixer until you have a smooth, soft dough. Place the dough in a buttered bowl, turn it over to grease the top, and let it rise, covered, in a warm place for 1 1/2 to 2 hours, until doubled in bulk.
Deflate the dough and turn it out onto a lightly floured surface. Gently roll the dough out to 1/4 inch thickness and cut with a round cutter. Cover loosely with greased plastic wrap and let rise again for about 1 hour, until doubled again.
Place oil or shortening in a heavy pan or deep skillet and heat to 350°F. Place the doughnuts in the oil, two or three at a time, and fry until golden brown. Turn over and cook the second side. This should be no more than a minute on each side. Overcooking will make the doughnuts tough. Drain on paper towels.
To make the glaze, stir the milk into the confectioners' sugar until it is smooth, then add the vanilla.
When the doughnuts are cool enough to handle (but still warm), dip the tops of the doughnuts into the glaze, then place on a rack or place to the glaze drip down.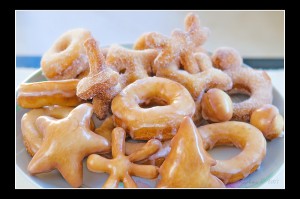 The most difficult part about the whole processes was getting the oil to the right temperature. I guess this is where an electric skillet with a thermostat would come in handy. As I said above, I proofed the dough only once, overnight. I did not proof again after cutting them; they went straight into the hot oil. The first time I rolled the dough, it was easy but it became increasingly more difficult with every rolling process.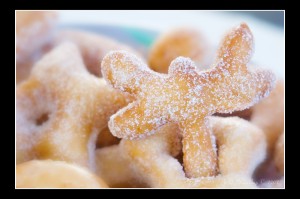 I have lots of cookie cutters so we decided to make other shapes as well as round ones. We made a heart, a dragonfly, stars, etc. Just because it's about Christmas time, I made a snow flake and a Christmas tree. They were all so cute!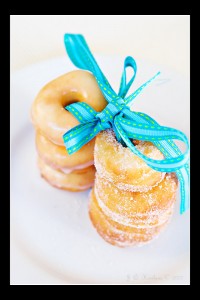 I made some bite-sized doughnuts because I was going to enter them to a Blog Party event. They were so cute but a challenge to photograph. In pictures, with nothing to give it scale, they look just like any other doughnut, my ever helpful husband decided to give me a hand….literally. Gotta love the man!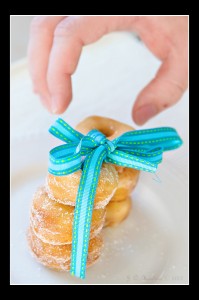 I have to say that one of my favorite things about this book is the fact that they don't just give you cup measurements but weight measurements as well. I really wish that America would realize how much better weight is! I say that every time, I know but it is the true.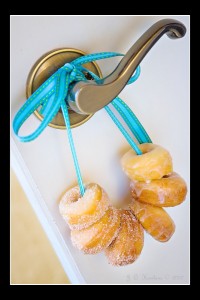 In the process of making these tasty treats, I managed to put my Kitchenaid's burnished spiral hook out of commission. "How???" you ask, well, easy, by not reading instructions. After I was done with the hook, I put it in the dishwasher with the rest of the stuff. When I pulled it out, I noticed it was dull and dark. I picked it up and showed it to my husband, who picked it up as well then noticed the hook left a black residue on his hands and mine. I washed it off but it did not look like the beater or the whisk so I read the manual. Turns out they are NOT dishwasher safe. I have now ordered another hook and and will be throwing that one away as its top coat is gone and it's probably not safe to use in food anymore. Or something. Let this be your warning……DO NOT PUT BURNISHED UTENSILS IN THE DISHWASHER!!!!!