There are some things you just didn't plan on baking for a while but all of a sudden, you find yourself in the middle of the process. It's somewhat unexpected and not entirely planned but it sure brings a smile to your face just to know that it is indeed baking. This is the situation I currently find myself in. I'm a happy baker I suppose.
Ultimate Bun
1 spermatozoid
1 ovum
Combine ingredients the best way you know how. Bake in a 98.6°F uterus for approximately 40 weeks. It is a slow and long baking process and getting the bun out is painful but I hear the result is well worth it.
Makes 1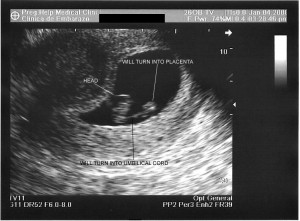 So, I have known for a while I was pregnant but I was waiting to see a heartbeat before I announced it to everyone and their mother. It's still early in the pregnancy so I'm crossing my fingers I make it out of the first trimester with flying colors. I am due sometime around August 20th.
This is really the reason I have not been cooking or baking much lately. At first, I was very tired all the time and now I am hardly eating because just the thought of most food makes my stomach turn. I hope that goes away soon though because my husband will start complaining about eating fast food so often any time now!