I hadn't baked any bread in a long while and I was itching to do so. My morning sickness is nearly non-existent now (knock on wood!) so I'm slowly getting back to my old self. I have been eating Saltines for breakfast for what seems like an eternity and I'd had enough so I decided to bake some bagels. I used Peter Reinhart's recipe from his book The Bread Baker's Apprentice again because it was so good the first time around. This time however, I did a few things differently, some by choice and some because I wasn't paying attention to what I was doing.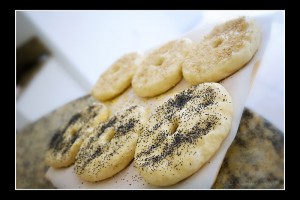 First and probably most noticeable is the fact that I decided to sprinkle seeds on the bagels. I used poppy seeds for half and sesame seeds for the other half. I only made half the original recipe for a total of 6 bagels; plenty for the two of us. The one thing I didn't do on purpose was omit the malt powder/honey/brown sugar. When I realized I hadn't added it to the mix, the Kitchenaid was already well into the kneading process. I decided to carry on with the recipe and see what happened. Luckily, it didn't seem to matter much, the bagels were still delicious.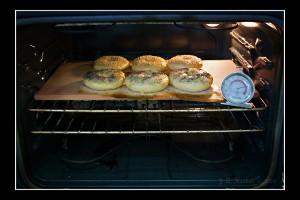 The change I am most excited about, however, is the way I baked. I have started to use a makeshift hearth oven using unglazed quarry tiles in my oven. Professional bread bakers use earth ovens and the quarry tiles is as close as a home baker can get to that without building an oven in the backyard. I was very excited about this because it was the first time I actually used that method. I wasn't sure what to expect but it worked beautifully. This is the way I plan to bake all my artisan breads from now on.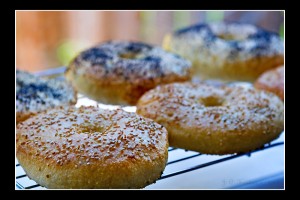 The bagels were delicious and it was very naive of me to think they would last for at least a couple of breakfasts. The things hadn't finished cooling when we had inhaled four of them. Now we only have two left for breakfast, one for him and one for me. Next time I will definitely make the entire recipe, at least through the retardation and finish them in the span of two or three days. After all, it is no more work to make the entire recipe than it is to just make half.