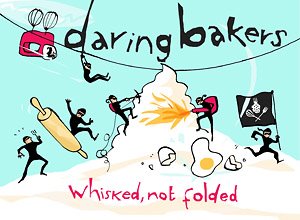 Even though I've been having a hard time in the kitchen since becoming pregnant, I still make the effort to, at the very least, complete the Daring Bakers challenge every month. It is that time of the month again and it was a tasty challenge.
I love to bake and decorate cakes so when I found out the challenge for this month was a cake, I was ecstatic. It wasn't just any cake mind you, it was the "Perfect Party Cake" from the super talented Dorie Greenspans's "Baking From My Home To Yours" book. I was looking forward to this challenge but I had a difficult time deciding on a good time to do it. I have been very busy with school so I basically had to squeeze it in between essays and other papers.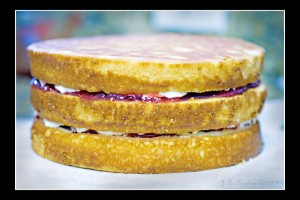 Unlike all of the other cakes I've baked and decorated, I did the entire process on the same afternoon with this one. It took longer than it would have normally taken for a couple of reasons. One was the lack of multiple cake pans in each size and second was the fact that I had to bake two cake recipes because my cakes, along with many of the other daring bakers', did not rise much so I needed a second batch to make the cake tall enough. I ended up using 3 out of the 4 baked layers and that gave a perfect sized cake.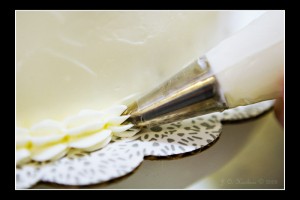 I made a few changes that were allowed within the challenge rules. The biggest change was that I did not use coconut or lime, as the recipe calls for. Instead of using the lemon extract for the cake, I used almond extract. I don't normally like almond but I thought I'd give it a shot and I have to say it was delicious. I filled the cake with strawberry preserve instead of the raspberry and I did not use the lemon juice for the buttercream. As a matter of fact, I did not use any liquid aside from the vanilla flavoring in my buttercream because I found the consistency to be thin enough. It tasted really good and I couldn't keep myself from licking the spatula every time I scraped the mixer bowl. This entire combination worked beautifully.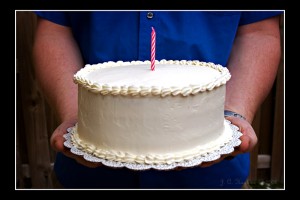 This was by far one of the best cakes I have ever baked. My husband ate most of the scraps while I put icing on the stacked cake. They were good! It was incredibly moist and tender but not mushy. The crumb was perfect and it was really easy to carve. Cakes sometimes dome quite a bit and this didn't dome as much so I didn't have to take a lot of cake off the top to level them off. It was just great. There's only two of us here so I gave a most of the cake to my family who loved it and called me specifically to tell me how great it was.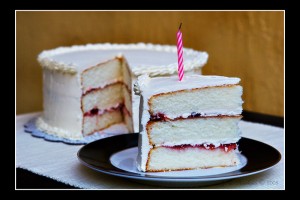 The challenge hostess, Morven, hasn't posted the recipe in her blog but if you really want it, I recommend you buy the book. It is a great book from beginning to end and you will not regret getting it!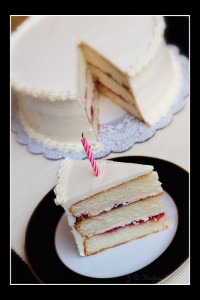 On a side note, I'd like to announce we are having a baby boy! We found out a couple of weeks ago and we are very excited and can't wait to meet him. OK, I lie, we can wait until he's good and ready in about 20 weeks.