It was my mom's birthday on Thursday so I invited my family over for lunch today so we could celebrate. I had been wanting to make paella again for a while so this was the perfect opportunity. Let me start out by saying that getting the stuff together for this stupid paella was a mission! We went to 4, count them….FOUR stores to find all the ingredients and I ended up having to compromise and get what was available because I could not face another supermarket. I really wanted to use small shrimp in the rice and then get a bag of frozen lobster tails and put them on top of the paella. Well, that didn't happen. I ended up using small scallops in place of the small shrimp and big shrimp in place of the lobster.
I used the same recipe I previously used in the UK (Paella at Last!) but with a change. This time, instead of the squid, I used small bay scallops. I also cooked it a bit differently. For starters, I actually used a paella pan that I've for 3 or 4 years and gone unused 'til now. I started cooking on the stovetop but the pan was too big for the burners and the burners were not leveled so all the liquid pooled on one side. I decided to be adventurous and do the rest of the stovetop cooking on the gas grill. That worked like a charm! I did finish cooking the paella in the oven as per the recipe and everything was perfectly done. It was truly delicious. The recipe says it feeds 6-8 people but it feeds a lot more! Most of the eaters had seconds and we only ate just over half the paella. I'm not complaining though, I have leftovers for dinner 🙂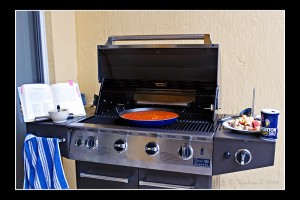 To go with the paella, I shredded some cabbage in the food processor and put salt and olive oil on it for a very simple but yummy salad. I also fried some plantains. Today was a day of firsts as far as hardware; I used the paella pan for the first time, I used the shredding disc of the food processor for the fist time and just today we bought a deep fryer which I also used for the first time.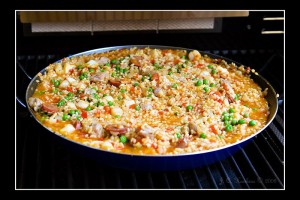 To accompany the meal, we had a lovely Moscato d'Asti that I had since I lived in Italy. It is one of my two favorite wines and that was the last bottle I had. We finished it but don't freak out, I only had a small glass. I'm so bummed I can't actually buy that wine here in the US because I love it. My other favorite wine cannot be bought here either. Oh, I miss Italy!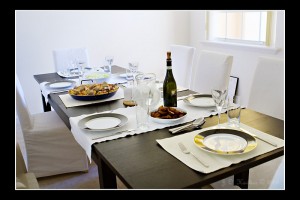 So, all in all, it was a great afternoon with my family, great food, great wine, great everything. To boot, my mom did all the dishes that needed to be done by hand and my husband loaded the dishwasher. I'm so glad I am getting my energy back!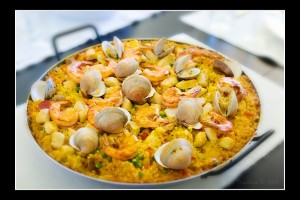 I have made other things this week but I haven't blogged them yet because I haven't taken pictures. They are coming though so stay tuned!