Like a kid with a new toy, I decided to try a recipe from a book I bought yesterday, Martha Stewart's Cookies. There was another new toy I had been itching to use. OK, it's not so new, I've had it for at least a couple of months but I hadn't had a chance to use it between school and being pregnant. But I digress, I'm talking about a cookie press. The recipe sounded delicious, who doesn't like vanilla cookies? I sure do!
Thankfully, I had everything I needed at hand, it was just a matter of letting the butter come to room temperature. The dough was very easy to make and actually pumping the cookies was a hoot. I had never used a cookie press before so it was a bit of a challenge, however, all was well in the end.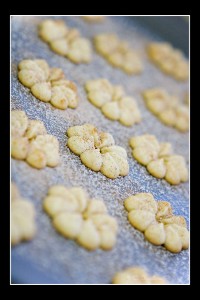 The cookies looked and tasted great. My only complaint is that the cinnamon overpowers the very expensive vanilla flavor. I still have some dough left and when I bake it, I'm gonna leave the cinnamon out of the sprinkling mix. Other than that, the cookies are excellent!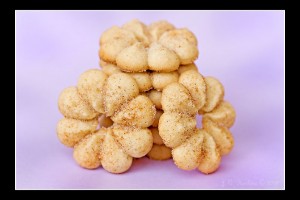 One last thing, I didn't have a wreath disc for the cookie press so I used a similar disc. The cookies were baked to perfection in 9 minutes.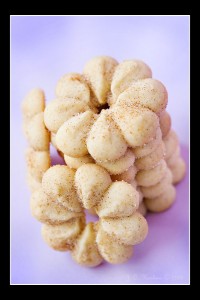 Vanilla Bean Spritz Wreaths
3 1/2 cups all purpose flour
3 teaspoons ground cinnamon
2 vanilla beans, halved lengthwise, seeds scraped and reserved
1 cup plus 4 teaspoons sugar
3 sticks (12 oz) unsalted butter, room temperature
2 large egg yolks
1. Preheat the oven to 350°F. Whisk together the flour, salt, and 1 teaspoon cinnamon.
2. Beat the vanilla seeds and 1 cup of sugar with a mixer on medium speed until incorporated, about 3 minutes (sugar may clump together slightly). Add butter, and beat until pale and fluffy. Add egg yolks, one at a time, beating well after each addition. Reduce the speed to low. Add flour mixture, and beat until smooth.
3. Divide the dough into 3 portions. Pack 1 portion into a cookie press fitted with wreath disk (cover remaining portion with an inverted bowl or refrigerate in an airtight container for up to 3 days; bringing to room temperature before using), and press shapes about 2 inches apart onto baking sheets. Bake until edges are just golden, 9 to 12 minutes.
4. Meanwhile, combine the remaining 2 teaspoons cinnamon with remaining 4 teaspoons sugar. Sprinkle over hot cookies. Let cool on sheets on wire racks. Repeat. Cookies can be stored in a single layer in airtight containers at room temperature up to 4 days.
PS. I'm out of practice. This post was very difficult to write. I had a hard time coming up with things to say about the recipe and end product. Goes to show that skills do get rusty if not used!