We got a grill a few weeks ago and have been using it very often. As a matter of fact, most of the food we've cooked at home since we got it has been grilled. It's just so easy to turn the thing on and get cooking. It is gas though which doesn't have quite the same effect on food as charcoal does but the convenience cannot be beat.
I had been itching to buy grilling books since I don't know anything about grilling and finally did so a couple of days ago. The Mastering the Grill book is already full of sticky notes marking the recipes I like (I do this to every cookbook I own) and one of those stickies marks what else if not my favorite….steak. I LOVE steak. As a matter of fact, I think love is a bit of an understatement. If I could afford to eat at Ruth's Chris every night, I would but I do settle for Longhorn a few times a month. To make things even better, the grill has an infrared searing burner, which I hadn't tried yet but was looking forward to doing so. The cherry on the top was the fact that I had my last final exam this morning and now I am a free woman until January. Well, relatively free, there IS a baby coming this August.
I figured the stars had aligned just right and this was the perfect day to try the steak recipe and use the searing burner. The steak was not the best quality, unfortunately, but the searing at superhigh heat really made a HUGE difference from the previous times we've grilled steak. I am so glad we have this gizmo, maybe we won't have to go out every time we want good steak. Now…THERE's a way to save money!
To go with the steak, I found a yummy potato recipe in one of my old magazines. This was one of those instances when I was glad I keep magazines, this one was from 2003 and it was all about grilling. Now, I left the potatoes on the grill too long and the bottom burned but the rest was delicious. Hey, gimme a break, I'm still learning my way around the grill!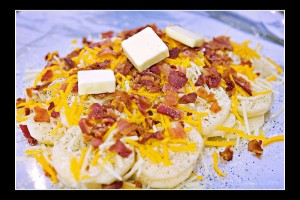 Grilled Three Cheese Potatoes
6 large potatoes, peeled and sliced 1/4 inch thick
2 medium onions, chopped
1/3 cup grated Parmesan cheese
1 cup (4 oz) shredded sharp cheddar cheese
1 cup (4 oz) shredded mozzarella cheese
1 pound sliced bacon, cooked and crumbled
1/4 cup butter or margarine, cubed
1 tablespoon minced fresh or dried chives
1 to 2 teaspoons seasoned salt
1/2 teaspoon pepper
Divide the potatoes and onions equally between two pieces of heavy-duty foil (about 18 inch square) taht have been coated with nonstick cooking spray. Combine the Parmesan and 3/4 cup of each cheddar and mozzarella; sprinkle over the potatoes and onions. Top with bacon, butter, chives, seasoned salt and pepper.
Bring opposite ends of the foil together over the filling and fold down several times. Fold unsealed ends toward the filling and crimp tightly. Grill, covered, over medium heat for 35-40 minutes or until potatoes are tender. Remove from the grill. Open foil carefully and sprinkle with remaining cheeses.
Serves 6-8
This can also be cooked in the oven at 350°F for one hour.
I hardly ever follow recipes verbatim and this was no exception. I am not crazy about onions so I didn't use any. I also omitted the chives and replaced the seasoned salt with normal salt. As usual, I halved the recipe.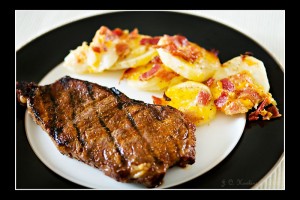 Strip Steaks with Cajun Blackening Rub
Serves 4
-For the rub:
1 teaspoon garlic powder
1 teaspoon onion powder
1 teaspoon cayenne pepper
1/2 teaspoon ground mustard (powder)
3/4 teaspoon ground white pepper
3/4 teaspoon ground black pepper
1/2 teaspoon dried thyme
1/2 teaspoon dried oregano
1 tablespoon sweet paprika
1 tablespoon kosher salt
4 boneless strip steaks, each 10-12 oz and 1 to 1 1/2 inches thick
oil for coating grill grate
Trim the fat on the steaks to about 1/4 inch. Pat the steaks dry with paper towels. Apply the rub, make sure to cover both sides of each steak. Let rest at room temperature for 1 to 2 hours or cover and refrigerate for up to 8 hours if you have the time.
If you refrigerated the steaks, bring to room temperature before grilling, about 1 hour.
Heat the grill to 500°F on high if using gas. For charcoal grills, heat a 12×12 inch charcoal bed (about 3 dozen coals) to red hot. Make sure you have a high and low heat areas. Place the grate (for charcoal) on the lowest setting.
Brush the grill grate and coat it with oil. Put the steaks on the grill over high heat and cook until darkly crusted, 3 to 5 minutes per side. Reduce the heat to medium-low (on a gas grill) or move the steaks to the low heat area (on charcoal), cover and grill for another 8 to 12 minutes for medium rare to medium done (135°F to 140°F on an instant read thermometer inserted into the thickest part). Transfer to a platter, cover loosely with foil and let rest for 5 minutes before slicing.
As I mentioned earlier, I used the searing burner so I the method was much like using charcoal. I had the side of the grill opposite the searing burner turned on to medium low (it has hot enough from cooking the potatoes) and the searing burner on high. I seared the steaks on both sides and then moved them to the low heat area. This worked great. I did find that even at 4 minutes on each side on the low heat, the steaks were more medium well than medium rare. I like my steak medium rare but it was still nice and juicy and by no means overdone.

From the rub, you'd get the idea that the steaks are very spicy. Well, they are not. They are well seasoned and mildly hot but it won't feel like there is a fire in your mouth. It was actually quite pleasant. I started with the potatoes, once they were done, I took them out of the grill but left them on the side to keep warm. I then turned the heat on that side of the grill to medium low and got the searing burner going.
After all was said and one, there was nothing but gristle (and burned potatoes from the bottom) left over. It was not 100% successful but I am pretty pleased with the results. I intend on perfecting my grilling technique so I'll be practicing a lot. Practice makes perfect!