Well, not really. Anyone who buys Top Secret Restaurant Recipes will be privy to this so called secret. I haven't had the book for long but I decided it was time to try one of the recipes. We love potatoes and we love Ruth's Chris so Ruth's Chris Steak House Potatoes au Gratin it was!
It was easy to make and delicious. I made just over half the recipe and there isn't any left. That's the sign of a good meal. I paired the potatoes with steaks using the same Cajun rub as a few posts ago. I'd be lying if I said we didn't like our meat and potatoes and quite frankly, I think it shows that we do! This meal looks similar to the one with the grilled potatoes but these potatoes were SO much better. I recommend the recipe (and the book) 100%!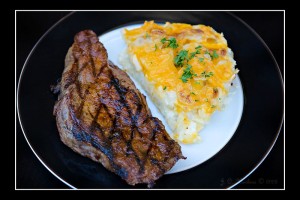 Ruth's Chris Steak House Potatoes au Gratin
3 to 4 medium russet potatoes, peeled
1 cup heavy cream
1/2 cup milk
1 1/2 tbsp flour
1 large garlic clove, pressed
1/4 tsp salt
1/8 tsp pepper
1 tbsp butter, softened
1 1/2 cups grated Cheddar cheese
1 tsp finely chopped fresh parsley
1. Preheat the oven to 400°F.
2. Cut the potatoes into 1/4 inch slices, then quarter each of those slices.
3. Beat together the cream, milk, flour, garlic, salt, and pepper by hand until well combined.
4. Coat the inside of a large baking dish with the softened butter.
5. Arrange one-fourth of the potatoes on the bottom of the dish. Pour some of the cream mixture over the potatoes. Repeat this layering step three more times.
6. Cover the potatoes (with foil paper) and bake for 20 minutes. Uncover, and bake another 40 minutes or until the potatoes are starting to brown on top.
7. Sprinkle grated cheese over the top of the potatoes and continue to bake for 5 to 10 minutes or until the cheese is melted and slightly browned and the potatoes are tender.
8. Sprinkle the parsley on top and serve.
Very simple and tasty! This is another instance, as I've mentioned before, where having a mandolin is paramount! You can do the slicing by hand but it's not going to be very even unless you are an Iron Chef and it's going to take a long time.
Hard to believe something so simple can be so good. I'm sure the real deal at the restaurant is much better (it's been a long time, I can't remember!) but at least this one isn't going to cost you your child's college fund!