Being an avid traveler and eater, I am fascinated by the foods of far off lands. I love traveling and experiencing the food of different countries, which to me is one of the most important reasons to get out there in the first place. I loved Egypt and its tasty lentil soups, Austria and its schnitzel, France and its pastries, etc. I could go on and on but that would just reawaken the dormant travel bug that lives in me.
I am particularly fascinated by North Africa. There is something about the Moorish architecture and the mixture of Middle Eastern and European cultures that is incredibly alluring. I have traveled to Tunisia, although very briefly, and it only augmented my already existing desire of one day visiting Morocco. However, in the mean time, I can live vicariously through my travel and cookbooks. Amongst my many cookbooks, there are some Moroccan ones which I had not used until today. Ever since I got this particular one, I've had a recipe for harira bookmarked but hadn't gotten around to making it. At long last, I included it in this weeks meal plan and I am very glad I did. Harira, a meat and vegetable stew, is usually eaten in Morocco during Ramadan after sundown and breaks the day's fast.
The original recipe calls for lamb, which I don't eat, so I used beef instead. I also left the coriander out because it is one of the few things that I despise. Any hint of coriander or cilantro is enough to render an entire meal inedible for me. I believe I have my mother to thank for this as she is the exact same way. Curiously enough, her mother loves it.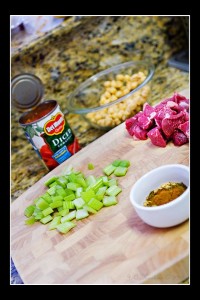 The soup is slow cooked but as with most slow cooked things, it requires very little active time. The combination of spices, even though meant for lamb, works with beef as well. The soup tasted great and the two of us ate it all (I made half the recipe). There isn't a drop left.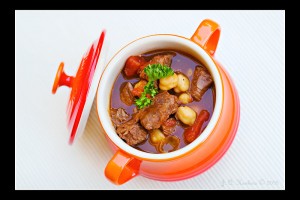 Beef Harira
1/2 cup (100 g) dried chickpeas
500 g stewing beef, cut into 1 inch chunks
2 tbsp olive oil
1 large brown onion (200 g), chopped coarsely
2 tsp ground ginger
1 tbsp ground cumin
1 tsp ground cinnamon
6 saffron threads
3 trimmed celery stalks, chopped coarsely
2 400 g cans crushed or diced tomatoes
2.5 liters (10 cups) water
1/2 cup (100 g) brown lentils, dry
Place the chickpeas in a small bowl, cover with water; stand overnight, drain.
Heat the oil in a large saucepan over medium low heat; cook the onion, stirring, until soft. Add the spices; cook, stirring, for about 2 minutes or until fragrant. Add the beef and celery; cook, stirring, about 2 minutes or until the beef is coated with the spice mixture. Add the tomatoes; cook, stirring often, for about 5 minutes. Stir in the water and drained chickpeas; bring to a boil. Reduce the heat and simmer, covered, for about 1 1/2 hours or until the lamb is tender, stirring occasionally.
Stir in the lentils; cook, covered, for about 30 minutes or until the lentils are just tender.
Serves 6 (generously)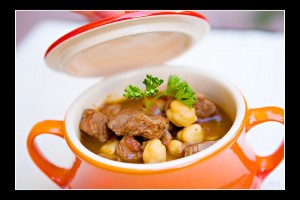 This recipe is adapted from one found in a book by The Australians Women's Weekly. The tablespoon measurements are the ones found in the book and I didn't remember this while measuring but an Australian tablespoon is actually 4 teaspoons as opposed to the American, UK, and NZ 3 teaspoons. A teaspoon is always 5 mls. That said, for the tablespoon, I used an American tablespoon so I guess I was 5 mls short but the result was still great.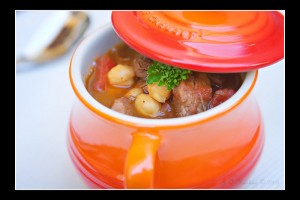 You want a large pot for this, believe me! I used a 4 1/2 quart Le Creuset pan for half the recipe and it was full to start out. The liquid does reduce but you still need a pot large enough to hold it all. I recommend you use a heavy pot too.
This is not quite the same as actually going to Morocco but it will have to do for now!