Legend has it that once upon a time (OK, sometime between the 50's and the 70's) an Englishman went to an Indian restaurant in Glasgow and ordered Chicken Tikka. When his meal arrived and he saw there was no sauce, he exclaimed like a good Englishman "Where is my gravy?!". The food was returned to the kitchen where the chef improvised by opening up a can of cream of tomato soup and adding some yogurt and spices making a sauce to which he added the pieces of Chicken Tikka and sent it back out to the customer. The diner loved it and so Chicken Tikka Masala was born. So, Chicken Tikka Masala is not Indian at all, as a matter of fact, if you order it in India you'll probably get strange looks. On the flip side, it is served at every single Indian restaurant and take away in the United Kingdom.
Now, why does that scenario strike me as realistic? I will tell you why! It may not be a well known fact outside of the UK, but most British people NEED to have some sort of sauce to go with every course of their meal. They heat their entrees swimming in gravy and their desserts swimming in custard or cream. I kid you not. I didn't know this when I moved in with my husband and one day I made the mistake of making grilled chicken with veggies and rice. He did ask for sauce but there wasn't any so he put MAYONNAISE on the rice and proceeded to eat it. I wish that wasn't a true story, really, I wish I was pulling your leg but I as serious as a heart attack.
While Miami is a melting pot there are some cultures whose cuisine is grossly underrepresented, Indian, real or fake, is one of them. There is no Indian take away (out), much to my husband's dismay and he has been talking about how much he wants a curry for months. We went to a British food shop in Fort Lauderdale a few months ago and bought a jar of tikka masala but it just wasn't the same. I tried making it in the UK and had terrible results but I was using a very bad recipe. Tired of hearing my husband whine about the lack of curry and armed with Madhur Jaffrey's Ultimate Curry Bible, I decided to give it one more go.
There is always two steps to real chicken tikka masala, the making of the chicken tikka and then the making of the masala sauce. They are both separate recipes and are combined at the end of the process. In fact, this recipe for the chicken tikka is amazing and does not at all need the sauce. The original recipe for the sauce didn't call for any coconut milk, which to me is essential in tikka masala so I fixed that. Other than adjust the liquid to include the coconut milk, I followed the recipe to a T until the end, however, I was not happy with the result. It just wasn't right and I was ready to throw it away and just have chicken tikka with rice but I decided to give it one more shot.
I summoned the curry expert, who was building the crib and changer upstairs, to the kitchen and give me some input. We concluded the sauce needed more coconut milk, more cream or yogurt and sugar to balance the very hot and almost bitter spices. After some tinkering, my husband was able to get to the point where it was actually good. Mind you, it still wasn't like what you get an Indian take aways in the UK but I honestly think it's pretty damn close, color aside. So, I am sorry to say that Madhur Jaffrey is not, after all, "the world authority on Indian food". Here is the adjusted recipe.
Chicken Tikka Masala
Serves 4
For the chicken:
675 g ( 1 1/2 lb) boned and skinned chicken breasts, cut into 2 1/2 cm (1 inch) pieces
1 1/4 teaspoons salt
3 tablespoons lemon juice
1 tablespoon fresh ginger, peeled and very finely grated
2 cloves of garlic, peeled and crushed to a pulp
1 teaspoon ground cumin
1 teaspoon bright red paprika
1/2 to 3/4 teaspoons cayenne pepper
6 tablespoons whipping cream
1/2 teaspoon garam masala
3 tablespoons corn or peanut oil
Put the chicken in a bowl. Add the salt and lemon juice and rub them in. Prod the chicken pieces lightly with the tip of a knife and rub the seasoning in again. Set aside for 20 minutes. Add the ginger, garlic, cumin, paprika, cayenne pepper, cream and garam masala. Mix well, cover and refrigerate for 6 to 8 hours (Longer will not hurt).
Preheat the grill to medium. Thread the chicken onto skewers (if using wood, soak for 15-30 minutes before using) and brush with oil. Place about 5 inches from the heat source and grill for about 6 minutes on each side or until lightly browned and cooked through.
For the sauce:
4 tablespoons corn, peanut or olive oil
140 g (5 oz) onions, sliced into fine half-rings
1 tablespoon fresh ginger, peeled and finely grated
5 to 6 cloves of garlic, peeled and crushed to a pulp
1/2 teaspoon ground turmeric
3/4 teaspoons cayenne pepper
2 teaspoons bright red paprika
6 tablespoons natural yogurt
2 medium tomatoes (about 285 g / 10 oz), peeled and very finely chopped
125 ml (6 fl oz) chicken stock
400 ml (13.5 oz) canned coconut milk (NOT water)
1/4 teaspoon salt (or to taste)
3 to 4 tablespoons of sugar (or to taste)
100 ml (3 fl oz) whipping cream
1/4 teaspoon garam masala
Pour the oil into a large, preferably nonstick, lidded pan and set over medium heat. When the oil is hot, put in the onions. Stir and fry until they turn reddish-brown. Add the ginger and garlic, and continue to fry, stirring, for a minute. Add the turmeric, cayenne pepper and paprika. Stir for about 10 seconds. Add a tablespoon of the yogurt. Stir and fry until it is absorbed. Add the remaining yogurt this way, a tablespoon at a time. Put in the tomatoes. Fry for 3 to 4 minutes or until the tomatoes turn pulpy. Keep mashing them with the back of a wooden spoon to help the process along. Add the stock, coconut milk, salt and sugar and bring to a simmer. Cover, reduce the heat to low and simmer gently for 20 to 30 minutes, or longer if necessary. The sauce should turn thick. Stir in the whipping cream and garam masala, taste for balance of flavors and adjust as needed.
When the chicken is cooked, reheat the sauce if necessary and fold the meat pieces in. Serve immediately over rice.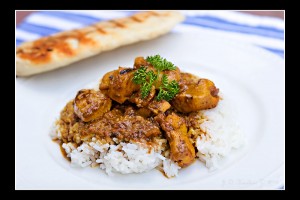 Remember, we did a lot of adjustments to suit our taste and you may find you have to do the same. Play around with it and see what you come up with.
Of course, no Indian meal, fake or real, is complete without naan. I had never made naan but since I'm on a grilling roll, I decided to give another recipe a shot. This one came from a book called Mastering the Grill and it's verbatim.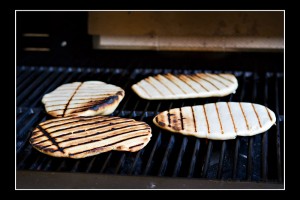 Grilled Naan
Makes 4
The grill:
Gas- Direct heat, medium-high (400°F-450°F) Clean, oiled grates
Charcoal- Direct heat, light ash. 12×12 inch charcoal bed (about 3 dozen coals) Clean, oiled grate on lowest setting.
3 cups all purpose flour
2 teaspoons baking powder
1 teaspoon kosher salt
about 3/4 cups milk, at room temperature
3 tablespoons vegetable oil
2 teaspoons sugar
Oil for coating bowl, dough rounds and grill grates
2 tablespoons butter, melted
Put the flour, baking powder and salt in a food processor fitted with the dough blade or in a large bowl, pulsing or stirring to mix.
In a small bowl, mix together 3/4 cups of milk, the 3 tablespoons of oil, and the sugar until blended. Slowly pour the milk mixture into the food processor with the motor running or into the bowl and process or stir until a soft dough forms. Add more milk, 1 tablespoon at a time, if the dough is too dry.
Turn out onto a lightly flour surface and knead until the dough is smooth and pliable, about 5 minutes. Coat a large bowl lightly with oil and add the dough, turning to coat it with the oil. Cover and let rest at room temperature for 30 minutes or refrigerate for up to 24 hours. Return to room temperature before rolling it out.
Head the grill as directed.
Divide the dough into 4 pieces and roll each piece into a ball. Cover and let rest for 20 minutes while the grill heats up. Lightly oil a work surface and roll each ball out to an oval or teardrop shape, about 8 inches in diameter and 1/4 inch thick. Lightly oil both sides of each round of dough and stack them on a plate.
Brush the grill grate and coat it with oil. Put the dough rounds on the grill, cover and cook until browned on the bottom and puffed on top, 1 to 2 minutes. Turn with tongs and brown the other side for 30 seconds or so. Watch the breads carefully as the can quickly go from browned to burned (a few burned spots are okay)
Remove the flatbreads to a plate and brush them with the melted butter. Serve immediately or cover to keep warm. To eat the flatbread, tear pieces from it.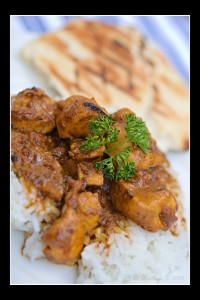 This was a lot of work but it was worth it. Everything was made from scratch, including the garam masala which is virtually impossible to find around here. I have to give big kudos to my husband who single-handedly grinded all the spices (cloves, cinnamon, etc) for the garam masala the mortar and pestle way because it was just too late to into Bed Bath and Beyond and buy a coffee grinder. He also got the masala sauce from trash to not just edible but GOOD. Way to go honey!