I don't often make breakfast or even lunch because we are not home during the week most of the time and I'm too lazy to get up at a decent time on the weekends. Our first meal of the day on weekends is usually around 2pm when we are both so hungry that we can't see straight. However, sometimes I do make breakfast, or brunch, be it something simple or something slightly more elaborate.
Back in the UK, we'd make brunch consisting of french toast, scrambled eggs and bacon but I can't be bothered to make all that these days. A good, and filling, alternative is pancakes and I've been making a fair amount of them in the past few months. They are simple to make and the ingredients are usually already in the pantry and the fridge. I've tried a few recipes with varying degrees of success but none have been good enough to post about until today.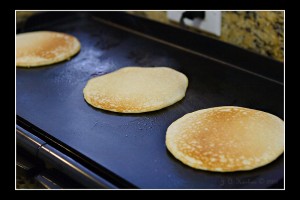 These were the Simple But Perfect Pancakes from The King Arthur Flour All Purpose Baking Book and so far, this is the closest I've come to making a pancake that resembles the ones from pancake houses. The recipe actually calls for whipping the eggs and milk for a few minutes and this process turns the ingredients into a foam, much like meringue, giving the pancakes a light texture. I was surprised at how much the eggs and milk actually foamed up! You will lose some volume while stirring in the dry ingredients but the result is still great.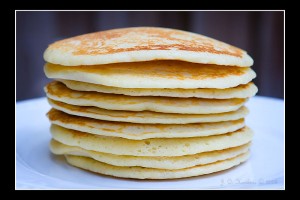 The Simple But Perfect Pancake
Makes Eleven 1/4 cup pancakes
2 large eggs
1 1/4 cup (10 oz) milk (full fat)
2 teaspoons vanilla extract (optional)
3 tablespoons (1 1/2 oz) butter, melted, or vegetable oil
1 1/2 cup (6 1/4 oz) unbleached all purpose flour
3/4 teaspoons salt
2 teaspoons baking powder
2 tablespoons sugar, or 1/4 cup malted milk powder
Beat the eggs, milk and vanilla until light and foamy, about 3 minutes at high speed on a stand or hand mixer. Stir in the butter.
Whisk the dry ingredients together to evenly distribute the salt, baking powder and sweetener. Gently and quickly mix into the egg and milk mixture. Let the batter relax while the griddle is heating (or overnight in the refrigerator). The batter will thicken while resting.
Grease and preheat the griddle. The griddle is ready if a drop of water will skitter across the surface, evaporating immediately; if you have an electric griddle, set the temperature between 325°F and 350°F. Drop 1/4 cupfuls of batter onto the lightly greased griddle. Cook on one side until bubbles begin to form and break, then turn the pancakes and cook on the other side until brown. Turn over only once. Serve immediately.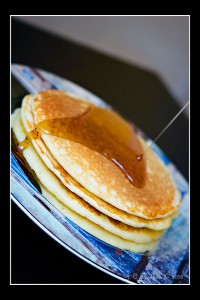 I've tried many things and today I discovered the best way to dish out the batter for the right size and shape every time. I used a #12 ice cream scoop, which coincidentally holds 1/4 cup. My pancakes were even in size and the shape was the roundest I've achieved without pancake rings. They are easy to get at places like Bed Bath and Beyond or other kitchen supply stores.
The pancakes are quite filling, 3 were enough to fill me up and 4 were enough for my husband. The book says the recipe should make sixteen 3 inch pancakes but I just don't see how that is possible using 1/4 cup measurements. Eleven pancakes is much more reasonable, not to mention accurate. I look forward to making these again, perhaps with banana or blueberries in them!