The past couple of days have been hellish when it comes to the kitchen. Two out of two meals have be a disaster and I wonder if I've just lost my mojo. However, I refuse to make that the reason so I blame my stove and pans….as I very well should! I was trying to make pasta with peas and bacon yesterday but it just didn't work out. First of all, the bacon stuck to the pan big time. I managed to get it unstuck, added oil to fry and got going but then it all went to hell again. The second batch of bacon stuck and the same story followed. The oil overheated and smoked up the entire family room so I had to take it outside and dump it in the tomato pots (the plants have been dead for a while). I tried sauteeing the onions again and managed to finish the meal but it was disgusting so we ended up having dinner at my mom's. Serves me right for trying to cook a light dinner (yes even with the bacon it was supposed to be light!)
Fast forward to today and history repeats itself. It was beef stroganoff this time but the story with the oil was the same. I was following recipe instructions so it wasn't human error. I turned the burner on to high, placed the pan on it and waited until it was hot. Once hot, I added the oil and it smoked immediately. I had to take the whole thing outside and just leave it out there. I tried with the cast iron skillet and got as far as browning the meat before it all went to hell again. The cast iron pan just retains to much heat so the onions burned. I moved on to nonstick and managed to finish the meal successfully.
I have two theories about the cause of these mishaps. Let's start with the stove! We rent and since we moved in the stove has been giving me problems. For starters, the burners don't always heat up and sometimes they only heat to high or low. I thought the burners were working OK yesterday and today but I suspect they weren't, hence all the burning. The landlady has been made aware of this so I am hoping they fix it. Ideally, they'll replace the entire stove with a Wolf dual fuel one but the chances of that are slim to none. A girl can dream!
Next theory is crappy pans. A few years back Amazon was having a huge sale on Calphalon hard anodized commercial pans. I bought a few for when I left the Navy and got my own place. I don't know if it is due to use or washing but the top coat of the inside of a couple of the pans has been lost. This makes everything stick and because the pans are dark, things burn quicker and darker (this is my belief although I can't prove it). The faulty stove and the crappy pans combined are sure to be a recipe for disaster, as I have found out.
So, I have come to the following conclusions: When I buy a house, the stove will MOST definitely be dual fuel; gas burners and electric oven…absolutely no negotiations on that one. It will also have a proper hood and extractor fan that takes the smoke and smells outside the house, none of this silly microwave extractors that don't really extract business! The hood will also be high above the stove, not basically on top of it. And last but not least, I need to dump (almost) all my pots and pans and replace them with a good All Clad set….again….a girl can dream!
As for today's dinner, despite the burned oil and onions and the two pans sitting outside on the grill, it was quite tasty and filling. We don't eat mushrooms around here so I always leave them out of all the recipes and did so this time as well. I liked that the meat gets a rub before being cooked, I had never seen that done with beef stroganoff but it really works. Leave it up to Williams-Sonoma to come up with a good recipe! This one came from their Beef and Veal book.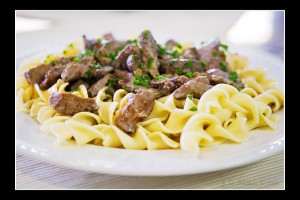 Beef Stroganoff
Serves 4
2 lbs (1kg) beef tenderloin
For the rub:
1 tsp dried tarragon
1 tsp dry mustard
1 tsp onion powder
2 tsp salt
1 tsp freshly ground pepper
1 tbsp olive oil
1 lbs (500 g) dried egg noodles
For the sauce:
1 tbsp olive oil
1 tbsp unsalted butter
1/2 lb (250 g) fresh white or brown mushrooms, brushed clean and thinly sliced
1/4 cup (1 oz / 30 g) diced yellow onion
1 tbsp chopped fresh tarragon
1 cup (8 fl oz / 250 ml) meat stock
2 tbsp sweet mustard
1/2 cup (4 oz / 125 g) sour cream
Dash of Worcestershire sauce
1 tsp salt
1/8 tsp freshly ground pepper
1/3 cup (1/3 0z / 10 g) chopped fresh parsley
Trim all the fat and silver skin from the meat. Then cut the meat into slices about 1/4 inch (6 mm) thick. Cut the slices in half.
In a small bowl, mix together the tarragon, dry mustard, onion powder, salt, and pepper. Rub the mixture all over the meat slices, coating them lightly and evenly. Put the meat on a plate and let stand at room temperature for 30-60 minutes before cooking.
Bring a large pot three-fourths full of salted water to a boil. Place a large frying pan over high heat. When hot, add the olive oil and heat until the surface appears to shimmer. Add the beef slices and cook until lightly browned on one side, about 1 minute. Using tongs, turn over the beef slices and cook the other side until lightly browned, about 30 seconds. The meat will still be rare. Transfer to a place and cover with aluminum foil to keep warm. Add the noodles to the boiling salted water and cook according to package instructions.
Meanwhile, reduce the heat under the frying pan to medium-high and add the olive oil and butter. When the butter has melted and foam begins to subside, add the mushrooms, onions, and tarragon and cook, stirring often, until the mushrooms and the onions begin to brown, 3-4 minutes. Raise the heat to high, add the stock, and cook, stirring often, until the liquid has reduced by half, 3-5 minutes. Take the pan off the heat and whisk in the sweet mustard and sour cream. Add the Worcestershire sauce, salt and pepper. Taste the sauce; it should be creamy and slightly tangy. If it tastes a little flat, add a bit more salt or pepper to perk up the flavors. Add the meat and any accumulated juices to the sauce, stir, and reheat gently over medium-low heat for 1-2 minutes.
Drain the noodles, then divide them among 4 plates. Spoon the meat and sauce over the noodles and sprinkle with the parsley. Serve right away.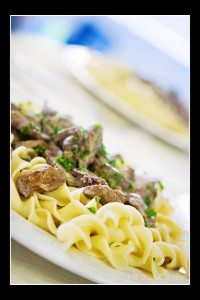 I didn't use tenderloin for two reasons. First, I was not going to waste tenderloin on beef stroganoff and second, I doubt Publix actually carries tenderloin. I did not use fresh tarragon either, I used a large pinch of dried one instead. I didn't have any luck finding sweet mustard, whatever that is, so I used Dijon and it worked great. That's basically all the changes I made to the recipe. I absolutely recommend it but use a tender cut, even if it isn't tenderloin.
On the All Clad note…I got my first piece today! I had been meaning to get a roasting pan for a couple of years but never got around to it. I needed one today for something else I was making and I was allowed (allowed…such a funny word LOL) by my husband to get an All Clad one as long as it was my Mother's (to be) Day present. I marched my behind to Bed Bath and Beyond and bought it. It's a beauty, if heavy, and I can't wait to roast something in it!