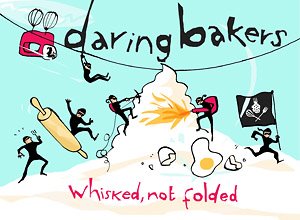 It's Daring Bakers time! It seems like it was just yesterday I typed the post about the Cheesecake Pops and here I am again, getting ready to type yet another DB post. Time flies!
This month's challenge was introduced with great fanfare, which is only logical considering the musical name of the item to be baked. I had never heard of it but the description sounded scrumptious. Ladies and gentlemen, the Daring Bakers made a culinary trip to France and it's Opera…cake that is.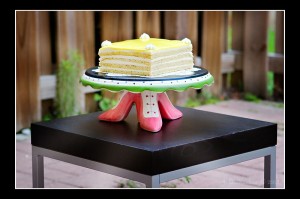 Traditional Opera Cakes are made with three thin layers of almond cake, each soaked in coffee syrup; layers of espresso flavored buttercream; a layer of chocolate ganache; and a topping of chocolate glaze. For the challenge, the cake was kept light, as in with light colors and flavors. The chocolate was replaced with white chocolate and the syrup with a simple syrup. The ganache turned into a mousse.
Layers of nutty sponge cake, buttercream and mousse….what could sound better? Hardly anything if you ask me! Unfortunately, this was one instance where the anticipation and description far outdid the product. It may have just been my fault but I guess I'll never know.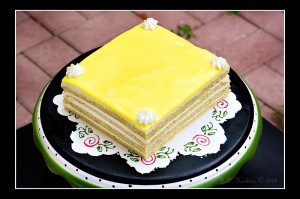 The original cake recipe called for an almond sponge called a joconde but I dislike almond taste so I used macadamias instead. That may have been my first mistake. The sponge was not at all spongy, it was rather dense and oily but tasted good. I flavored the white chocolate mousse and buttercream with limoncello and on their own, they both tasted great. So far so good. Then time for the white chocolate glaze and I truly believe that is what did my cake in. It was far too sweet and made the whole thing sickly sweet. Other Daring Bakers agree with this and some decided to change the glaze after hearing so many complaints about the sweetness of the original recipe. I don't blame them.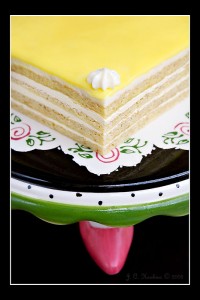 Despite all that, I'm glad I participated in this challenge. The cake was hard work to put together and it's not something I would have done on my own. It was a complicated French dessert and I'm glad I gave it a shot. This will definitely be the basis for other, hopefully better, Opera style cakes in my baking future.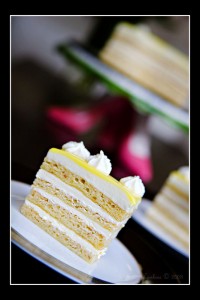 For the full recipe, see the hostess' blog Cream Puffs in Venice.