I was going to write more about this recipe but my mind is on something else at the moment and I can't concentrate enough to write anything worthwhile. However, I still want to share the recipe because it is delicious and fairly easy to make. We just had it for dinner and it will go into the to-be-made-again list.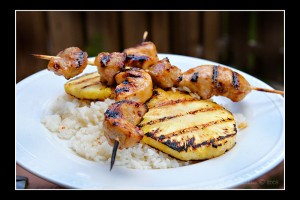 Sweet and Spicy Pork Chunks
For the pork:
1/3 cup pineapple preserves
1/4 cup chili garlic sauce
2 tbsp ketchup
1 tbsp brown sugar
1 tbsp vegetable oil
1 1/2 lbs pork loin, sliced into 12 chunks
For the pineapples:
1/2 cup fresh lime juice
2 tbsp sugar
8 rings fresh pineapple (1/2 inch thick)
Preheat the grill to medium-high.
Combine the preserves, chili garlic sauce, ketchup, brown sugar, oil and salt in a bowl. Add the pork and marinade for 5 minutes.
Whisk the lime juice, sugar and salt together in a bowl. Add the pineapple rings and toss gently to coat.
Tread 3 pieces of pork on each of four skewers (that have soaked in water for at least 15 minutes if wooden). Reserve the marinade for basting. Grill the pineapple rings on both sides until lightly browned, 3 to 4 minutes per side; remove from grill. Grill the pork skewers until cooked through, about 4 minutes per side, basting with the marinade ever minute.
Serve the pork over the grilled pineapples and Coconut Rice.
Serves 4
Coconut Rice
1 1/2 cups chicken broth or water
1 can (14 oz) coconut milk
2 tsp sugar
1 tsp kosher salt
1/4 tsp red pepper flakes
1 1/4 cup basmati or other long grain rice.
Bring the broth or water, coconut milk, sugar, salt and pepper flakes to a boil in a saucepan. Stir in the rice, boil for 30 seconds, cover, reduce the heat to low. Cook until the rice is tender and liquids have been absorbed, about 15 minutes. Fluff with a fork and serve.
Serves 4

The combination of all these flavors is really pleasing, even if you are not necessarily fond of coconut (I'm not). Be careful not to burn the pork, the sugar in the marinade can cause it stick to the grill!