I got hooked on Donna Hay Magazine last year when I started blogging. They weren't too expensive in the UK but here in the US they are outrageously so, $10 an issue. Thank goodness they are not monthly because I'd be broke. Even at $10, I can't resist the urge to buy it every time the new issues comes in. As a matter of fact, I go to Borders, the place I've seen it, looking for it and my heart sinks to the bottom of my stomach every time I don't see it. The photography and styling is so amazing that's it's hard not to drool over every single picture. That and there's always recipes I want to try.
So far though, I don't recall actually trying any until today. I believe it's the most recent issues that has been imported (38) and as usual, its beautiful. Anyhow, they always have a section like "bake and freeze" and then short orders or what have you and this was one of them. The main recipe was for a basic ragu and then she gave instructions on what to do with it. I would have normally halved the recipe but since we are starting to think about making meals and freezing to make dinners easy once the baby comes, I made the entire ragu recipe and had just over half of it with spaghetti as a bolognese and I'm planning on freezing the remaining ragu to eat later.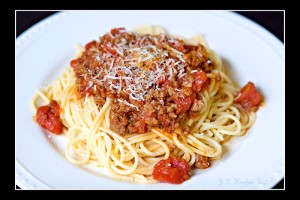 I'm not usually a fan of "tomatoey" things but this recipe was so simple and quick that I just had to try it plus we have lots of frozen ground beef in one pound bags (what the recipe calls for) that we needed to use. It turned out great and it was very filling. It's obviously not as good as what I imagine a long simmered ragu would be but it's not too shabby.
Spaghetti Bolognese
1 tablespoon (Australian tbsp so 20 mls or 4 American teaspoons) olive oil
1 onion, chopped
2 cloves of garlic, minced
500 g (1 lbs) beef mince (ground beef)
2 tablespoons (see oil measurement for amounts) tomato paste
3/4 cups (180 ml) beef stock
2 x 400 g (14 1/2 oz) cans crushed tomatoes
1 tablespoon (see oil for amount) tomato sauce
sea salt and pepper to taste
500 g (1 lbs) spaghetti, cooked according to package instructions
grated Parmesan
Heat oil in a large nonstick pan over high heat. Add the onion and garlic and cook for 3 to 4 minutes or until softened. Add the mince (ground beef) and cook for 10 minutes, breaking up any big lumps with a wooden spoon, or until well browned. Add tomato paste and cook for 1 minute. Add stock and cook, stirring, for 2 minutes or until the stock has almost evaporated. Add canned tomatoes, tomato sauce, salt and pepper. Reduce heat to low. Cover and simmer for 10 minutes. Remove the lid and cook for a further 5 minutes. Divide the spaghetti among four plates and top pour the ragu on top. Sprinkle with the grated Parmesan.
Serves 4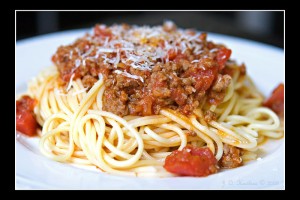 It's quick and uncomplicated, especially if you keep all the ingredients at hand. I think for the rest of the ragu, we are gonna go the potato pot pie way.