I wasn't sure I was going to be able to complete the Daring Baker's challenge this month because I've been feeling very tired. My energy levels have been dropping ever since I entered the 3rd trimester, which makes sense considering how big the baby (yeah, the baby NOT me! 😛 ) is getting. It's difficult to walk around and do things and most importantly, I found out how difficult it is to roll out dough on a counter that is slightly higher than waist high when you have a belly this big! LOL That was fun!
This month's challenge was something was interesting, it was a Danish Braid. Danish dough is in the family of butter-laminated doughs but not as complicated to make as say puff pastry. The recipes for this challenges usually yield large quantities and quite frankly, I hate it because there is just two of us in the house and more often than not we don't finish whatever it is I baked. It hurts me because I put so much work into it but at the same time I realize a person can only have so much of one thing before getting sick of it. As a matter of fact, I still have half of the dough in the fridge because I had to split into two to make it manageable for us. Even then, we haven't finished the braid, there's about a third left.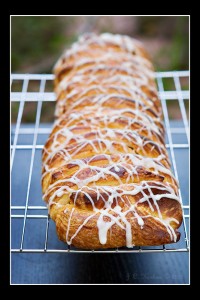 So, just 3 days before posting day, I decided I was going to go ahead, suck it up, and complete the challenge. I made the dough one day and finished the braid off the next. It was time consuming but not nearly as difficult as I thought it would be. I have to say I am not crazy about the dough. I was expecting it to be flakier and it's quite bready. I'm also not crazy about the orange and cardamom in it. To each their own. However, I did love the apple filling and this is what I was making that I had caramelized apples left over from to make the ice cream in the previous post.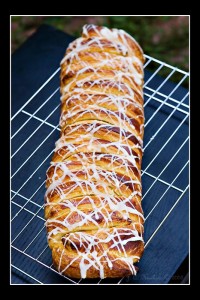 I can't say that's there been any Daring Bakers challenge that I have loved but they have all challenged me as a baker in one way or another. I've learned something new with every single one and that's really what it's all about.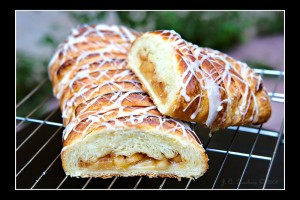 To see the recipe, check out the hostess' entry over at Sass & Veracity.